Chuck Haga: Wishing our farmers a happy 2020
2019 wasn't easy for the region's farmers, but these good folks deserve our respect – and our best wishes for the coming year.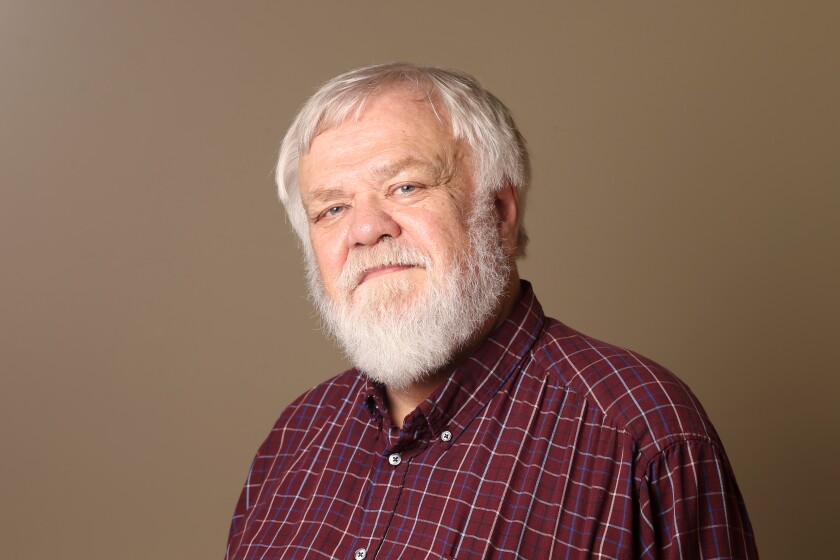 It's the season for nostalgia, a time to reflect and remember, which can be reassuring and affirming but also can cause a brooder to slide dangerously into regret.
I am susceptible to brooding to the point of despair, so I choose to don a cheerful countenance here today and recall my life as a gentleman farmer. In actual fact that lasted three days, but the idea – the potential for a life on the farm – has always stayed with me.
Some context:
You may have seen some of the stories circulating recently about the withering of rural society, the near disappearance of small towns that once were well-peopled and lively but lost a school, then a hardware store, then a pharmacy and now a grocery. A man in New Rockford, N.D., told me years ago that he didn't enjoy his rides to Bismarck so much anymore "because I know where the lights used to be," the yard lights, street lights and church lights that represented people.
It's been a tough year for many farmers, and while I might not have cared much when I was 18 or 21, I care now because I have some history, a sense of what's been lost. I remember watching young people expertly dance the schottische and polka at a friend's wedding in a crowded Germans From Russia church in southwestern North Dakota. I remember eating authentic Norwegian klub with Tom and Jerry, my brothers, both now gone, at a little café in Hatton, N.D. I remember going giddy crazy watching my high school friend win a demolition derby 50 years ago in Dazey, N.D., and marveling at the beauty of a young woman, a cheerleader from little Rogers, N.D., at a Barnes County basketball tournament. I have sweet memories, too, of the holiday parade in Cavalier, N.D. – they let me be grand marshal, and because I asked for it they made me a great purple sash! – and really sweet memories of judging the pie contest at the Middle River, Minn., Goose Festival. (A tip if you're ever invited to be a pie judge: Don't write a column beforehand telling people that your favorite pie is blueberry. I had to choose between 14 pies, as I recall, 13 blueberry and one blueberry-raspberry.)
I've often said I could live in a small town, a few hundred people, if my neighbors included cribbage and pinochle players, a couple of history buffs and generally interesting folks who might join me for coffee, a beer or two and a little conversation now and then. It would be great if my neighbors included a family from Syria. Their kids could teach me Arabic and maybe French, too.
I've also often said I'd like to be a farmer, but only if I had a few million dollars so I could hire someone competent to run it for me while I played with the animals. I would have chickens and geese, horses and cows – and pigs. I have been fond of pigs ever since reading E.B. White's "Charlotte's Web" and an essay he wrote about the sad death of a real pig he was raising.
Anyone with any real farming experience reading this is smirking by now, but remember – with my millions, I would hire people who know about the breeding, feeding and doctoring of livestock, leaving to me the admiring and playing and introducing my animals to small children, who would pet the cows, ride the horses and squeal with the pigs.
My uncle Ragnvald was a real farmer. Like my father, he had come from Norway and did well enough on his Barnes County farm that he could make a few trips back to the old country. I beheld him with respect, fondness and fear. He could be gruff, even with his wife, Signe, who had come from Sweden.
"Can I go out and play now?" I'd ask Ragnvald. "Ask the Swede," he'd respond.
He employed me once for three days. The first day, assigned to baling hay, I showed up dressed in shorts, a short-sleeve shirt and no gloves. The next day, he shifted me to "picking rocks," which sounded fun until I found the rocks were bigger and heavier than bowling balls. The third day, he said I could ride the spreader. Again, that sounded appealing but wasn't when we headed out to spread manure on a field.
I was an abysmal failure as a farmer.
But I respected my farmer uncle because he had crossed an ocean as a boy, built a farm and raised a family on it, and because he could care for cows, fix a tractor and do a thousand other useful things.
And that's how I feel about today's family farmers. This has been a tough year for many of you. My wish is that 2020 will be an especially good and happy new year.
Chuck Haga had a long career at the Herald and the Minneapolis Star Tribune before retiring in 2013. He now writes for the Sunday edition of the Herald. He can be contacted at crhaga@gmail.com.