Chuck Haga: What do I like? Lists about what I like, dislike
I've often sat alone and begun compiling a mental list of things I like, thinking I might like to write it down and share it with certain people. It would help them to know me better, perhaps.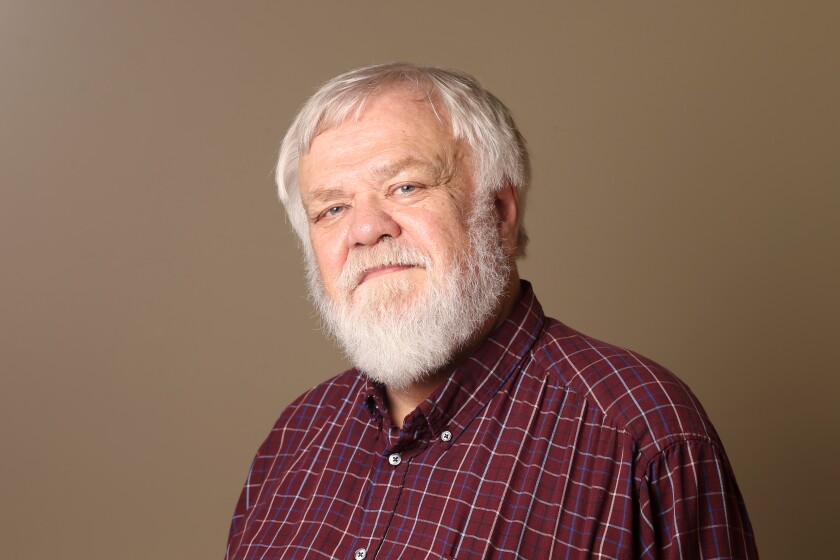 I like blueberries. I like to dump a handful of plump blueberries onto my breakfast cereal at camp – Grape-Nuts with icy cold milk.
I've done it in the pre-dawn dark, with enough light from a lantern to ensure I don't lose any berries. I'll have coffee ready, too. I like coffee, dark roast and rich.
And I like olives – green olives – either as a snack by themselves, half a small jar at a time, or piled on a burger or ham sandwich.
It confounds me that Emma, my younger granddaughter, favors black olives, which I find tasteless as cardboard. (Yes, I've done a taste test.)
And Emma doesn't like blueberries. We agree that raspberries are wonderful, but we are hopelessly divided over blueberries. It shouldn't bother me, but it does.
I've often sat alone and begun compiling a mental list of things I like, thinking I might like to write it down and share it with certain people. It would help them to know me better, perhaps.
I started down this rabbit hole the other day because the New York Times carried a piece about the American writer, philosopher and political activist Susan Sontag, who died in 2004.
She had made a list of things she liked and another list of things she didn't like. There is little order or reason to her lists. They include items from the mundane to the profound.
Here are her lists:
"Things I like: fires, Venice, tequila, sunsets, babies, silent films, heights, coarse salt, top hats, large longhaired dogs, ship models, cinnamon, goose down quilts, pocket watches, the smell of newly mown grass, linen, Bach, Louis XIII furniture, sushi, microscopes, large rooms, boots, drinking water, maple sugar candy.
"Things I dislike: sleeping in an apartment alone, cold weather, couples, football games, swimming, anchovies, mustaches, cats, umbrellas, being photographed, the taste of licorice, washing my hair (or having it washed), wearing a wristwatch, giving a lecture, cigars, writing letters, taking showers, Robert Frost, German food."
I could adopt much of Sontag's lists – I do like sunsets, the smell of newly mown grass, and the music of Bach. But I can do without sushi, tequila and Louis XIII furniture, which I suspect is out of my price range anyway. As to her dislikes, I'd challenge her on swimming, the taste of licorice, Robert Frost writing letters and even cigars – I quit smoking them myself long ago, but if I catch a whiff of a good cigar outdoors it reminds me instantly of my father.
So, here's my list, quite random and, again, featuring the whimsical and relatively insignificant alongside the heavy and vital.
Things I like: Snowy owls. Black bears. Chopin. Grape-Nuts. Zinfandel wine. Ripe pears. The smell of newly cut grass. The feel of a worn basketball. New socks. A toddler's honest laugh. The sound of a well-hit golf ball. A voice on the phone: "It's me." Gene Tierney. Steinbeck. History.
More things I like: A full moon shining through wispy clouds and the mesh top of my tent. Campfires. Camp stew. Women who love to camp. An Underwood typewriter. The sound of a well struck key on an Underwood typewriter. Cashews. A fish on the line. Cardinals. A long letter arriving unexpectedly. A shiny red and white 1955 Buick Special. A child's smile. Norwegian goat cheese on heavy bread with raspberry jam. A Strauss waltz by the Vienna Philharmonic. Lefse with butter and sugar. Ethnicity worn proudly, not haughtily. Young Barbara Stanwyck. Oslo, Norway. Autumn. Me, sometimes.
And a few more: Ice water. Pipe smoke (sigh). Hardwood floors. Maps. Boats. Roomy flannel shirts. Ronald Coleman movies. Benny Goodman. Albinoni. Fettuccini. Lilac blossoms. Silver coins. Concord grapes. Printed newspapers. Crayola crayons (box of 64). Badlands. Ocean steamers. The poetry of Mary Oliver. The Temptations' "My Girl." Cookies like my mom's. The whiff of distant cigar smoke. Found coins. Beethoven's "Pastoral Symphony." Heavy bond paper. Expensive pens. A good reading chair. A woman's smile, meant for me. Easy forest paths. Old trees. The night sky outside a village in West Africa. Tender mercies. Rubies and emeralds, even if only seen behind locked glass. Sopa de lima. A child's "Hi, Grandpa!" A leather pouch of marbles, with a big steelie. The coarse, true smell of a dog.
Things I dislike: Peas, the gray mushy kind they served in hot lunch when I was a boy. Sushi. Cats that don't keep their distance. Noise. Freezing rain. Atonal music. People who don't listen. Trickery. Weed trimmers and leaf blowers. Shredded carrots in orange Jello. Humidity.
More things I dislike: Shouted TV ads. Unripe pears. Me, sometimes. Wind. Unmufflered motorcycles. Shag carpet. Circuses. Magicians. Cliches. Kandy Korn. Cancer. Alzheimer's. Lilac perfume. Weak coffee. Close talkers. Plastic. Twitter. Conspiracy theory. Cynics. Racism. Deer ticks. Sleeplessness. Ties. Cigarettes. Cigarette smoke. Cigarette butts. Parking lots. Shopping.
How about you? Care to give it a try? It's something that belongs in my "likes" list – responses from readers.
Chuck Haga had a long career at the Grand Forks Herald and the Minneapolis Star Tribune before retiring in 2013. He can be contacted at crhaga@gmail.com.