Chuck Haga: We all need heroes, flawed as they may be
We ought not sanitize how we teach our children about them, leaving out the flaws, inconsistencies and contradictions.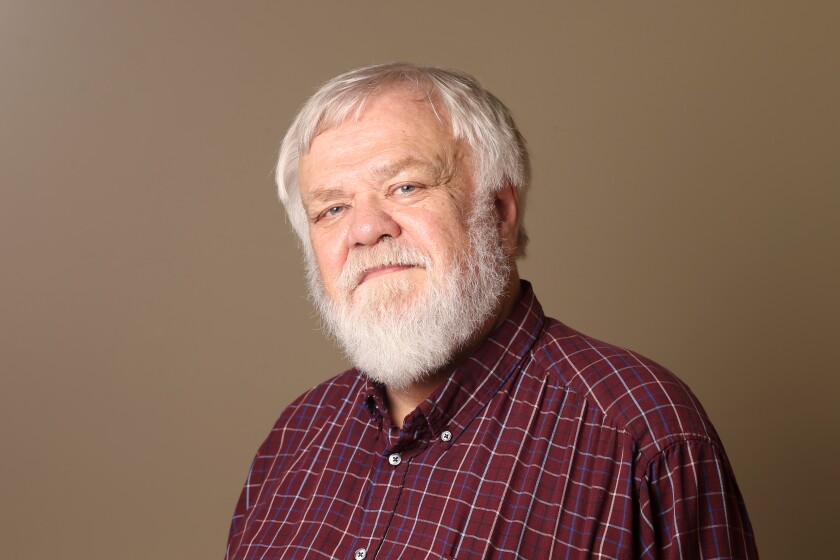 In Casablanca, my favorite movie, nightclub owner Rick (Humphrey Bogart) helps a young refugee from Bulgaria win big at roulette.
This helps the man and his wife escape to America – without the "help" of Capt. Louis Renault (Claude Rains), the prefect of police, who was going to exploit their situation to have his way with the young wife.
This annoyed Louis. And at the end of the film, when Rick sends the lovely Ilsa (Ingrid Bergman) off to America with her Czech Resistance hero-husband Victor Laszlo (Paul Henreid), Louis looks at Rick and says, "Well, I was right. You are a sentimentalist."
You know, by the fact that I name Casablanca my favorite movie, that I, too, am a sentimentalist, a hopeless romantic – wanting good to triumph over evil, love and honor to prevail against hate and cynical greed.
I've watched "Casablanca" so many times I can recite most of the movie script, from "Of all the gin joints, in all the towns, in all the world, she walks into mine," to "We'll always have Paris." Every time Victor Laszlo tells the band to play the Marseilles and drown out the Germans singing one of their guttural Nazi marching songs, I stand and sing along. Aux armes, citoyens!
Friend Terry Dullum wrote a little something recently about the 1967 film "Guess Who's Coming to Dinner," starring the real-life couple of Spencer Tracy and Katherine Hepburn. It's to be screened later this month as part of the Empire Arts Center's Hollywood Couples film series.
Terry's mention of the film drew a response from mutual friend Mike Brue, about the incredibly moving speech Tracy's character gives toward the end about the love he felt – feels – for his wife, Hepburn's character, despite age and infirmity and whatever disagreements they may have had along the way.
I posted a comment: "That scene brings me to tears every damn time." To which Dullum added, "Me too. And I'm a boy." Terry just can't resist.
I love "Sergeant York" and watch it every time it shows on TV so I can see Alvin come home a hero, marry Gracie and get the bottom-land farm he so wanted, a gift from the people of Tennessee. "The Lord sure moves in mysterious ways," he says.
I watch "Yankee Doodle Dandy" time and again to see Jimmy Cagney (as George Cohan) tap-dance down the steps at the White House after chatting with FDR. He walks out and joins a parade of people singing his World War I anthem "Over There" as America prepares to join the fight against fascism in World War II.
"The Yanks are coming! And we won't come back 'til it's over over there!"
It was a different time, historians say. There was a clarity there.
And I watch with a full heart as Ronald Colman selflessly takes the place of a condemned man in 1935's "A Tale of Two Cities," declaring as he is about to ascend the guillotine, "It's a far, far better thing I do than I have ever done before, a far, far better place I go to than I have ever been."
In Ken Burns' "Baseball" documentary series, the great announcer Vin Scully talks about the impact on people in Brooklyn when the Dodgers beat the Yankees in the 1955 World Series, then moved across the country to Los Angeles. It was especially hard on young fans, he said. "The euphoria is greater" when young, "the depression deeper."
I'm not sure that's true, though I admit I swooned as a boy when Mickey Mantle hit a home run – and was crushed when he struck out.
I've read history, and I'm well aware of the flaws and cracks in the image of Jefferson, Churchill and other "great men" – and in the un-nuanced embrace of great causes. I still marvel at all that Jefferson did and was, but I can't overlook or excuse his enslavement of people.
I've long admired another heroic figure from Revolutionary times, Tadeusz Kosciuszko, a Polish patriot who aided the American cause and received an award of lands in the new country. He later sold the lands and used the money to free and educate slaves.
There is a statue of Kosciuszko in Poland. I've seen it. He cuts a heroic figure.
I've stood several times by the statue of Jefferson, too, in his memorial in Washington, D.C., and read the words inscribed there, his words, including these: "Indeed, I tremble for my country when I reflect that God is just, that his justice cannot sleep forever. …"
He knew slavery was the country's great sin. I wish he had done more – done something – to end it sooner.
We need heroes. But we ought not be overly sentimental about them. We ought not sanitize how we teach our children about them, leaving out the flaws, inconsistencies and contradictions. That's not being divisive. That's not hating America. That's seeking and acknowledging truth.
Chuck Haga had a long career at the Grand Forks Herald and the Minneapolis Star Tribune before retiring in 2013. He can be contacted at crhaga@gmail.com.