Chuck Haga: Want to help? Now is the time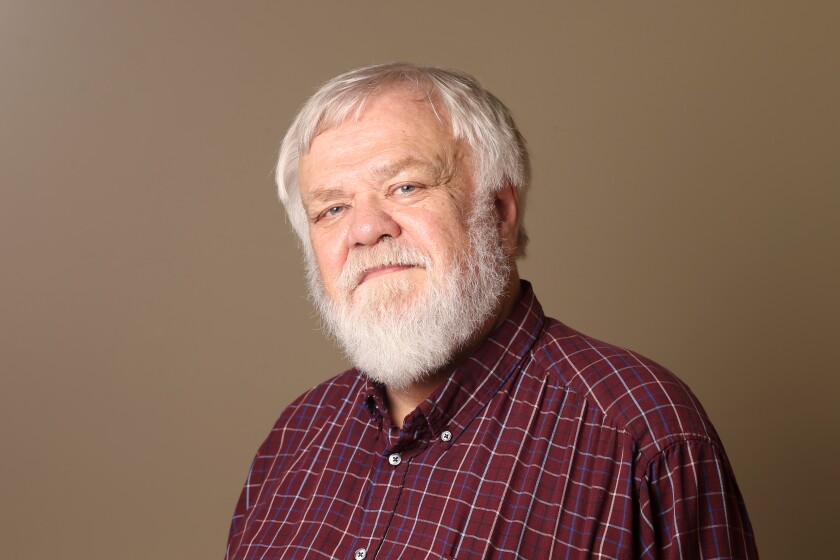 As a veteran nurse practitioner specializing in the digestive system, Kamrin Macki regularly sees patients in Altru's gastroenterology unit who are not getting screened for colon cancer.
Some of those patients eventually are diagnosed with colon cancer, late stage, and they die.
"It's so disheartening," she said.
"A lot of people are unaware of the screening, or they elect not to do it out of fear, or they're under-insured and worried about the cost," Macki said.
Some people are put off by the "challenging" preparation required for the procedure. Others, without symptoms of the disease, "are just stoic" and figure they can put it off. "But if you wait until there are symptoms, it's usually late-stage" and less treatable.
Seven years ago, Macki decided to do something to raise awareness of colon cancer, promote early screening and raise money to help people deterred by costs.
And she tries to make it fun. A runner, she enlists sponsors and participants for an annual Run For Your Buns, 5-K and 10-K races that feature humorous signs along the route – "You can learn a lot back there" – and have runners finish through a big replica of a colon.
The event has raised more than $40,000 so far, and Macki was hoping for a big number this year – until COVID-19 required changes: a limit of 250 runners, half the usual number, plus a scattered start and no large group gathering at the finish.
"We still have very generous sponsors," Macki said, and she's hoping this year's run – next Saturday, June 13 – will add at least $5,000 to the total raised.
The unprecedented and controversial mobilization to combat the virus has had profound effects on our lives, individually and collectively, public and private. Schools, churches, offices and associations may never be the same. Many businesses are suffering and some likely will be lost, and with them jobs, paychecks, tax revenue.
We've already lost annual events that help to define and enliven these communities – the Grand Forks Air Force Base Air Show, summer camps for kids, Art on the Red. It's hard to imagine a socially-distanced grand entry at UND's annual Wacipi and Powwow, so we will wait to see and hear that great thundering spectacle again next year.
The business closures and job losses also are likely to affect our ability to support the many charitable organizations that ease the burdens of poverty and despair, give hope to disadvantaged kids or raise awareness and funds to fight violence and disease. Many of those groups depend significantly on major fundraising events that now must be canceled, delayed or downsized. The Community Violence Intervention Center has shifted its big "Rise and Shine for Peace" breakfast fundraiser to an evening online event June 23. The Global Friends Coalition lost its important "Soup in the Studio" fundraiser and will mark this year's World Refugee Day June 20 with online programming, including the screening of three immigrant-directed documentary films.
The area Community Foundation has set up a relief fund to help nonprofits weather the impacts of COVID-19. More than half of the 230-plus charities responding to a recent survey said they will have to cancel a significant fundraising event, and 80 percent said they don't have a plan to replace lost revenue.
"Our faith in philanthropy has not wavered," the foundation's directors state on their website, https://www.gofoundation.org/relief.html "The global situation has been a test in compassion, connection, and community support. We fully believe in the strength and integrity of our region, and, through collective effort, know that we will overcome the challenges facing our nonprofits and neighbors alike."
Global Friends is one of the nonprofits the Community Foundation has helped with a grant, which in part has allowed the nonprofit to move its citizenship classes for New Americans to Zoom. Fewer refugees are coming to Grand Forks due to changes in immigration policies, but "our work is shifting," said Cynthia Shabb, executive director. "There are still needs – they are just different."
CVIC's noble work continues, as well. The center also has received assistance from the nonprofit relief fund.
"We're hearing some very tragic stories," said Coiya Tompkins, president and CEO. "Increased brutality and tension on all fronts," and children "seeing more fighting because everyone is in the same place."
And colon cancer, so easily prevented if caught early, still lurks.
So, join a fight or two. Times are tough, budgets tight, but consider sending a few bucks to the United Way or a particular cause that maybe holds some special meaning for you: cancer, heart health, Alzheimer's, disabled veterans, animal shelters, hunger, homelessness, domestic violence.
Have you been fretting these troubled days, wondering "What can I do?" Check out the web pages of local charities for ways you might help. Take a swing at poverty, at child abuse, at disease, at racism.
No butts about it, as one of Kamrin Macki's signs says.
Chuck Haga had a long career at the Grand Forks Herald and the Minneapolis Star Tribune before retiring in 2013. He can be contacted at crhaga@gmail.com.