Chuck Haga: UND, find a way to bring back women's hockey
I hope the former UND women's hockey players win their court case. But if they lose, the university still should reconsider the decision to shut down the program.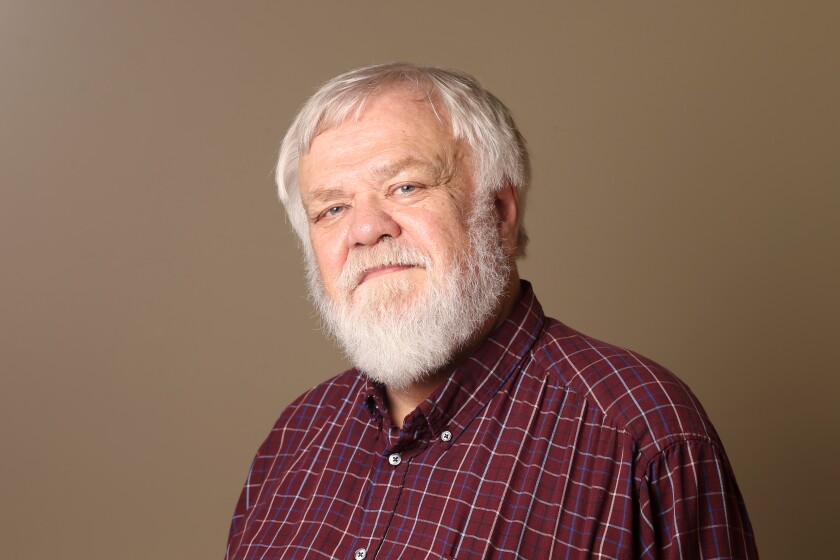 We are part of The Trust Project.
A day or two after UND announced in March 2017 that it was eliminating the women's hockey team, Charly Dahlquist was in her usual spot in my classroom in Merrifield Hall.
She was the latest in a long string of women hockey players to come through that class, and like those who had preceded her she was a good student: bright, attentive, curious. She and the others had made me a fan on the ice, too, with their strength, agility, talent and grit.
As that class ended, I asked Charly to stay for a moment, and I asked her, "How are you doing?"
She burst into tears.
The decision, and the sloppy, clumsy way it was announced – with the team on the ice, practicing, and a recruit standing by – was devastating.
And it was wrong.
The university pleaded economic necessity. Travel and equipment costs for a hockey team are high. Ticket sales for the women's games had always lagged far behind revenue generated by the men's team.
All true.
But UND … UND hockey … tradition …
And equity.
Two women who had helped to build that team, who went on to win medals at the Olympics, received North Dakota's highest honor, the Roughrider Award, at a ceremony recently in the arena where men still play hockey but women don't.
Nobody mentioned it. But some felt the irony as a sharp, stinging thorn.
In 2019, Charly and several of her teammates sued the university, alleging that the decision to cut women's hockey violated Title IX, the federal equity requirement that since 1972 has enabled generations of girls and young women to know the thrill and satisfaction of competing in organized high school and college sports.
The UND players lost the first round, but they appealed, and recently the appeals court sent the case back for further review.
"The lawsuit coming back means a lot to us," Charly told me this week. She's living and working now in Columbus, Ohio, where she transferred to star as a courageous forward on a good Ohio State team. Nadine Muzerall, the Buckeyes' women's head hockey coach, said in an interview last year with the Ohio State student newspaper that "being relentless" was one of the main reasons they've had success, and Dahlquist was key to that. "Charly has that mentality about her," she said. "She plays with a chip on her shoulder and she plays physical. She's not that big but she plays big – she carries a big stick, if you will. She just wants to win and she will do whatever it takes to find a way to do it."
I hope Charly and her former teammates win the court case. But if the women lose, the university should reconsider the decision anyway. Find a way to restore a team that could really allow us proudly to call our school the foremost hockey school in the country.
Several years ago, a dozen hockey players and other female scholarship athletes participated in an independent study course with me, examining how female athletes are covered by the media. They researched professional opportunities available to women athletes when their competitive playing days were over, how and to what extent the media cover women's athletics, the "daddy-daughter effect" which has boosted women in sports as fathers increasingly demand equal facilities, equipment and practice time for their girls, and other timely topics.
Two hockey stars, Amy Menke and Layla Marvin, looked at Title IX, passed in 1972.
"Women are finally given the chance they deserved to participate in extra-curricular activities," they wrote. "This includes all levels from high school to college."
They found that from 1972 to 2011, "the number of girls competing in high school sports jumped from under 295,000 to nearly 3.2 million." The number of female athletes at NCAA schools had increased from about 30,000 to more than 193,000 since 1972, but women still had 60,000 fewer participation opportunities than their male counterparts. There are far fewer professional opportunities for women athletes after college, and female professional athletes are paid far less than men, a disparity that members of the U.S. women's soccer team and others have determined to change.
It would take years to restore and build a UND women's hockey team capable once again of matching up against Minnesota, Wisconsin – and Ohio State. It would help if hundreds of those fervent men's hockey fans would take in a few women's games. It would take some creative financing.
UND, find a way.
"If the North Dakota hockey team was brought back to life, that would mean that our voices were heard," Charly told me this week. "We are fighting back so that little girls can have the chance to put on a North Dakota hockey jersey or so other sports teams don't have to go through what we went through.
"At the end of this I would love nothing more than to see North Dakota back … competing for a national championship."
Chuck Haga had a long career at the Grand Forks Herald and the Minneapolis Star Tribune before retiring in 2013. He can be contacted at crhaga@gmail.com.