Chuck Haga: Tori Johnson's concern about gun violence is a good one
"The younger generation, they do give me hope," Tori Johnson said. "They're kind and thoughtful and smart. I have faith in the kids, that they'll change things. But I worry about them terribly."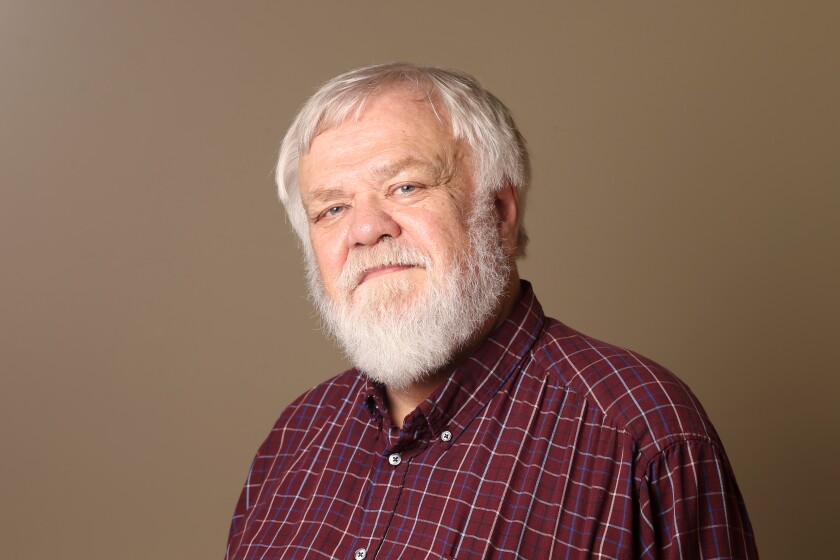 We are part of The Trust Project.
On the Fourth of July, Tori Johnson of Grand Forks was enjoying the holiday when an alarming report showed up on her computer news feed.
There had been another mass shooting, this time at a community parade outside Chicago – near where a daughter lived with her family.
If I had remembered how hard it is to pick winners at the Goose Festival pie contest, I would have declined the task.
Tori remembered last year when the news came of a man shooting and killing a nurse and wounding several others at a clinic in Buffalo, Minn. – where another daughter lived with her family.
"Was it my turn?" Tori thought then. Was it her turn to wonder, to worry, to fear – perhaps to try to live with unbearable loss? The feeling stayed with her even after she reached her daughter and learned she was safe.
And now, on Independence Day, she had to endure the terrible not knowing until another daughter called. They were OK. They were 20 miles away from the slaughter, and their community parade had been canceled. They were sad and shaken, but they were safe.
For a brief, agonizing time, it again had been Tori's turn to fear the worst. The thought would not leave her. It still hasn't.
With a knot in her stomach, she wrote a letter to the Herald . It was published last Saturday.
"Gun violence happens everywhere and spares no one," she wrote after conveying the terrible psychological impact those two events had on her. "We are all potentially in the line of fire."
She is a friend, and we talked about it on Monday. I asked about the response to her letter. "Many said things like, 'I have a friend in New Mexico when that shooting occurred,' or 'I had a nephew at Columbine.' A lot of people have their own personal connection to a shooting that affected someone they cared about."
The 1999 shooting at Columbine High School in Littleton, Colo., led to schools across the country increasing security, running drills – and wondering if it would be their turn next. People called for sensible gun control, but those pleas went nowhere.
Columbine and the failure to do anything meaningful about the country's insane gun culture shook me, I told Tori. But it was the shrugged response to the 2012 slaughter of little kids at Sandy Hook Elementary School in Connecticut that nearly shattered my faith in our national will.
"The first time I ever wrote to a politician was after Sandy Hook," Tori said.
That was then-Sen. Heidi Heitkamp, D-N.D., whom Tori had supported. When Heitkamp did not vote for certain gun control measures, "I was just furious," she said. "I know she was running for office, and I know the political particulars of our state. But I believed we had to do something."
She was a teacher. After Columbine, she participated in training sessions led by law enforcement. "That was so sad for teachers, for school administrators," she said. "What they were telling us … it was just terrible.
"And when Uvalde happened … I just can't stand it anymore. I think that's why I reacted the way I did."
She has written four times each to North Dakota's Republican senators. Her message: "It makes no sense whatsoever to allow these kinds of weapons," the military-style rifles favored by young mass shooters. "I have two daughters who live in very different parts of the United States who could have been involved. I just don't understand politicians digging in their heels on assault weapons, weapons of war."
She received what she called "canned responses" from the senators. But she saw hope in the recent work of a bipartisan group of senators who pushed through Congress a few modest changes: beefing up red flag laws, closing the "boyfriend loophole," improving background checks for gun buyers under 21 and restricting gun trafficking.
"I would like to be optimistic and say at least there was a start, at least there was a bipartisan effort," Tori said. "I'd like to be more optimistic, but I'm more afraid.
"There is a wall against talking about things that shouldn't be that difficult. The parents of dead kids – that unthinkable trauma, that unbearable grief. It makes it so I can't breathe. I don't know what to do."
She did something. She wrote to her members of Congress. She wrote to her local newspaper. She has become involved with such national organizations as Every Town for Gun Safety and Moms Demand Action.
"After the July 4 holiday, I was with my daughter in Chicago," she said. "We were talking about all this, and she just started to cry. She has a 10-month old and a 4-year-old. She said, 'I don't know if I want to take my kids to Target anymore.' I just listened. I didn't know what to say."
Now she watches – we all watch – as some House members push a bill to eliminate assault weapons. They know it can't clear the Senate now, but they want to send a message.
"The younger generation, they do give me hope," Tori said. "They're kind and thoughtful and smart. I have faith in the kids, that they'll change things. But I worry about them terribly."
She worries because today, tomorrow, next month, it could be their turn.
Chuck Haga had a long career at the Grand Forks Herald and the Minneapolis Star Tribune before retiring in 2013. He can be contacted at crhaga@gmail.com.