Chuck Haga: Tooting a horn for 'North Dakota nice'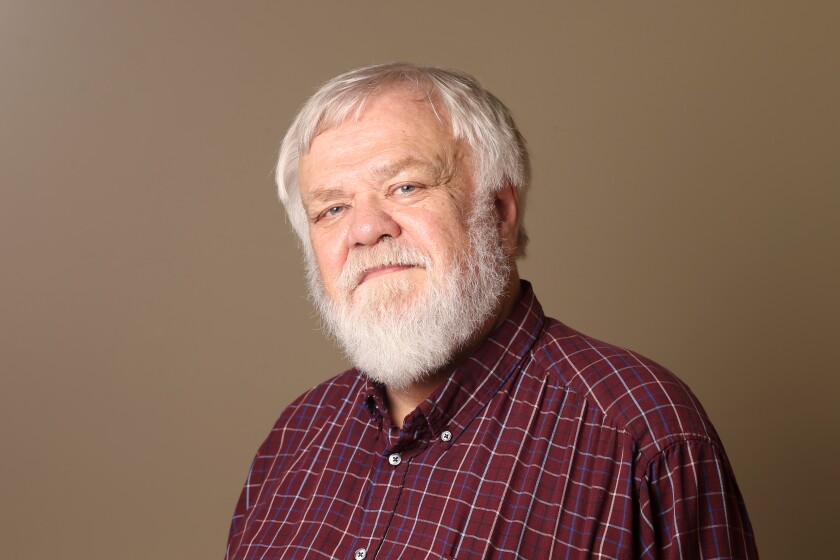 We are part of The Trust Project.
Even now, people wearing favorite old jackets walk up to Amanda Silverman Kosior to show her the label on the inside pocket.
"Silverman's," the label says.
She is Steve and Robin Silverman's daughter, Sam Silverman's granddaughter and Herman Silverman's great-granddaughter, the fourth generation of a family that for more than a century clothed lawyers, merchants, farmers, college students, soldiers on leave and anybody else looking for a nice suit, a good tie or a handsome pair of shoes.
Herman Silverman, an immigrant from Czarist Russia, started by selling clothes to farmers, traveling the region by horse-drawn wagon. His son, Sam, a World War II veteran, welcomed customers into his Third Street store as if they were coming to his home for dinner.
Amanda was literally raised at Silverman's, as a toddler playing in her mother's basement office. She once climbed from the basement to the checkout desk, where she opened the cash register. "My father found me stopping customers with a 'Here you go!' and handing them money from the till. Fortunately, this was North Dakota, and all of the customers waited around to give the money back."
In her delightful blog, northdakotanice.com, Amanda recounts the City Center Mall of the 1970s, where she learned about rommegraut at the little shop called A Taste of Norway and played Barbies with her sister, Erica, "in the middle of the square pants racks, closing up the three-way mirror to make an infinite world of Amandas, and hugging the suits."
Those rows of suits were "perfect for two little girls looking for pins and buttons. Once I found a nickel, which my sister ate. It was cozy and quiet in that tunnel, and I loved to wrap my arms around as many suits as I could reach and breathe in the smell of wool fabrics and wooden hangers. If you bought a suit from Silverman's between 1985 and 1990, chances are I hugged it."
She earned spending money sorting clothes hangers. "I spent the money on Archie Comics from Osco Drug. My sister and I would sit in the square pants racks and read the comics and daydream about opening a futuristic ice cream shop across the Mall from Silverman's that would shoot ice cream through the Mall via a Jetsons-style tube system for customers to eat while they shopped. This is still a million-dollar idea."
She remembers other highlights of an 18-year "career" working with her parents and grandfather: harried Crazy Days, dress-up bridal shows, measuring high school boys for tuxes, and holiday gift wrapping (never use more than three one-inch pieces of tape, Sam said.)
Amanda was 17 when I interviewed her in late June 1997 about how Central and Red River students were preparing for a delayed prom and otherwise dealing with the aftermath of the great flood. She said then that the flood and the community's response had changed how she felt about her hometown.
"Before the flood, we'd drive around downtown and say, 'I've got to get out of Grand Forks. I've got to go to college and get out of this town.' Then the flood came, and I went to stay with my grandparents in New Jersey. I just watched TV, looking for news of the flood. And I couldn't wait to get back. Now we drive around, looking at all the familiar places, and I'm saying, 'I don't want to leave. This is where I belong."
But like many, maybe most high school graduates, by the time she left Central in 1998 Amanda was eager to move on. She attended Boston University, studying public relations, English and archaeology, then worked in marketing until, wanting a change, she returned to Grand Forks. Her intention, she said, was "that I would 'reset' here for a few years before moving to LA or back to Boston – and that was 16 years ago."
She took a job at JLG Architects, where today she is marketing director. Shortly after returning to Grand Forks, she met Kyle Kosior, a hockey agent. They were engaged three months later, "and here we are," living in Thompson, working in Grand Forks, married with two boys, ages 9 and 5.
"I've been fortunate to live on both coasts and in spots in between, and I haven't found anywhere that is as nice as North Dakota," she said last week.
And those warm thoughts about home, of course, explain her blog.
"One of the things that really struck me when I went to college was how many people told me, 'Oh, you're really nice.' And I'm not – I'm a completely snotty grumpface. I realized that people in North Dakota are so nice that even I, Poopy McSourpuss, picked up some of that kindness.
"I started the blog two years ago because I wanted a way to share the nice stories of the people around North Dakota who would normally not toot their own horns."
That includes recalling long-ago days of picking straight pins off the store floor, hugging new wool suits and learning from a master how to engage and respect people.
"I have so many happy memories that I want to share," she said.
Chuck Haga had a long career at the Grand Forks Herald and the Minneapolis Star Tribune before retiring in 2013. He can be contacted at crhaga@gmail.com.