Chuck Haga: This is me, and these are my friends
In search of friends and fellowship during Chuck's Friendship Tour 2022.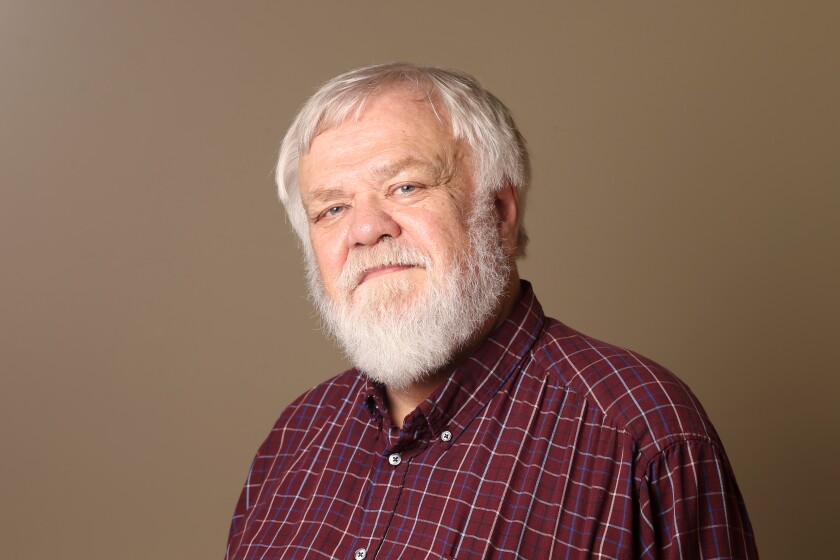 He said his name was Nick, and he was wearing a Wisconsin Badgers T-shirt, which seemed either brave or stupid since we were in the outdoor plaza of a bar in St. Paul, a place teeming with likely Minnesota Gopher fans.
It was a glorious evening last Saturday, the warm and sunny remains of a perfect spring day, the first after a stretch of cold, rainy, dismal days. Green had burst through all over. The plaza was jammed and jamming.
Nick, who appeared to be in his early 20s, walked up to me as I was talking with two friends, all of us in our early 70s. Most of the others in our area were in their 50s at least. Some were 80 or older.
"Who are you?" Nick asked my friends and me.
It struck him that all these old people, laughing and engaging in deep conversations, must be somebody. He said he admired the fun we were having. He's probably used to old people frowning, complaining or just keeping to themselves.
"But who are you?" he asked again.
"We are friends," one of my immediate companions said. "Friends of Chuck."
She turned slightly toward me and added, "This is Chuck."
Forgive me, please, this self-indulgence. But I told you here earlier about the cancer diagnosis that disrupted my life last December. I wrote about it because people were asking, and I told my story because I've learned that so many others have faced or are facing something similar.
Mine is a serious diagnosis, and it has meant frequent tests and procedures, meetings with doctors and pharmacists and insurers, periods of pain and fatigue and stifling ennui, all of it threatening to define me. I am a cancer patient. I have cancer. That is all.
Well, that wasn't working. I was hearing from many friends, many of whom I hadn't seen in years – or decades. They are people who have seriously mattered to me. They offered hope and encouragement. But I needed to see them, touch them, look in their eyes and hear their voices and be who we were when we were young, or at least younger.
So back in February, acting on a grand gesture from one of my oldest and best friends, I mapped out what I called Chuck's Friendship Tour 2022, a circuit through the region that would take me to a few dozen former work colleagues and other friends. Jim Durkin, who worked with me at the Grand Forks Herald and later at the Star Tribune, offered to drive up from Minneapolis, load me and my meds into his truck and haul me wherever I wanted to go, short of Norway.
A blizzard happened, and we had to cancel, and that was about the worst day for me.
But we rescheduled for early May, hoping we wouldn't lose too many people to the fishing opener – and gaining the bonus of my seeing granddaughter Morgan the day she graduated from the University of Minnesota.
With friend Mike Brue driving that first leg, my first stop was Bemidji, where Mike and Shannon Tangen, friends since college days 50 years ago, opened their home to other old friends, including Herald retiree Virg Foss, who goes back to my first stint at the paper.
From there, with Durkin driving, we motored down to Brainerd and, just to the west on the Gull River, the Sun-Up quarterhorse ranch of Vickie Kettlewell and Greg Booth, photographers who also became part of my world at the Herald.
Then it was on to the Twin Cities, where I had lived and worked for 20 years, for some one-on-one sessions and the Saturday evening gathering that caught young Nick's attention. Mike Burbach, who was a student when I first taught journalism at UND in the late 1970s, then worked alongside me at the Herald, arranged the get-together. He is now editor of the St. Paul Pioneer Press.
With some of those people, it was as if we had never parted, though I have been gone from the "Strib" for 15 years. We talked a little about cancer and treatment, but more about our time together, news stories we pursued, dear associates we've lost, and how we believe newspaper work is noble and vital and never more important than it is today.
I saw Hannah, the girl from Poland I met in Norway and who later came to America and made a career teaching Norwegian at the University of Minnesota. I talked with Lyn, who was managing editor of the Dakota Student when I was editor in 1969. I laughed with Dick about midnight meals pried from gas station vending machines while we chased hard stories. And I had a lovely time by Lake Harriet with Leigh, whom I visited in West Africa when she served in the Peace Corps in the mid-1980s. Thanks to her, I got to plant trees in a valiant effort to hold back the Sahara Desert.
Who are we, Nick?
I'm Chuck: newspaper guy, teacher, grandpa and a whole lot more. I've been sick, but at the moment I'm feeling pretty good.
And these are my friends.
Chuck Haga had a long career at the Grand Forks Herald and the Minneapolis Star Tribune before retiring in 2013. He can be contacted at crhaga@gmail.com.