Chuck Haga: The 1950 census confirms it: I'm somebody
I've been waiting for this census for 10 years, ever since I learned in April 2012 that results of the 1940 census had just been made public.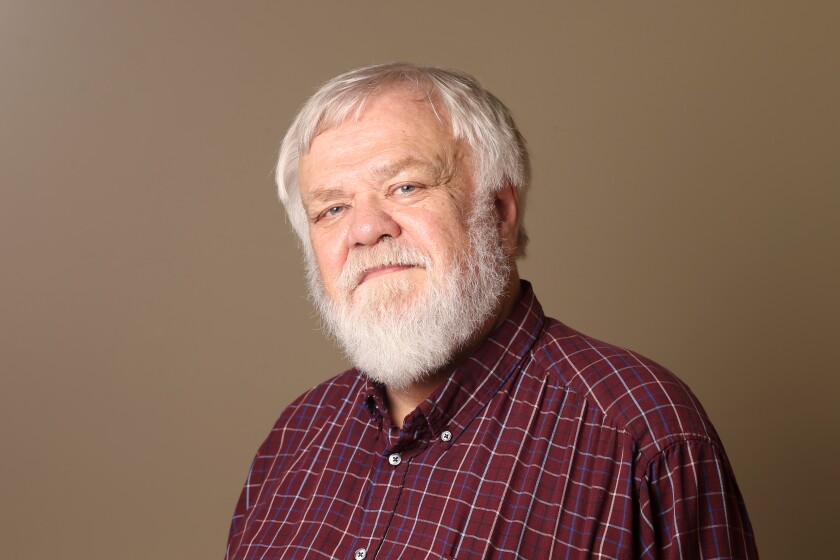 We are part of The Trust Project.
The 1950 U.S. Census is out! I'm somebody!
Some of you will catch the nod to Steve Martin's character, Navin Johnson, in the 1979 movie "The Jerk," who becomes rhapsodic when he first sees his name in print: "The new phone book is here! The new phone book is here! I'm somebody!"
If I had remembered how hard it is to pick winners at the Goose Festival pie contest, I would have declined the task.
By law, the detailed 1950 federal census records were kept under seal for 72 years, so they only became available on April 1. I didn't think about looking for them until a few days ago, but I was pretty excited when a quick computer search brought me to the right page and there I was, entered as the third child of Lars and Eleanor Haga, residing at 761 Fourth Ave. N.W. in Valley City, Barnes County, N.D.
I was born on May 27, 1949. I was less than 1 year old, but I counted.
"The 1950 Census is here!" I hollered. "The 1950 Census is here! There's my name! I'm somebody!"
The Washington Post tells me that this census was the last of its kind, as national head counts in 1960 and beyond asked fewer questions of most individuals. "Scholars will probe the (1950) data set to study social mobility, residential segregation or the everyday lives of Americans at mid-century," the Post noted. Also, "Countless (amateur) genealogical investigators will mine the records for information about their kin or communities. … The 1950 census therefore stands as a testament to the value of an expansive, exhaustive census and all that it saves for posterity."
I've been waiting for this census for 10 years, ever since I learned in April 2012 that results of the 1940 census had just been made public. After a little digging, I found my parents and big brother Tom, then 2 years old. Brother Jerry and I and sister Carolyn hadn't been born yet.
I learned that dad had had eight years of schooling, mom had two years of college, they paid $25 a month rent, and dad had worked 72 hours the previous week as a bartender. That seemed right: six 12-hour days. He had worked 52 weeks the previous year, earning $950.
Mom was listed as a citizen, Dad – born in Norway – as an "alien." By the 1950 census, he had become a naturalized citizen.
I had dug through the 1940 census results for Grand Forks, too, for a story for the Herald in 2012. Probably because of my father's immigrant status, I was intrigued by how many local residents had been born in other countries.
On a one-block stretch of Division Avenue in Grand Forks, the census enumerator found Albert Ruthhoske, born in Poland, and his wife, Martha, born in Germany. Nearby was Tollef Staves, born in Norway. He was 78 but reported working 48 hours a week as a repairman in a radiator shop.
The presence of so many foreign-born residents intrigued but didn't surprise me. I had written many obituaries for the Herald in the 1970s and '80s, life stories that included origins in Norway, Sweden and Finland. There were Germans from Russia and Czechs from the pre-World War I Austro-Hungarian Empire. Such folks became less frequent as the years wore on, but the 1950 census showed that Grand Forks County still was home to many people who had crossed an ocean to be among us. In Allendale Township, outside Thompson, the enumerator found Fred and Freda Mayers, from Russia; Lina McKeebe, from Germany, and Tony and Anna Szepelak, who had come from Poland.
On the 100 block of Walnut Street in the City of Grand Forks, Carl and Annie Hohne, from Germany, lived with their American-born daughter, Esther. Neighbors down the block included Minnie Benson, 76, from Sweden, and Gunder and Gunhild Knutson, 64 and 50, from Norway.
For that 1940 census, Valley City enumerator Maud Dibbern asked more than 30 questions. "I would ask many more, of course, if I could," I wrote in 2012. "My mother died when I was 16, my father when I was 19, before I felt much need to know such things as origins and sacrifices."
But the bits of information preserved in the census were intimate glimpses into home, work and family. I liked imagining my father at 33, my mother at 28, my brothers as toddlers. I could see millions of other Americans searching these records, delighting in finding a scrawled name.
"There is a warmth and personality to the names and details because they were written down in pen or pencil in the porches, foyers and living rooms of people we know were real," I wrote 10 years ago. "These are not coldly typed government documents."
They are who we were in 1940, and now 1950, when the country officially documented that I was somebody.
Chuck Haga had a long career at the Grand Forks Herald and the Minneapolis Star Tribune before retiring in 2013. He can be contacted at crhaga@gmail.com.