Chuck Haga: Thanks for people like Tor Dahl, who knew the country needs need blood and new energies
Seven years ago, he penned an earnest message on Thanksgiving. It resonates yet today.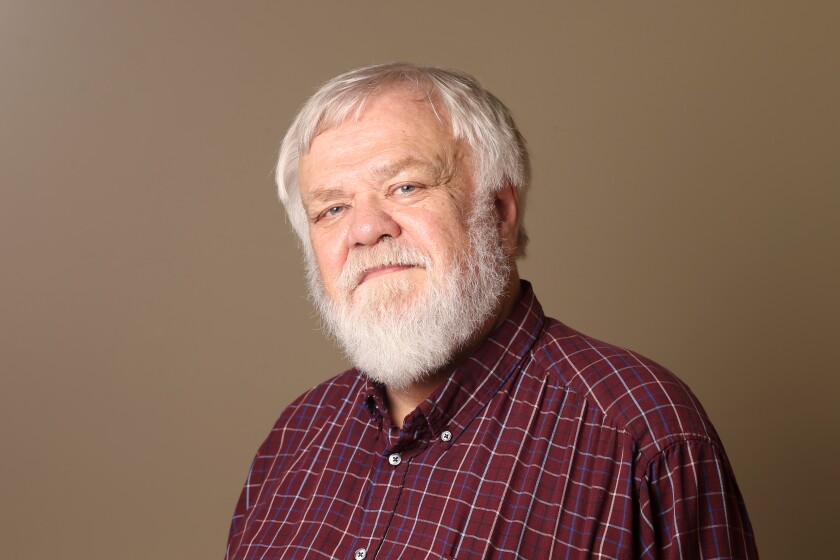 Thanksgiving week is a time of tradition and remembering, and for me the memories this week have been mostly good. I have embraced them with gratitude and marshaled them against the unhappiness of our times.
What we call "the news" has been my life, but it can wear a fellow down. So, too, can the fears and challenges and little insults that we all face, especially as the years add up. We fret a bit more over medical test results. We take note when a young university student passes us on a walk, a foot shorter but her stride twice as fast, twice as sure.
But we drink in crisp late-November air and admire the soft, slanted evening light. We savor the calm and the winter quiet, and we anticipate seeing the faces of people we love.
For me, these days stir memories of long-ago holiday car rides up the Sheyenne River Valley for Norwegian-flavored Thanksgiving dinners with relatives named Ragnvald and Signe, immigrants like my father, Lars. Buttered and sugared lefse adorn the dinner table. And pickled herring.
I think often of my immigrant father and his brothers, three "extra mouths" who left a small farm in southwestern Norway a century ago because there was nothing for them there. They came with nothing and made modest lives for themselves and a future for their families, and I am ever thankful.
The late Tor Dahl was thankful, too. Born in Norway, he became a highly respected business and civic leader in Minnesota. Counselor to governors here, decorated by kings over there, he also was an advocate for the poor and the homeless – and for dreamers from distant lands.
"I am an immigrant to this country," Tor wrote proudly at Thanksgiving seven years ago.
Many of his relatives who had come from Norway earlier faced discrimination, he said, because they were women, or because they were poorly educated, or because they were too young or too old.
"They told us so, in books and articles, in their own newspapers, and in their marches for a more just society," he said. "So we know about their challenges. And like all the other ethnic groups, they succeeded. When they were unwanted in certain churches, they built their own. They did the same for colleges, universities, cooperatives, banks, and insurance companies. And then they became voters, and elected their own people. And then they were fine."
The American "establishment" at the time may have been afraid, Dahl said, that these people with strange names, "uncouth, not-of-us kind of people, should acquire power and riches in America."
He named a long line of famous Norwegian Americans – actors, athletes, astronauts, politicians, poets, inventors, business leaders, from Knute Rockne and James Cagney to Walter Mondale and Norman Borlaug, from Gypsy Rose Lee and Sally Ride to Robert Bly and Thorstein Veblen. "Most of the ancestors of the people I have listed came from humble beginnings. Few could speak English. Some lived in sod huts on the Midwest prairie. Many fought in the American Civil War, and all the other wars that followed."
And that was the earnest message Tor Dahl wanted to leave that Thanksgiving, a message I want to share as "the news" intrudes about our raging incivility, our deepening divisions, and our continuing battle over immigration.
"All ethnic groups will show the same picture," Tor said. "All of them. You may discriminate against them, they will rise. You may deny them access, they will find a way. Each time we erect barriers against people because how they look, talk, eat, work, they will succeed. But they won't forget.
"History shows that when you suppress a people, when you deny them fair treatment, when you hate them, call them names, discriminate against them, they will rise. In anger, at times, but mostly from courage fueled by fear or despair, human misery that could not be sustained even by the mighty Roman empire.
"Fix this immigration problem! This country needs new blood, new energies, and children. Above all this country must welcome and love their children. They are the future, and they will remember what an unfeeling government did to them, and to their parents. Don't make them hate us."
Tor Dahl died on June 5. He was 82.
I am thankful I knew him, that he knew what it means to be an immigrant, that he loved his homeland and this country.
"We remember, and those memories made this a fairer, more just and yes, a greater country than what we would have had, had we not come," he said. "That is the contribution of every ethnic group, e pluribus unum, from many, ONE! That is America's comparative advantage, that's how a thousand cultures together constitute a greater whole.
"We may not have come here because of the American Constitution. But that may be why we stayed. And we still hold its truths to be self evident."
Chuck Haga had a long career at the Grand Forks Herald and the Minneapolis Star Tribune before retiring in 2013. He can be contacted at crhaga@gmail.com.