Chuck Haga: Thank you both for your service
He was getting his vaccine shot and appeared to be a veteran. She's a National Guard soldier and was working the vaccination clinic at the Alerus Center. Both deserve praise.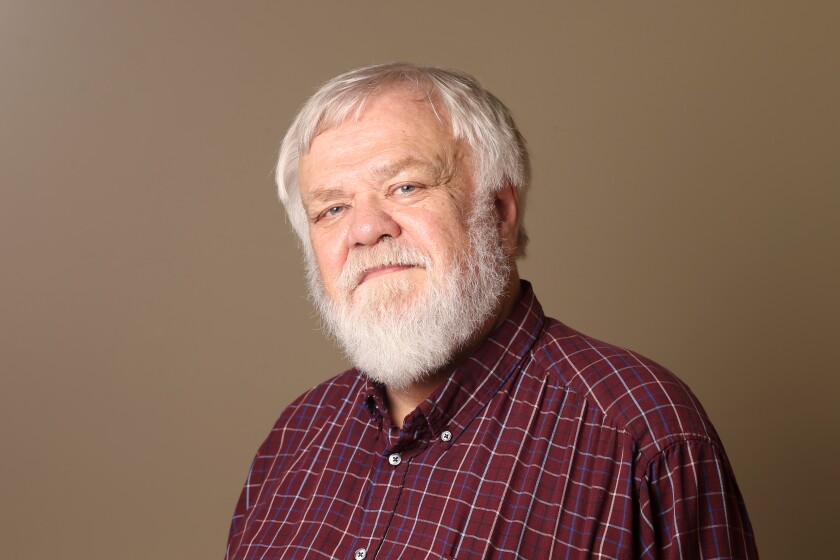 For me, the second-best moment of Wednesday's mass COVID vaccination at the Alerus Center – after my receiving dose No. 2 – came as I sat in the waiting area for the recommended 15-30 minutes to make sure I didn't faint or break out in hives.
National Guard soldiers meandered through the rows of the recently inoculated, smiling, checking on us. "How are you doing, sir? Feeling OK? Any problems?"
In the row just ahead of me, a man and woman sat together, a married couple, probably. He looked to be in his 80s, she maybe a few years younger.
He wore a distinctive cap, red and black plaid, with ear flaps up, a broad brim and a little button on top. An Elmer Fudd cap, we used to call it.
As we all sat waiting, a young woman in the uniform of the National Guard approached the old man in front of me and knelt to address him.
"I saw your hat," she said. "My grandfather always wore a hat like that, and seeing it reminded me of him, and so I wanted to stop and" – patting her heart – "send some good thoughts to you."
And that started about a 15-minute conversation.
"Where are you from?" the old-timer asked her, and she said she was from Bemidji originally but came to Grand Forks in 1997, at the time of the big flood.
"So, this is home now," she said.
The man told her that they were from Thief River Falls. She beamed and said she knows Thief River Falls.
And I think he said something about her being in uniform – he spoke very softly, and she leaned close to hear – and mentioned that he, too, had once been in uniform. Vietnam, maybe.
"Thank you for your service," she said, as sincerely as could be.
They continued to talk, the old man and his wife in their folding chairs, the woman in uniform kneeling to be close, smiling as they traded life stories. Like all of us, of course, they wore masks.
They were still talking, mostly beyond my ability to hear, when their prescribed waiting time was up. "I shouldn't hold you up," she said, starting to rise, but the old veteran asked her another question, and she drew near again, looking pleased.
My wait time was up, too, but I didn't want to leave.
In a writing class I teach at UND, one of the assignments is to write a profile of someone. I encourage the students to consider writing a grandparent's life story, especially if they had never had that sort of a deep, thoughtful conversation. In another writing exercise, I have them write a thank-you note to someone who mattered in their lives, and again I suggest a grandpa or grandma might really appreciate such a gesture.
I read a story a year or two ago – I've forgotten where – about a study of grandparents and how they navigate advanced age. The study's main finding was that "active grandparenting" – engaging with grandchildren, listening to them, showing love and interest – can slow mental and physical decline.
That has been the first article of my impeachment of COVID-19, that for a year it has hobbled my ability to be, as my youngest says, G-Pa Chuck. (Another limiting factor, of course, is that she, her big sister and her big brother all have busy lives – work, college and, for 11-year-old Emma, school and friends and a demanding gymnastics schedule. I understand and accept that. It's as it should be – they have lives to live – but the virus means I can't watch her practices or competitive meets.
So, I watched this relatively young woman in uniform talk earnestly, sincerely, with the older couple, the man in his evocative Elmer Fudd hat, and I was happy.
They were still talking when I decided I had to leave. I stepped forward and asked if I could interrupt for just a second.
The soldier stood, concern on her face. Was I in trouble? Was I having a reaction to the vaccination?
"I apologize for eavesdropping," I said. "But I wanted to thank you, both of you, for your service. And" – looking at her – "I think your grandpa would be very proud of you, for this."
I could tell from the look in her eyes that I was right to say it.
Chuck Haga had a long career at the Grand Forks Herald and the Minneapolis Star Tribune before retiring in 2013. He can be contacted at crhaga@gmail.com.