Chuck Haga: Teen has entered the arena; we should listen
Greta Thunberg doesn't have a detailed plan for dealing with climate change. But she is young, she is passionate and we should listen to what she has to say.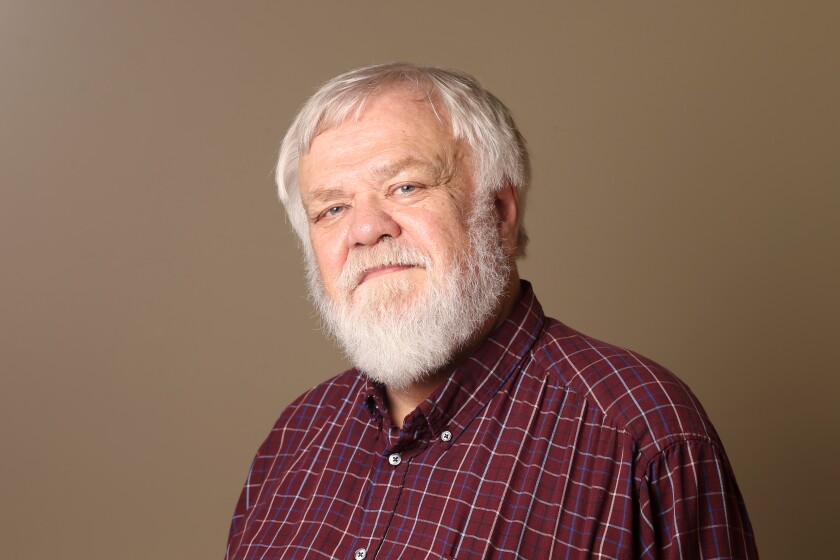 I'm with Greta.
The 16-year-old climate activist from Sweden has been making news here in the United States, first by crossing the Atlantic in a zero-emissions craft, then by speaking environmental truth to power at the United Nations in New York, where she roundly chastised the assembled leaders of the world for failing to address what she believes is an immediate global crisis.
"How dare you?" she demanded from the podium. "You have stolen my dreams and my childhood with your empty words."
Last week, she brought her warnings and challenges, her focused intensity, to the Dakotas, rallying young and old on the Standing Rock Indian Reservation.
"This is a global fight," she said there, according to news reports. "This is not just in my home country in Sweden. We need local solutions to this global problem, and of course global solutions as well."
She has inspired and she has been disparaged, in both cases due in part to her youth. Why should we listen to this little girl? Why should we pay attention to her take on this serious issue? Why should we credit her passion?
Why?
Because she is young.
Because she is in the arena, grappling with an issue that faces us all.
And because she is passionate.
Greta Thunberg hasn't laid out a detailed plan for dealing with climate change. She isn't so much advocating specific policies as she is demanding that people with power and influence pay attention, realize the potentially devastating implications of climate change – especially for her generation and generations to come – and act.
She challenges each of us. She brings to the climate issue the spirit, the energy, and, yes, the passion of youth. Like the young people who have demanded that we go beyond "thoughts and prayers" regarding gun violence, like the young women who last week in Grand Forks helped to mark the 100th anniversary of women winning the right to vote in this country – and who demand that the struggle for equality continue – Greta has no patience for the self-satisfied arrogance of age or for indifference, for shrugs and a plaintive "but what can I do?"
She has been open about her Asperger's diagnosis, a condition marked by focus and intensity. That led one skeptic to refer to her on a national network as mentally ill. But Asperger's is her superpower, she says, and that reminds me of another passionate young crusader: Erin Baumann of Grand Forks, who was born with Down Syndrome and has made it her life's goal to eliminate the word "retarded" from our vocabulary and replace it with "respect." Erin has taken that message to assemblies at most of the local schools.
"You should respect people," she says with firmness. "You should respect people like me."
Greta's direct, withering indictment of leaders who fail to take the climate issue seriously puts off some people, obviously. It's complicated, they say. Proposed solutions are impractical, too costly, subversive. Maybe. I have to say her rage stokes a little guilt in me.
I remember the anger, impatience and passion we felt 50 years ago at the Dakota Student when we put out an eight-page issue devoted to the environment. "At What Price, Progress?" we asked in the supplement's title, and we wrote about local pollution, money wasted on war, defoliation along the U.S.-Canada border, the draining of wetlands, and – yes, 50 years ago – opposition to a flood-control dam proposed for the Kindred, N.D., area.
But, Greta might rightfully ask, what have we done lately?
Not nearly enough.
But 10 days ago, this newspaper reported on an effort to clear plastic debris and other garbage from the English Coulee near Grand Forks' Sertoma Park. Four days ago, people gathered at a Grand Forks nightspot to discuss recycling, locally and globally, and how we might do more. In the great scheme of things, that's not much. But it's something.
Personally, I'm trying to reduce the amount of plastic I send into landfills, into coulees, into the oceans. It's hard, given the omnipresence of plastic in our world. I've tried to find other ways to lessen my footprint. Again, it's not much. But it's something.
Keep prodding, Greta.
Chuck Haga had a long career at the Herald and the Minneapolis Star Tribune before retiring in 2013. He now writes for the Sunday edition of the Herald. He can be contacted at crhaga@gmail.com.