Chuck Haga: Teaching students to understand, not believe
There is an effort underway in the North Dakota Legislature to ban instruction of "divisive topics."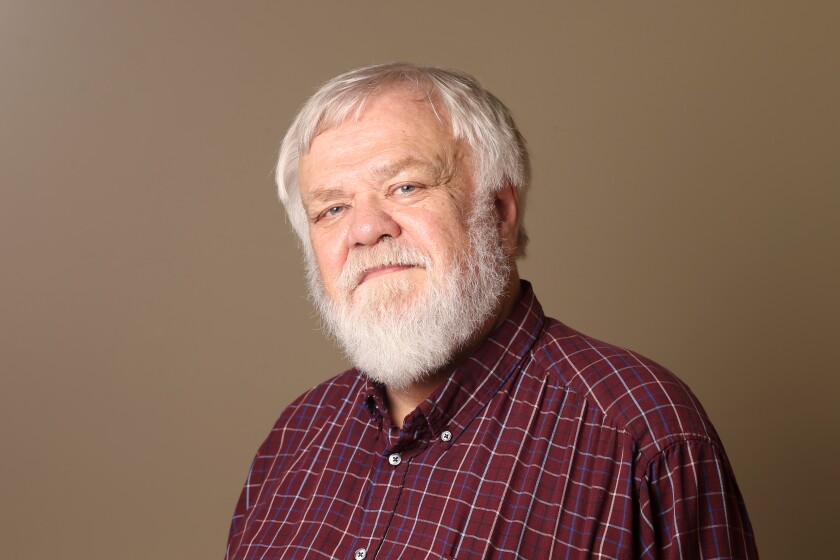 Three of the brightest students who sat in my UND journalism classes the first time I tried teaching often stayed around after class to talk.
It was 1979, and I was just back from a year abroad and trying to decide whether I wanted to get back into newspapering, teach or do something else. UND offered to put me in the classroom for a year, and I figured that would help me decide.
Those three standout students – let's call them Brian, Michael and Tim – asked a lot of questions, in class and out. They were curious about reporting, news writing and the Sixties, when I was a student, and they asked about protest, radicalism and the forever struggle between liberty and order. They knew I leaned to the left, and their interest and energy gave me purpose.
They went on to become an attorney, a newspaper editor and a gifted writer of fiction. Two have raised children, and one is a new grandfather.
And all three are firmly, unapologetically conservative.
Drives me nuts.
Then as now, a lot of people were highly suspicious of "pointy-headed liberal college professors," whom they assumed were out to propagandize and corrupt young minds – teach them, in today's parlance, to "hate America."
But if I was trying to seduce those three with godless progressive theory, I was an abject failure.
There is an effort underway in the North Dakota Legislature to ban instruction of "divisive topics." According to a report earlier this week by the Herald's Joe Banish, those topics "include the assertion that the U.S. is inherently racist or sexist, that all Americans are not created equal and endowed with inalienable rights and that meritocracies are oppressive by nature."
The bill's sponsor, Sen. Bob Paulson, R-Minot, also wants to prohibit "disciplinary action" against members of the academy who choose not to embrace those ideas.
"There is a feeling of intimidation among people speaking out against those concepts," Paulson said at a committee hearing. "And that concerns me. Why are they intimidated, why are they afraid?"
Asked for evidence that the campus climate is so rigid, severe and Bolshevik in North Dakota, the senator offered without detail an anecdotal claim by one anonymous student that their political beliefs, presumably conservative, had led to a lower grade.
The bill's fate is unknown as I write.
I'll agree that a great many students seem reluctant to engage in debate or discussion, maybe for fear of saying something "wrong" but more likely out of boredom or disinterest. But that's hardly limited to students who bring a conservative point of view to campus.
A few semesters ago, I had a student in my news writing class who wanted to write a column, an opinion piece, supporting gun rights and opposing greater controls. He and I clearly differed sharply, but I didn't give him reason to believe he had to adopt my point of view. Rather, I encouraged him to address a range of views as he presented his position. He wrote a thoughtful column with a conclusion the National Rifle Association would admire, and he received an A.
Curt Stofferahn, a retired UND sociology professor, former department chairman and a leader in faculty governance, put it well in a recent Facebook post: "Many classes in the sociology curriculum deal with race, ethnicity, class, sex, and gender," he wrote, so those "divisive issues" can hardly be avoided. "We don't teach to make students 'believe,'" he wrote, "but to 'understand.'"
Faith Wahl, the UND student body president, spoke against Paulson's bill when it came before the Senate Education Committee Monday. "I've been in a lot of classes where disagreement is encouraged," she said, again according to the Herald's report. Barriers or restrictions such as those proposed in the bill could "make students less willing to express their opinions."
It is important, Wahl told legislators, that our schools teach students "how to disagree and engage in critical dialogue."
An important part of the course I teach now at UND, writing in new and traditional news media, involves covering and writing about controversial issues – war, protest, racial and sexual conflict, abortion, even the Fighting Sioux nickname struggle. I grade students not on how they come down on the issues but on how they accurately, completely and honestly report about them. What they personally think about the issues has no place in their stories, but we need to examine the various points of view involved. All of them.
When they're writing their news stories, expressing an opinion will indeed get them a lower grade – whether it's an opinion I share or abhor.
I'm reminded of the time, more than 50 years ago, when students invited Gus Hall, general secretary of the Communist Party USA, to speak at UND. Conservative state legislators went nuts. But old party boss Gus came, ranted and left, and we smiled and thought "Well, that was interesting," and went back to hockey games, dates, part-time jobs and classes taught for the most part by smart and honorable men and women who asked only that we think.
The commies never really got a foothold.
Chuck Haga had a long career at the Grand Forks Herald and the Minneapolis Star Tribune before retiring in 2013. He can be contacted at crhaga@gmail.com.