Chuck Haga: Take the time to tell life's stories
We "ink-stained wretches" often talked of writing our own obituaries, and some of my friends have. But one has gone much further.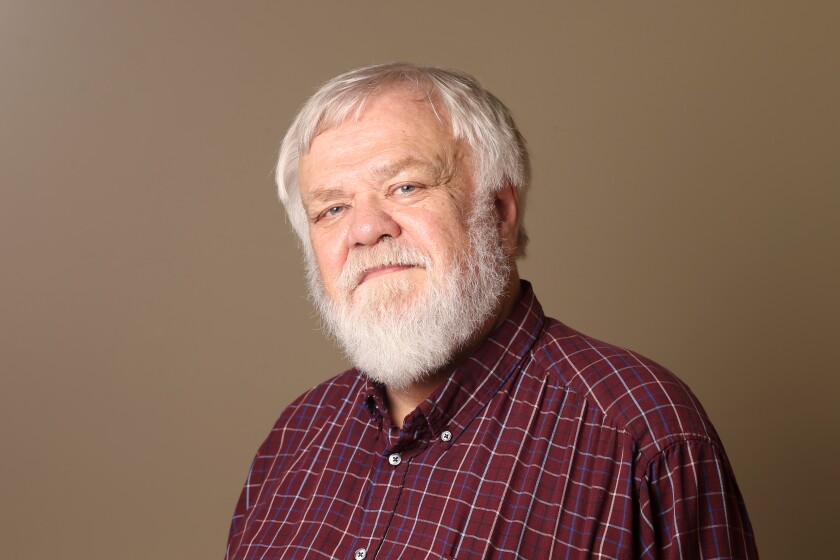 We are part of The Trust Project.
Back at the time of Watergate, when journalists ranked a tad higher than scam artists and puppy mill operators, we eager young men and women daydreamed of the day when we would be as famous as the reporters who told the story of Richard Nixon's fall.
We ought not sanitize how we teach our children about them, leaving out the flaws, inconsistencies and contradictions.
We would comfort the afflicted and afflict the comfortable and do all the things newsies do, including writing a few obituaries along the way – life stories of the famous and infamous and other worthy subjects in between.
We "ink-stained wretches" often talked of writing our own obituaries, and some of my friends have. But one has gone much further. He's still working on his own story – the subject is far from complete – but James R. Hagerty has made a capstone of his career by writing deep, compelling obituaries for one of the nation's most prestigious newspapers.
And he is now offering to show everyone how to do it, and how to do it well.
Yes, Hagerty. Jack and Marilyn's boy, known to most of us as Bob. Local boy makes good. I once worked for Bob, briefly. I had quit working for his father, venerable editor of the Grand Forks Herald, and returned to UND, where I was studying history. Bob, then editor of the Dakota Student, hired me to edit the stories of student journalists. I was struck then by his discipline and writing talent, and I wasn't surprised later by his rise at the Journal, including stints overseas.
We've talked about the reporting and writing of obituaries, an assignment that some reporters find unappealing, less challenging, maybe a little creepy.
"I love history, and especially personal history," Bob told me in an email this week. "Whenever I meet people, I want to know why they chose one path or another in life, what kinds of obstacles they faced, what mistakes they made and what they learned from them.
"Some people ask me whether it's depressing to write obituaries. I find it uplifting. They aren't about death, they're about life. Death is just the pretext for telling a life story (one we probably should have started telling long before). After people read the day's main headlines and learn of all the latest horrors, I suggest that they turn to the obituaries so they can be cheered up by tales of people who managed to lead fulfilling lives in other grim times."
I try to make that case to news writing students at UND, and as examples share two favorite obits I've stumbled upon. One is of a Crow Indian who died in Montana at the age of 102, honored by his people as their last war chief for having ridden on horseback through a Nazi German camp in World War II. A descendant of people who died at Wounded Knee, he wore war paint beneath his uniform and chanted ceremoniously as he touched an enemy without killing him and rode off with the enemy's horses.
The other life story I often think about was of an old North Dakota woman, an immigrant from Finland, who had told of riding through the Finnish forest as a girl, holding a white sheet above herself to hide from Russian bombers, striking matches to scare away wolves.
History.
One of Bob's favorites – one of the more than 900 he's written at the Journal – is of a woman he met in Northwood, N.D., in 2016 while traveling with his storyteller mother. Iris Westman died Jan. 3, 2021, at age 115. Bob had listened and taken good notes when he and Marilyn visited, and his fine obituary is in his book.
Who does he wish he could write about?
"Jane Austen," he said. "But only if I could have interviewed her while she was still alive. Her family burned her letters, and little is known about her life and what she thought of it."
The internet has changed much of journalism, including the reporting and writing of an obituary.
"It's now easier to do some kinds of research, such as searching old newspapers from around the world," Bob said. "But we're losing another valuable source of information because people don't write proper letters.
"I urge people to save their best social media postings, the ones that describe important moments or funny ones, in a file called My Life. Make a printout too. You can't expect people 50 years from now to read through 10,000 trivial postings to find the few gems. Don't worry whether people will be interested if you're not famous Samuel Pepys wasn't famous. Anne Frank wasn't famous.
We're still reading what they had to say about their day-to-day experiences."
We both wish we knew more about our dads. And I agree with my friend that writing your own obituary can have great value beyond preserving your story for an audience. "Even if no one ever reads or listens to what you preserve, you gain from thinking about what you're doing with your life," he said. "It isn't too late to improve the narrative."
"Yours Truly: An Obituary Writer's Guide to Telling Your Story," is available now online and in bookstores. It's a remarkable achievement. (I wish I had thought of it!)
Chuck Haga had a long career at the Grand Forks Herald and the Minneapolis Star Tribune before retiring in 2013. He can be contacted at crhaga@gmail.com.