Chuck Haga: Swimming the waters of the world
Former Grand Forks resident has taken dips in the Indian Ocean, the Carribean and the Sea of Cortez. But the waters of Minnesota's old mine pits are her favorite.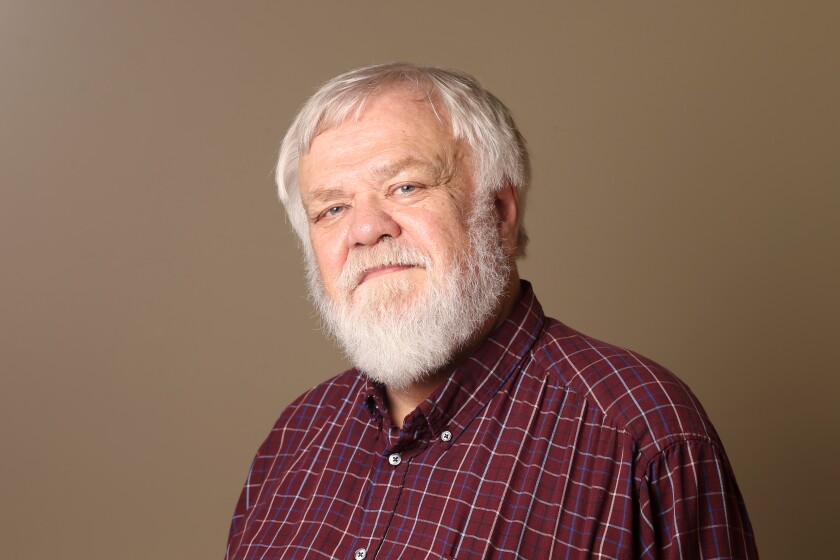 We are part of The Trust Project.
It started, Carolyn "Bean" King says, in 1994, when she was introduced to a unique body of water in north-central Minnesota: the spring-fed Tioga mine pit, the westernmost pit in the fabled Mesabi Iron Range.
"I couldn't believe how clear the water was," she said. "It was deep and cold and so clear. I just had to swim in it."
Since then the Grand Forks native has taken solitary swims in many of the deep pits left when surface mining operations ended decades ago. The abandoned pits filled with spring water and became "hidden jewels left from mining days of old," according to a song composed by a King friend, "brimming in full beauty, clear water, deep and cold."
Starting in the 1890s, the Mesabi Iron Range "produced iron ore that boosted the national economy, contributed to the Allied victory in World War II, and cultivated a multi-ethnic regional culture," according to a brief history published in MinnPost in May 2020.
The pits carry the names of old mining companies, characters and locations: the Tioga and the Lind, the Greenway, Canisteo, Larue, Arcturus and King, the Wyman Perry, the West Hill, Jessie and Morrison.
"There's not that much plant life because it was all rocks," King said. "No weeds. But sometimes when you swim mine pits, you swim over treetops. It's eerie. Some places you have to watch out because there are stumps in the water. And there are rocky cliffs. People try to scare me – 'There could be an avalanche!' – but I've never seen any of that."
Send your thoughts and prayers if you believe that helps, but for humanity's sake can't we do something more, something concrete?
Some pits have public access, including boat ramps. "But for most you have to find the trails," she said. "Some of the trails are from mining days."
King, the daughter of famed bandleader Dick King, graduated from Grand Forks Central in 1964. She "dropped out of UND twice" before earning a degree in 1970 from the University of Colorado.
Her father nicknamed her Beanie when she was less than a year old. By junior high, it was shortened to Bean. That lasted until she was 33, "when I decided I really liked my name, Carolyn."
She came back to Grand Forks in 1980 and ran a food co-op, but in 1989, married, she moved to Grand Rapids, Minn., at the western edge of the Mesabi.
She had taken swimming lessons at Riverside in Grand Forks, then at UND, "but I didn't really like to swim," she said. That changed after she became a regular at a public pool near where she lived in Washington, D.C., in the 1970s. "One day I looked in a mirror, and I had shape in my thighs! I liked that!"
Swimming was her exercise, the pits her gym and health club. She used old Iron Range maps to locate the abandoned mine pits. Some are easily accessible, while others require a challenging hike.
"I couldn't believe it when I found them and started swimming in them. They were just beautiful, the water is the cleanest, and for 10-15 years that's all I did in my spare time, swim in the mine pits. It was a lot of climbing over gates, trespassing and getting lost."
She almost always swims the mine pits alone, only a series of dogs, now Rocky, for company.
"That's the way I like it," she said. "I have secret places I go and it's pretty annoying when I find someone there."
The Tioga pit is a favorite. It's closest to her home and easy to access. "For 10 years, I was the only one who went to Tioga except for a guy who sunbathed naked," she said. "But he stayed on one side of the pit, I on the other. Now the parking lot is often full, people are there with their boom boxes, paddleboards and kayaks."
She uses six different strokes "so I don't get bored," and swims for about 40 minutes.
"I'm not a bad swimmer, but I'm not a good swimmer, either," she said. "I'm slow. I don't care if I do a great distance. I just want to be in the water."
A few years ago, searching the internet for swimming vacations, King discovered Swim Trek, which organizes international swimming expeditions. That led to swims in the Caribbean, Greece, Egypt, the Maldives, Croatia and other distant waters.
"I'll do my 16th later this year, in Turkey," she said. "I'm going to do Montenegro next year.
"I swam in the Atlantic Ocean, the Indian Ocean, the Aegean, the Ionian, the Sea of Cortez. The water in the mine pits is best. It's fresh, clean water, and I love the surroundings … the rock piles, trees growing out of the rock piles."
In 1997, she had a sauna built in her Grand Rapids basement, and with rocks and signage liberated from some of the pits she put up a "mine pit memorial fence" in the back "so I could run out naked and roll in the snow."
She will be 76 on Sept. 26.
How long will she continue to swim in mine pits?
"Until I can't," she said.
Chuck Haga had a long career at the Grand Forks Herald and the Minneapolis Star Tribune before retiring in 2013. He can be contacted at crhaga@gmail.com.