Chuck Haga: Student writers produce another chorus of empathy, discovery and engagement
I always look forward to reading students' personal columns, where they may find their voice and express a point of view.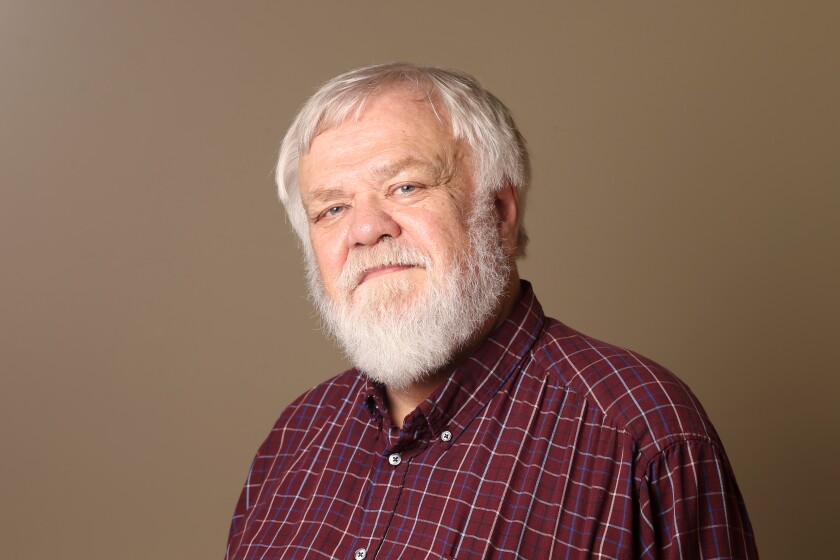 In my newswriting class at UND, I give students a variety of writing assignments. They are to report on an event, cover a news conference, write a profile and an obituary, and report on a major campus issue.
My favorite assignment – the one I always look forward to reading – is the personal column, where they may find their voice and express a point of view.
A column may be humorous, serious or explanatory, I tell them. It may be about politics, sports or a simple whim. Write about dating, binge drinking, Greek life, online education, separation from family, depression, campus safety. Write about being the first member of your family to attend college, or how your mother is trying to relive her youth by "sharing" your college experience and you want her to stop. Silly is OK, too: How my pet python keeps me focused (and keeps people out of my room).
This semester, of course, many of the students wrote about how the pandemic has affected their college experience. "I like to think I have adapted," one wrote, "and when the time comes, I am hopeful that I'll be able to adapt again. Perhaps that's the real college experience, learning that the accumulation of adaptations will help prepare us for the challenges that await us in the real world."
Another was less positive: "I struggle finding fun things to do. Many places close early or aren't open. … I have found a new passion for working out during these times. I go to the gym six times a week for about an hour and a half. It is weird that I have found great motivation in weightlifting rather than in school. I would love to see UND return to in-person classes. … I feel my college experience is lacking at the moment because I don't get to meet new people in class and get a real grip on the real world."
Every semester, some students write about how they're dealing with anxiety or depression. This from a young woman who was a three-sport athlete in high school: "I think the reason I put myself through hell and back those four years of my life was because when I was on the track, course, or dance floor, I felt at ease. … But when I wasn't practicing or competing, I always had that sense of 'what if?' … 'What if I'm not practicing hard enough and doing good enough in school? What if the reason I'm failing math is because I'm not smart enough?' I felt so stupid sometimes. I didn't understand why I had those constant thoughts of not being good enough. I put so much pressure on myself to be the best I could be, but all it did was … make my anxiety worse."
You'll be happy to know that she went on to tell how she sought help from UND Student Health and is learning how to control the anxiety.
Another student wrote about peer pressure: "Sorority members especially feel pressured to party and put on a fun, hot, and trendy persona while juggling their priorities for school. They have date parties to attend, new members to initiate, philanthropies to raise money for, and a social image to maintain for their sorority.
"College girls and other women around the world have also begun using photo editing apps that allow them to smooth their skin, cinch their waists, and use filters on photos. This is unrealistic because no one could possibly look that way in real life, but edited images are what women compare themselves to. Editing photos in this way is only adding to society's impossible beauty standards for women and girls."
There were lighter takes, such as this student's celebration of singer Taylor Swift: "The songs relate to where she was in life as she got older. For example, on her second album titled 'Fearless,' she writes a song about starting high school and the excitement of new friends and new boys. In her album released in 2019 titled 'Lover,' she writes a song about watching her mom go through chemotherapy treatment."
And this fellow, who took a student job that had him writing parking tickets for fellow students, lamented how his peers harass and even hate him. "Maybe it's just because at this point it's something like a school tradition," he wrote.
A student athlete wrote about how, when she talks to high school students, the most common question is, "Is it worth it?" Absolutely, she responds, "if you have a passion for the sport and are willing to put in the hard work and dedication. You will have to make sacrifices [but] the people I have met through volleyball, places I've traveled, and memories I have made cannot be replaced."
One of the best writers in this semester's class is an international student, for whom English is a second language. "America is selling many dreams, and the college dream is one of them," she wrote. "The dream is full of exaggerations: the best time of life, SO much fun, life changing memories, the wildest parties and amazing opportunities. There seems to be no room for a neutral, sober description.
"In the rest of the world, students simply envision a good academic education, hopefully with talented and knowledgeable professors, affordable if not free. American students, however, feel an enormous pressure from their parents and the rest of society to have the time of their lives, especially when the parents have been saving up for their children's education since the children were born."
I love hearing their voices, especially when they write with empathy, discovery and engagement.
Chuck Haga had a long career at the Grand Forks Herald and the Minneapolis Star Tribune before retiring in 2013. He can be contacted at crhaga@gmail.com.