Chuck Haga: Should chickens be allowed on Hagaland? If the drought continues, it will need to be considered
The heights of Hagaland are beginning to rise above the water level of the dwindling Red River.
I'm trying to decide whether to allow chickens on Hagaland.
The question could arise this hot, dry summer because my little island in the Red River has emerged, sort of, for the first time in decades.
For a few days earlier this month, you could stand on the Sorlie Bridge, look north about halfway to the old railroad trestle and, if there were no ripples on the river's surface, make out the dark outlines of what fishermen call structure. Then, as the river fell this week to about 15.2 feet, Hagaland broke through. It is just rock now, including Promontory Peak, but if the drought continues the central grasslands could return, followed by the rock archipelago known (to me) as the Lesser Hagas.
Before we go any further, let me say this: As much as I'd like to stand on my island again, I hope this drought breaks and restorative rain reaches farm fields and city lawns.
Now, about chickens.
My newspaper tells me that Grand Forks is embroiled in a debate over whether city code should prohibit residents from keeping live chickens. Chickens are farm animals and a potential nuisance in town, the anti-fowl crowd says. But a young man who obtained a permit to raise chickens in his family's south-end yard says the colorful hens helped him get through the pandemic. Also, their yard-fresh eggs transformed his appreciation for breakfast.
A city-authorized coop now must be at least 75 feet from neighboring homes, or the chicken wrangler must have written consent from neighbors inside that distance. The council is considering tightening the permit requirements and limiting the number of chickens a city resident might keep.
I come down firmly on both sides of this issue, having raised chickens myself about 60 years ago in the urban core of Valley City, N.D.
My older brother Jerry helped me build the wire coop and attach it to our garage. At a local feed store, we bought a dozen fluffy little chicks. I must have fed and watered them well, because they grew large and capable of brief flight, exposing a flaw in our coop construction: We had neglected to provide a roof. My chickens included roosters – what did I know at 12 about sexing chicks? – and the roosters chose the front stoop of our neighbor Carl Myhre to noisily celebrate the sun each day at about 5 a.m.
Carl was a kind and gentle man who tolerated much, but after a few early wake-up calls he complained. About the same time, a school friend who lived a block away had a large dog that broke into the coop and dispatched several of my chickens.
"They belong on a farm," my dad said. "I'll take them out to Uncle Ragnvald's place in the country. They'll be happier there."
The thought of my chickens running free around Uncle Ragnvald's farm, growing fat from eating bugs and seed scattered by Aunt Signe, lessened the pain of my failure as urban chicken farmer. It didn't register right away that we usually feasted on roast chicken when we drove out to visit.
So, yeah, while I think choosing to keep chickens in town may be seen as fundamentally American – "Freedom!" – regulating it may also reflect our willingness to get along with others, though some no doubt will decry that as socialism.
Back to Hagaland. Some background for potential tourists:
I claimed the island in 1982, a time of low water. It measured several square meters and included a lush meadow. Three people, including one rather large person, could go ashore together, which we proved in a rowboat expedition in 1986. As I noted in a column here in 2019, we collected samples of vegetation that day and discovered iron: an old railroad spike.
I fabricated an island history, recorded geographical features and promulgated ordinances, "which are few and deal mostly with cats and zucchini, which I hold to be evidence against the divinity of creation." One day in the mid-1980s, someone stole onto the island and left five or six large zucchinis. They were declared hazardous waste and removed.
"The chief industry of Hagaland is tranquility, the leading crop serenity, the national pastime passing time," I wrote. "The official slogan: 'No officials, no slogans.' Because I sometimes like to sleep late, we are on Pacific Time."
I have long hoped that enough of the island might emerge so we could host a Hagaland Bird Count, conducted perhaps from the deck of the Blue Moose Bar and Grill, and a Hagaland Hole in One Golf Tournament, with entries allowed from either neighboring state.
But, honestly, I would welcome rain. The island fantasy is enough to sustain me when I weary of the contentious real world.
Chuck Haga had a long career at the Grand Forks Herald and the Minneapolis Star Tribune before retiring in 2013. He can be contacted at crhaga@gmail.com.
1
/
2:
A contemporary photo of Hagaland, a dot of land in the middle of the Red River at Grand Forks. (Chuck Haga photo)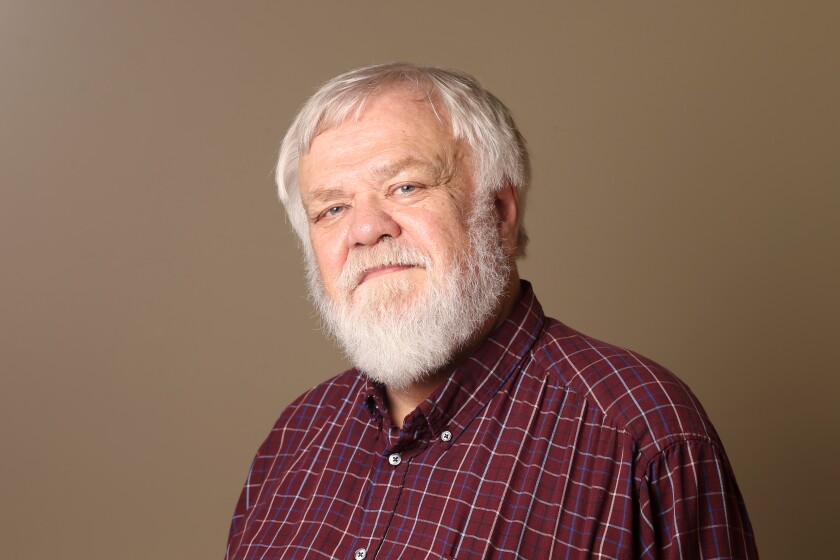 2
/
2:
Chuck Haga is a columnist for the Grand Forks Herald. (Eric Hylden/Grand Forks Herald)
1
/
2:
A contemporary photo of Hagaland, a dot of land in the middle of the Red River at Grand Forks. (Chuck Haga photo)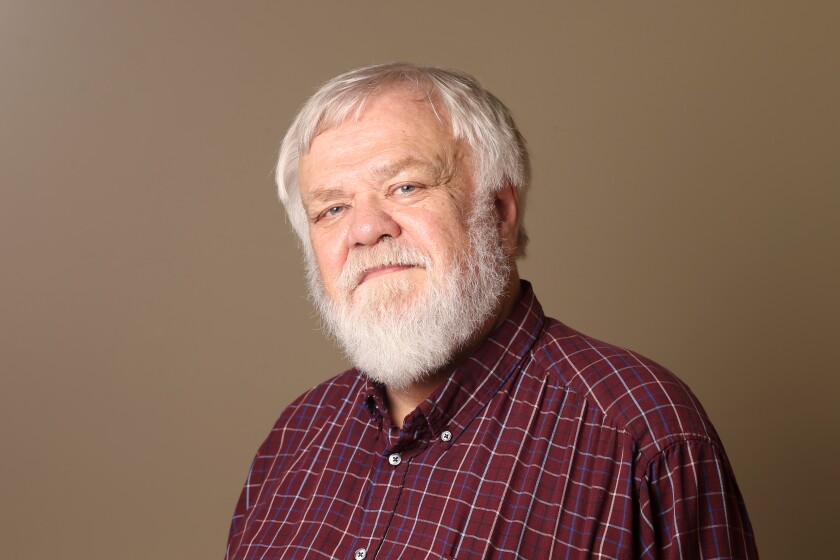 2
/
2:
Chuck Haga is a columnist for the Grand Forks Herald. (Eric Hylden/Grand Forks Herald)