Chuck Haga: Seeking solitude among the towering pines
At Itasca State Park, there's no blueberry pie this summer, since Douglas Lodge is closed due to the pandemic. But there are natural wonders: creeks, meadows, chipmunks, loons, time and memories.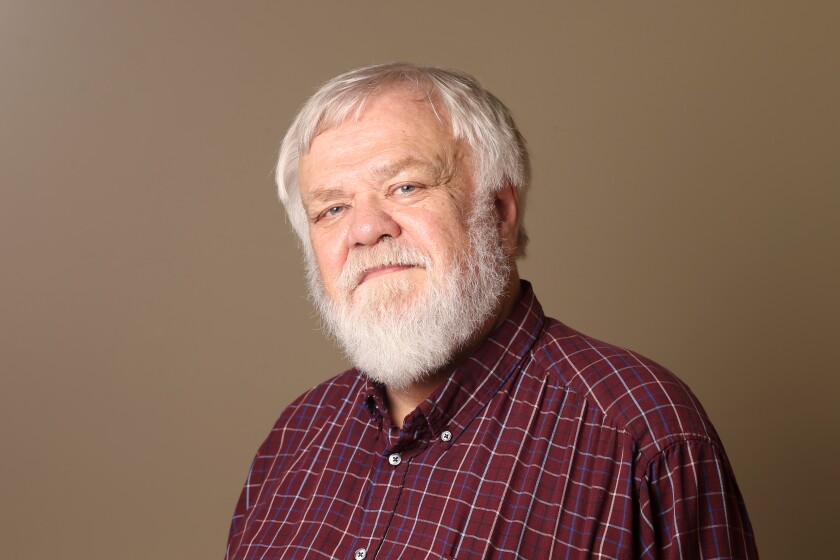 We are part of The Trust Project.
As I write this, I am by Mary Lake in Itasca State Park, watching for beaver and contemplating the good and not so good of social isolation.
My parents took me camping a few times in the 1950s, when I was a small boy. My sharpest memories are of dad's cigar smoke – nice from a distance – and the less pleasant smells of old, damp burlap and musty cotton. Our camping gear lacked the synthetic sophistication of today's tents, sleeping bags and carryalls.
I have a stronger memory of a few overnight outings with my brother Jerry, who was eight years older. He would drive us, just the two of us, to dark, mysterious woods in the Sheyenne River Valley south of Valley City, set up camp, cook a stew or burn some hot dogs and marshmallows, and then, as night fell, read or tell me magical stories featuring kindly creatures and characters of the woods.
I confess that some of my favorite stories were tales narrated in dialect by "Uncle Remus," an old Southern black man, about "Brer Rabbit" and his forest friends. Disney had made an animated film about them in 1946, "Song of the South," with Uncle Remus singing "Zip-a-dee-doo-dah" to bluebirds on his shoulders. Everything seemed "satisfactual" then, as the song said, but today the stories and the film are widely panned, if not banned, as promoting harmful stereotypes.
In Cub Scouts, I was introduced to group camping, where we Scouts pitched our pup tents, trooped through rather tame woods and tried to create fire by rubbing two sticks together. We were told to bring our own food. Mine was a big red coffee can (Folger's?) that my mom had filled with layers of ground beef, potatoes, bacon, tomatoes, onions and seasoning. All I had to do was set the can on hot coals and wait for it to percolate. It was absolutely the best meal I ever ate, and I have tried many times to recreate it but always fail. Now I pack factory cans of Dinty Moore Beef Stew – good, but nothing at all like mom's.
I've been coming to Itasca for decades, and last year I defied the infirmities of age by chronicling my several visits in Facebook posts titled "Camping at 70," determined to prove I could still put up a simple tent, get down on the ground and – the hard part – get back up in the morning.
Camping at 71, in a pandemic, has been a little more challenging, in part because Douglas Lodge hasn't been open while I'm here, so no blueberry pie. The campgrounds are fairly busy, though, I suppose with couples and families figuring it's a good time to escape isolation.
I am not what you'd call an "active" camper. I keep to the shorter, less arduous trails, and I usually fish alone from shore or a dock. Some of my Pine Ridge Campground neighbors arrived this week in block-long RVs and throaty pickups pulling trailers with boats, kayaks and canoes. They brought toys, music, car alarms, unattended neurotic dogs and outdoor voices. I bring books, pen and paper and a hunger for tranquility. Usually, in expansive Itasca, I can find quiet somewhere, though it is tougher in high summer.
I do like the sounds of kids playing, laughing, getting to know each other and the woods, and if I were to hear a mom, dad or older brother start to tell stories over a campfire, I might slip closer to listen.
The other night, however, it was a story of anger and incrimination that broke into my solitude. A man and a woman argued, loudly, hurtfully, and kept it going for some time until another neighbor finally shouted an emphatic "Shut up!" I was irritated, too, by the couple's drawn-out complaints and recriminations, and impatient for them to stop. "Why go to the woods to argue," I thought.
But then I felt sorry for them, and I wondered if this, too, has its roots in coronavirus fatigue. We're all feeling on edge, a bit or a lot. Their problems may be unique to them, but I went to sleep hoping they could get through whatever was wrong and greet the new day with smiles.
Solitude has its charms and blessings, but I know it's also nice to spend time in the woods with someone you love. There are such wonders here – creeks and meadows, chipmunks and loons, time and memories and stories – and over all, the towering pines. It's distinctly human to want to share it.
Chuck Haga had a long career at the Grand Forks Herald and the Minneapolis Star Tribune before retiring in 2013. He can be contacted at crhaga@gmail.com.