Chuck Haga: Returning home, to a special place
The upper valley of the Sheyenne River is unlike the image of North Dakota that most visitors see when they whisk by on Interstate 94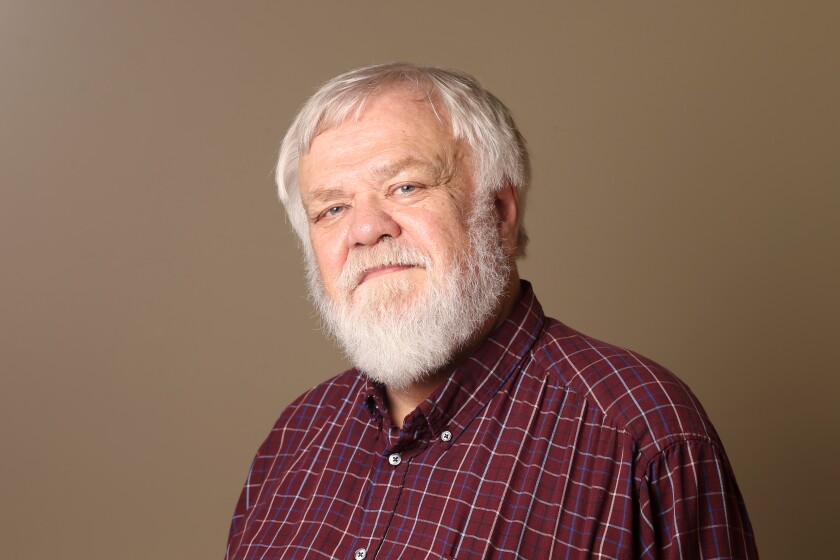 We are part of The Trust Project.
It's a short drive from Valley City north along the Sheyenne River to the dam that created Lake Ashtabula, the 27-mile-long, narrow reservoir where I fished as a boy.
You see and feel the land rise as you cruise the 10 miles up the river valley from town, lush and green this unusually wet year. The road curves with the river, each bend offering another view of soft hills, grassy draws, cottonwoods and thin strips of cropland at the bottoms.
According to the Centers for Disease Control about 47,500 Americans commit suicide each year. That's 130 a day, one every 11 minutes.
Like the town below, surrounded by hills and stitched by handsome bridges, the valley is a magical place, so unlike the image of North Dakota that most visitors see when they whisk by on Interstate 94, an uninspiring stretch between the woods of Minnesota and the mountains of Montana. Start a nickel rolling on I-94 in Fargo, they say, and it may keep rolling to Bismarck. Nothing to see, and nothing in the way to keep you from seeing it.
I once hiked the valley with my son, sporting camping gear and backpacks and aiming for Baldhill Dam, where there was a little swimming beach, a store where the proprietor made change with Eisenhower dollars, and a woodsy campground. I underestimated the effort that hike would take on a warm summer day, and I was dragging by the time we made that last turn and saw the dam and spillway. Pete remembers it being not that daunting, but he was young and fit.
Last weekend, I drove partway up the valley to the home of a high school classmate, who was hosting as usual the final act of our class reunion. It's a lovely home rich with flower gardens and gnarly old trees, including an ancient boxelder with limbs that made it look like something out of a Harry Potter film.
There were fewer of us there this time, 55 years after our graduation. We've lost about a fifth of our class of 130, and some surviving members of the Class of 1967 chose to spend Father's Day with family or had other good reasons to miss this, maybe our last gathering.
We came from Iowa, Minnesota, Montana, Arizona and other places, but we all remember this valley as home, and we smile patiently when people from elsewhere disparage North Dakota. We smile, too, recalling what native son Eric Sevareid said, that North Dakota is "a large rectangular blank spot in the nation's mind."
As I drove up through the valley before hitting the familiar route home to Grand Forks, through Finley and Hatton and Thompson, I felt almost possessive of this place. The little towns, the fading barns, the dip in the highway at the Goose River, the sign for the Jensville Store – I see them before I reach them. It isn't an overpowering landscape. It isn't western Montana. But it's familiar. It's home.
The late Wynona Wilkins, a UND scholar and writer who died Dec. 23 at the age of 105, came from elsewhere but understood North Dakota. I saw recently that there was a memorial service for her last month. I was sad to have missed it, but I got out my copy of a talk she gave in 1976, titled "Some Perceptions of North Dakota."
"The mere mention of the name North Dakota to most outsiders seems to bring about certain predictable reactions," she wrote. At first, there is "incredulity – that people live here at all, or even, at times, that the place really exists outside someone's diseased imagination; secondly, patronizing humor – on the part of 'superiors' for their 'inferiors', the urban sophisticate at the expense of the rustic; and third, and perhaps most distressing, total ignorance on the part of the rest of the world about the state and its people."
To many people, we represent the ends of the Earth, Wilkins conceded, and the state's name "has become a synonym for remoteness, desolation, and exile."
She quoted Sevareid from his 1958 book, "Not So Wild a Dream." The venerable CBS newsman remembered pictures in his grade school geography book in Velva, N.D.: "Among the pictures of Chicago's skyline, Florida's palms, and the redwoods of California, there was one small snapshot of North Dakota. It showed a waving wheat field. I could see that simply by turning my head to the sixth-grade window.
"Was that all there was, all we had? … Very early I acquired a sense of having no identity in the world, of inhabiting, by some cruel mistake, an outland, a lost and forgotten place upon the far horizons of my country."
The current politics of the state trouble me. I'll never make peace with the wind, and I wish the shelter belts had been maintained to keep the dust from blowing like it did as I drove last Sunday. I'd like a more gradual spring, a more lingering fall.
But as I said, it's home.
Chuck Haga had a long career at the Grand Forks Herald and the Minneapolis Star Tribune before retiring in 2013. He can be contacted at crhaga@gmail.com.