Chuck Haga: Putting to good use 'the immense edifice of memory'
The nose is a time machine, Dr. Philip Kronk, a clinical psychologist, wrote recently in a column for the Knoxville (Tenn.) News Sentinel. And it's true.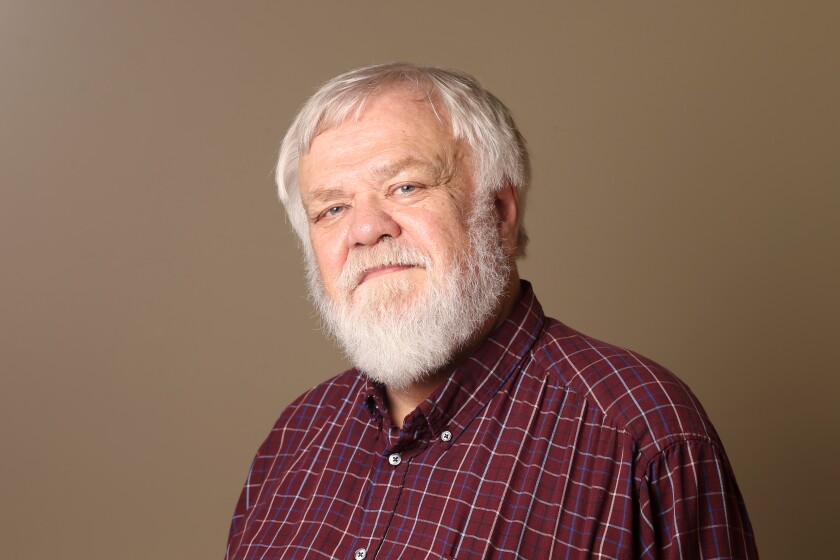 We are part of The Trust Project.
My impatience for the signs and delights of spring grows, especially the smells, and particularly the early morning, late evening aroma of lilacs.
Several lush, old stands of lilac adjoin the garbage area at my apartment building near downtown, and their masking power always makes tossing garbage a less onerous task for two or three weeks each spring.
The bushes belong to a neighbor, so I resist taking a cutting and bringing it inside. Besides, it's a fragrance that belongs outside, where it conjures all sorts of memories stretching back to my youth in Valley City, N.D.
Born in Bosnia-Herzogovina, part of what once was Yugoslavia, Todorovic grew up in the industrial city of Venica, about 70 miles from Sarajevo.
Other spring scents take me back, as well: the smell of sun-warmed earth, of spring showers and glistening pavement, and fresh-cut grass. If there is a Heaven, the prevailing scent is of a lush, green golf course, the fairways trimmed neatly after a gentle rain. Or a trail in a forest, pine or hardwood, the path a spongy, earthy bed of last fall's leaves and needles.
When the health people talked about COVID-19 and one of the common signs of infection, the loss of one's sense of smell, that got me thinking about the senses and which, if I had to choose, I could most easily give up. Not sight, I thought, though memory would compensate some for that. Losing the sense of touch could be dangerous. Hearing? No more music or laughter? No spirited "Hi, Grandpa!"? No.
Taste wouldn't be too tough to lose, I figured, though I would miss the singular taste of a cold, ripe pear, or fresh blueberries on my cereal, or a glass of zinfandel wine with a bit of bleu cheese on sourdough bread. (There, I have a shopping list for this first Sunday in May!)
There is little taste without smell, the scientists say, so that would be a double loss. And giving up smell would deny me the scent of a fine perfume drifting from across a room at a party. Summer means burgers, brats and bacon sizzling on my son's grill. And always there is the true, coarse smell of a dog.
Cookies warm from the oven bring memories of my mother. A good cigar, my dad out fishing while I hunt for frogs for bait. Freshly cleaned linen, my grandmother's house.
Every doughnut shop brings back the little basement bakery near my grade school, where if a had a few coins I could score a jelly doughnut, a chocolate long john, a chewy apple fritter, or a fried cinnamon roll.
Now I want one of each.
The nose is a time machine, Dr. Philip Kronk, a clinical psychologist, wrote recently in a column for the Knoxville (Tenn.) News Sentinel. And it's true. A whiff of a cluttered tackle box, with maybe a little worm dirt, and I see all the twists and colors and cottonwood borders of the Sheyenne River beneath Baldhill Dam – 50, 60 years ago.
And there is this from the novelist Marcel Proust, though I confess I've lost the exact citation:
"When nothing else subsists from the past, after the people are dead, after the things are broken and scattered, the smell and taste of things remain poised a long time, like souls … bearing resiliently, on tiny and almost impalpable drops of their essence, the immense edifice of memory."
The scent of burning wood connects me with decades of campfires and the people who joined me there. The slightly pungent odor of a stack of old books, read and handled and kept, can spark incredibly detailed memories – reading about Peter the Great while camping in a Manitoba provincial park, or consuming John Dos Passos' "USA Trilogy" while waiting out rain squalls in a camp in Saskatchewan, or reading John Steinbeck more than 30 years ago while tracing the route he took to write "Travels With Charley."
Smell and memory are so closely linked because of the brain's anatomy, according to scientist Vankatesh Murphy, writing in a recent Harvard internet publication. "Smells are handled by the olfactory bulb, the structure in the front of the brain that sends information to the other areas of the body's central command for further processing. Odors take a direct route to the limbic system, including the amygdala and the hippocampus, the regions related to emotion and memory."
One can lose the sense of smell with age, says Dawn Goldworm, co-founder and "scent director" of a company that helps other companies install scent "brands" through ventilation systems.
But you can guard against that, she says in the Harvard piece. "Just pay attention. … The more you use (your nose), the stronger it gets."
When the scent of lilacs comes over me, whole scenes of my youth come in a flash of memory: the bushes bordering the great oak tree where brother Jerry helped me build a tree fort; the thickness of those flowered bushes that provided vases full of blooming purple for mom; a line of white-blossoming lilacs that marked a neighbor's yard.
"The immense edifice of memory," indeed.
Chuck Haga had a long career at the Grand Forks Herald and the Minneapolis Star Tribune before retiring in 2013. He can be contacted at crhaga@gmail.com.