Chuck Haga: People just felt happier around Holmes
As the 25th anniversary of the great flood approached last week, Kim Holmes died, and the city has mourned.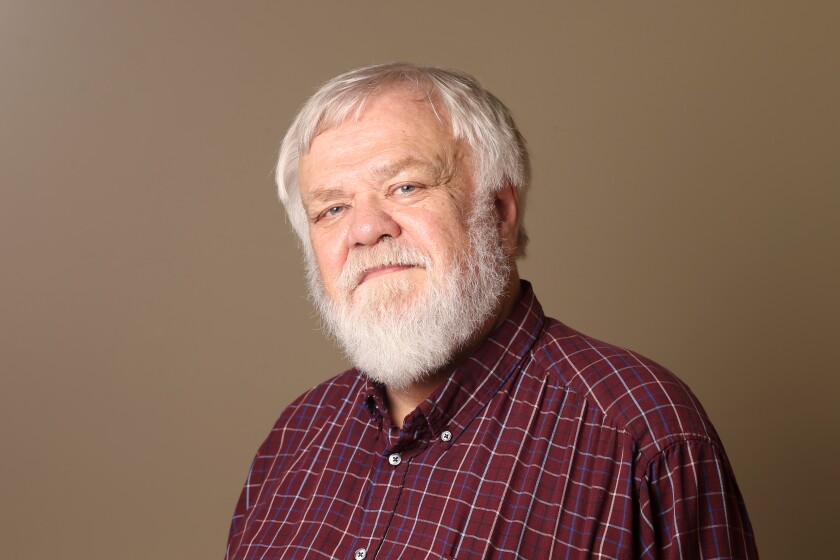 On a sunny day in May 1997, Kim and Beth Holmes ventured into the dank, dark mess that had been their restaurant, Sanders 1907, in downtown Grand Forks.
I tagged along, curious to see what they would find and how they would react to what the Red River had done. It was an early piece in a series, "Rebuilding the Forks," which I wrote for the Minneapolis newspaper.
One of the first things Beth came across was an ironic bit of flotsam, which the river had left at Sanders' front door: a recipe box. She thumbed through the cards inside. "Chocolate chip cookies!" she said approvingly. "Probably their grandmother's recipe. Ooh, rhubarb pie!"
Would this venerable place ever smell of cookies and pies again, of Kim's signature sesame duck, prime beef or fresh salmon "with North Dakota prairie sauce"?
Inside, the chef slid through muck on the buckled wood floor, snatching art from flood-stained walls, making an inventory of loss.
"I'm not crazy about going into debt again," he said, realizing that his insurance would not cover everything. "But I'm not going to let this river beat me."
And it didn't. In temporary quarters at first, then in new and uniquely comfortable settings, Sanders reappeared, offering the flavors and ambience Kim had learned in Switzerland and Italy, giving this upper Midwestern town a special character and identity. With the reopening of Widman's Candy a block away, Bonzer's Pub on DeMers Avenue, Whitey's bar and café across the river and other unique places, the return of Sanders 1907 marked the rebirth of these river towns.
As the 25th anniversary of the great flood approached last week, Kim Holmes died, and the city has mourned. The memories of Kim the restauranteur, the chef, the big-laugh entertainer and host, have come flooding.
It was more than a business with Kim. It was a way of life, him welcoming people into an atmosphere of warmth and cordial community. It was about good food and wine, and it was about local art and music and conviviality. It was a tone, one that other local restaurants have sought to maintain.
As frequent patron Earl Pomeroy remarked last week, "I always felt happier after seeing Kim."
I've been remembering late-night sampling at Sanders, sometimes in the company of John Little and other characters who helped to make the crowded little eatery more than a place to eat.
And I've been remembering that sunny but sad day in May 1997 when we wondered whether the place would ever reopen. "All of Kim's West Coast friends have been calling and saying, `Move back!' " Beth told me then. "Kim says, `No, this is my home now. I'm not leaving.' "
As we walked carefully through the ruined restaurant and sat later, contemplating the task ahead, he talked about the journey that had brought him to Grand Forks
He had grown up in Ohio but was just 6 when his father was killed in a car accident. After that, he spent summers in New York with his grandmother, an editor for the Ladies Home Journal. She wrote a column – "Cooking For Company" – and when she had company coming, she sent her grandson out to collect herbs.
Later, his education continued as he managed a boarding house, cooking breakfasts, and a catering company. In 1968, he attended a hotel school in Washington, D.C., learning his way around a large kitchen. He did nutritional surveys for the federal government.
In 1970, he went to Europe. "I had plans for three weeks and a return ticket," he said. "I stayed five years."
He lived, cooked and learned in Switzerland, then Italy. In 1975, he returned to the United States. He was married, and he tried his hand at operating bakeries, delis and restaurants in Montana and Washington state, including a place that became a hangout for the cast filming "An Officer and a Gentleman." Actress Debra Winger came in one day, leaned into Kim – this is his version – and said, "I hear you make the most wonderful omelettes." She asked for one with clams.
His wife reminded him that they didn't offer a clam omelette.
"We do now," he said.
He laughed, enjoying telling the story. But in 1985, after an unhappy end to his marriage, he took up friend Bob Evenson's suggestion that he come to Grand Forks and help with a little restaurant that Evenson had named it for his wife's grandfather, Sander Johnson, and the year 1907 that Johnson built the little two-story structure downtown as offices for Normanden, a Norwegian language newspaper. Evenson offered Kim a job cooking, an apartment upstairs and a share in the business.
"I got here on Oct. 3, it snowed Oct. 4 and I didn't see the ground again until April," Holmes said.
He met Beth in 1989. They were married in 1990.
He was a man known for laughing hard, for gossiping, for pushing samples of his creations. As I wrote in 1997, "When the day's breads are in the oven and there's time before the first dinner reservations, he'll wander Kittson Avenue in Zubaz pants and an apron, one arm wrapped around somebody and the other thrown out to greet a passing cop, customer or competitor."
Goodbye, chef.
Chuck Haga had a long career at the Grand Forks Herald and the Minneapolis Star Tribune before retiring in 2013. He can be contacted at crhaga@gmail.com.