Chuck Haga: Pandemic's longevity adds to frustration
And just like with past adversities, it's important to face this challenge together.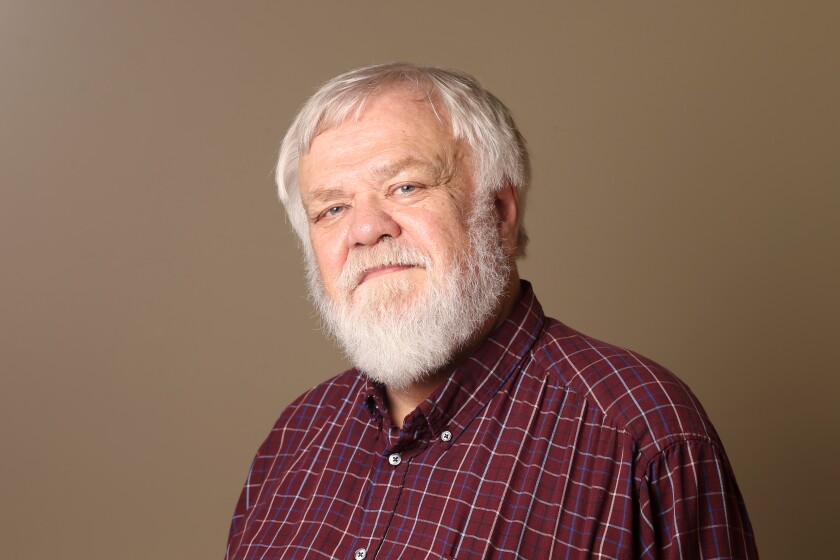 On a sunny mid-May day 24 years ago, the Rev. William Sherman crossed the street from St. Michael's Church in Grand Forks to begin his pastoral rounds.
First stop: the home of Walt Wilhelmi, 86, who was out working in his yard, only recently reclaimed from the Flood of 1997. Walt was putting the finishing touches on a tool and storage shed.
"That's 117 of them I've made," he said. "And they're made solid. When I nail 'em, I nail 'em good, Father!"
The flood had ruined everything in his basement and ravaged the yard. It had carried off a wishing well he built. But Walt was more interested that morning in telling Father Sherman about his latest project.
"I'm writing a book on my life," the immigrant from Romania said. "I'm only 8 years old so far and I've got 12 pages written – on both sides."
Walt died in 2006. He was 95. It's unclear how much of that autobiography he finished, but it was a full life: homesteading and farming with his family in northeastern North Dakota, working in California in the 1930s with the Civilian Conservation Corps, back to Grand Forks to work in construction until starting his own company in the early 1960s. The year before the flood, he celebrated a 50th wedding anniversary with wife Barbara.
And he overcame the flood – with hammer and nails and memories, and some guidance from his son.
"He didn't understand how the flood affected all of the city," Dick Wilhelmi, 63, said this week. "He wanted to call contractors for help, and he couldn't understand why they couldn't come."
Walt and Barbara had waited out the flood's immediate aftermath with a daughter in Denver. Their son said he was too busy himself to wring his hands about the disaster. "I'm a contractor, so there was a lot of work to be done," he said. "Including my basement."
He said he hasn't given much thought to the flood recently, how people responded or how that arduous recovery might compare to our long struggle with the coronavirus and all the steps taken to fight it.
"This pandemic has been more frustrating," he said after a long pause. "The flood came and went. With this pandemic, a lot of the freedoms and activities that we take for granted were affected.
"But our community is pretty good at coming through things and helping each other."
St. Michael's was a blue-collar parish of about 5,000 people in 1997, many just a generation descended from French, Irish, Germans from Russia, Polish and other immigrant settlers. It was a natural fit for Sherman. In addition to his priestly duties, he was a humanities scholar, a student of rural sociology. His first book, "Prairie Mosaic," was an ethnic atlas of North Dakota featuring maps showing where 40 immigrant groups had settled in ethnic enclaves. "Plains Folk" was an ethnic history of the state, co-authored with the late Dr. P.V. Thorson, a UND history professor.
Sociology had provided a window, a way to understand what it means to be from somewhere, the priest told me on that spring day in 1997. It had allowed him to feel a closeness with the varied cultures that made up St. Michael's.
"It's a garden of flowers, our parish of peoples," Sherman said after visiting with Walt Wilhelmi.
With a dozen colleagues from the Star Tribune in Minneapolis, I had covered the flood, then returned to report on the recovery. I find myself thinking of that time now as I consider how we're coming out of the pandemic.
"The worst part of the flood was the dislocation of our people from their homes and their neighborhoods," Sherman had said. "They lost all those things that give a sense of roots and cohesiveness, and that hurts. The wail of sirens still frightens some of the kids because they remember how abruptly their parents reacted to people banging on their doors (and shouting) 'You must leave!'
"I saw some of that glassy-eyed look for days afterward … a confused look on the part of people I thought were more stable."
It would be important, he said, for people to respond to the challenge together. "In difficult circumstances, you need your neighbor. It doesn't matter then that his skin color or religion is different from yours."
So, despite all that had been damaged and lost, he was optimistic. "We're still frontier people here, accustomed to dealing with adversity," he said 24 years ago. "We'll make it."
And, at 93, living today in a Grand Forks nursing home, Father Sherman remains optimistic when asked whether the people of the community can overcome this latest crisis, the disruption, uncertainty and conflict caused by the coronavirus and responses to it.
"Yes, they will," he said. "They have in the past, and they will again. It will take a little while. It's already taken a while. But they will."
And, ever the man of faith, he added: "If they go to church, it helps."
Chuck Haga had a long career at the Grand Forks Herald and the Minneapolis Star Tribune before retiring in 2013. He can be contacted at crhaga@gmail.com.