Chuck Haga: On the eve of a holiday and cheer came the news: 'You have cancer'
A CT scan brought the call from my doctor. He was sympathetic but direct.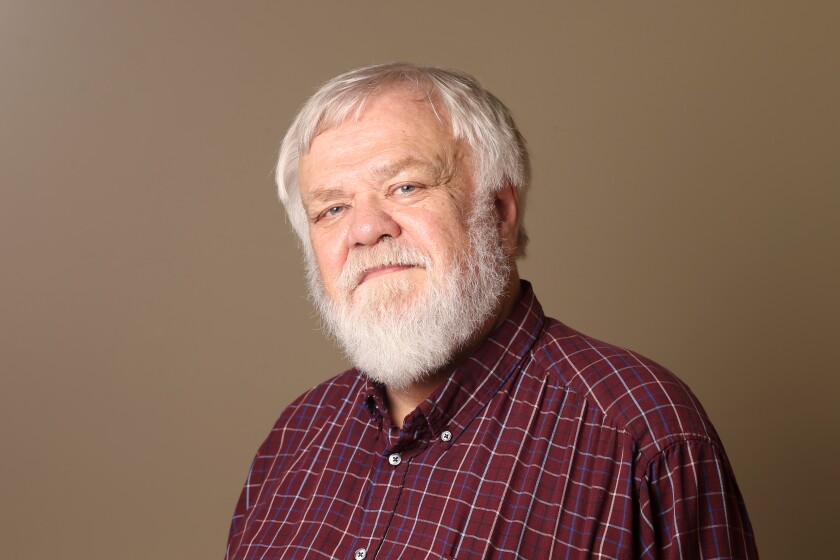 A day after Thanksgiving, two days after I learned that I have cancer, I thought about going out and buying a pipe and a pouch of the vanilla-scented tobacco I favored until I quit smoking a pipe eight or nine years ago.
I've said it countless times: If I ever get that word from a doctor, I said, that hard call about test results looking bad and my time maybe short, the first thing I'm going to do is go buy myself a new pipe and some tobacco because … well, why not?
Yes, I know I'm hedging on the news here. Bear with me.
I smoked cigarettes briefly, but heavily, some 50 years ago. I started in college – fraternities put out bowls loaded with free smokes during rush back then – and I quit in January 1973. It was a difficult time to quit "cold turkey" – I was covering the North Dakota Legislature, long hours and a lot of stress – but I did it.
Years later, though, I took up pipe smoking, probably because I thought it made me look more mature (no, it didn't) but more because it provided just enough company to keep me occupied when I was alone: cleaning and filling it, lighting and relighting it, smoking it as I bobbed alone in a fishing boat or stared into a campfire.
I quit largely to set a better example for my grandchildren. It was the right thing to do for several reasons, but to this day I open a book or start a fire at my favorite campsite in Itasca and immediately miss the pipe. I felt its absence the other day, Thanksgiving eve, after the doctor called.
The chest X-ray they took in the Emergency Room in early October showed no apparent problem with my heart, which was good news. But the pictures went to a radiologist, who noted something "concerning" in my right lung. That led to a CT scan, which brought the call from my doctor, who was sympathetic but direct.
"You have cancer."
My reaction surprised me. I was calm even as he said there could be serious complications. Maybe I was more numb than calm. Or maybe, I thought, it was like when I woke up one morning in 1966 and my father told me my mother had died in the night. She had been in poor health a long time, and I had feared her death for so long I was not startled when death came.
So, after the doctor's call, I sat and thought about this new thing, which like my mother's passing did not come as a complete surprise. Whether or not smoking was a factor, I have not taken very good care of myself. I sometimes ranked the top five things most likely to lay me low. Until the doc's call, I would have bet on (or against) my heart.
But I didn't pound on a table and cry "Why me?" Nor did I run out for a pipe. Instead, I washed the day's dishes. I did a load of laundry and took out the garbage. I talked with my son. I made tea and read chapters in a friend's new book about growing old. He is 83. "Life is more fragile now," he writes.
And I read again a favorite poem, "What The Living Do," by Marie Howe. The poem's narrator is alive and thinking about, talking to, someone who isn't. An excerpt:
For weeks now, driving, or dropping a bag of groceries in the street, the bag breaking,
I've been thinking: This is what the living do. And yesterday, hurrying along those wobbly bricks in the Cambridge sidewalk, spilling my coffee down my wrist and sleeve,
I thought it again, and again later, when buying a hairbrush. This is it.
Parking. Slamming the car door shut in the cold. What you called that yearning.
What you finally gave up. We want the spring to come and the winter to pass. We want whoever to call or not call, a letter, a kiss – we want more and more and then more of it.
But there are moments, walking, when I catch a glimpse of myself in the window glass, say, the window of the corner video store, and I'm gripped by a cherishing so deep
For my own blowing hair, chapped face and unbuttoned coat that I'm speechless:
I am living. I remember you.
This past week has been a slow blur, waiting for instructions on what's next: a biopsy, a meeting with an oncologist, some treatment decisions.
For now, I get up each morning, make coffee and check out the news, then go to the university, smiling at the grizzled old guy who smiles back at me in the bus window. In the classroom, I try once again to persuade young people they have something to say and the world waits to hear them.
"Did you have a good Thanksgiving?" one of them asked Monday.
"Yes," I said, returning her smile. "I did."
Yearning. Cherishing. Living.
Chuck Haga had a long career at the Grand Forks Herald and the Minneapolis Star Tribune before retiring in 2013. He can be contacted at crhaga@gmail.com.