Chuck Haga: Obits — those important last words of our life
Some of the very best writing can be found on a good obituary page – history and culture of a time, and the true story of a life that mattered.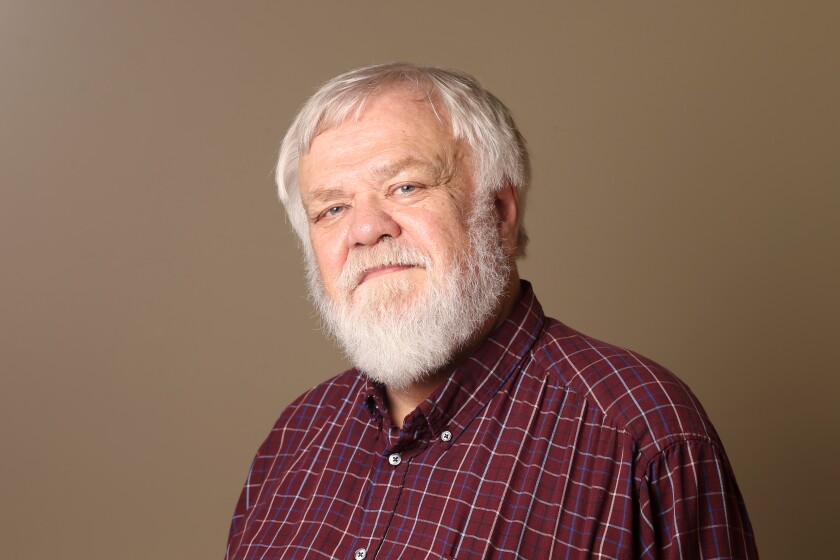 We are part of The Trust Project.
Robert Kallberg stood outside the North Dakota Senate chambers and gave me a concerned look as I made it up stairs to the great hallway of the Capitol.
"I don't know who was in worse shape last night," I said to him, "me for driving your car home – or you for letting me."
Bob slapped his forehead.
"THAT's where it is!" he said.
Born in Bosnia-Herzogovina, part of what once was Yugoslavia, Todorovic grew up in the industrial city of Venica, about 70 miles from Sarajevo.
I tell that story from nearly 50 years ago not with pride but with the bemused, guilty memory of the semi-reformed. Bob and I spent time together while covering the North Dakota Legislature, and too much of that time was spent in bars – including the old Townhouse, where he often declaimed from a regular perch to an audience of legislators, state officials and other newsies. Every time we got together over the years, he would laugh as I told the car story again, and then we both would shake our heads at how foolish, irresponsible – and lucky – we had been.
He always wanted a retelling of another story, too, about the day we both needed to visit a Capitol men's room, walked in and found Sen. Herschel Lashkowitz, D-Fargo, just finishing up. "Gentlemen," the senator intoned, launching into an impromptu news conference. (Covering the Legislature, reporters often had to report that Representative So-and-So "was unavailable for comment." I think it was Bob who said of Herschel, "Sen. Lashkowitz was unavoidable for comment."
Bob died last week. He was 81 and had had his share of ailments. But he had written a fine note to me not long ago, inquiring about my health and urging me to get to Bismarck again soon so we could remember, tell stories and laugh.
I thought about Bob this week as I prepared to talk with my UND newswriting students about one of the most important features of a good newspaper: the obituary. Some of the very best writing can be found on a good obituary page, I tell them – history and culture of a time, and the true story of a life that mattered.
When I first started newspaper work at the Grand Forks Herald in the 1970s, I wrote many obituaries. My subjects were local civic leaders and important business people, yes, but also railroaders and bartenders and other working men and women, average folks who deserved a good sendoff.
It struck me when I returned to the Herald in the 1980s how the local obituaries had changed, that fewer included lines like "born in Poland" or "born in Norway." Each of those, as I wrote about their journeys and struggles, brought to mind my Norwegian immigrant father, for whom I regret to say I have just the briefest, undetailed obituary, author unknown.
Later, at the Star Tribune, I wrote "obits" on such prominent figures as North Dakota natives Erik Severeid, the pioneering CBS newsman and commentator, and entertainer Peggy Lee. But I also noted the passing of war veterans, immigrants, union leaders and others who lacked famous names but who deserved to be remembered.
I like to share with students some of my favorite obituaries, clipped over the years from local and national newspapers. They include Vieno Maatta, a woman who had come to North Dakota from Finland and told stories of nighttime skiing there as a young girl, "lighting matches to scare away the wolves." Vivian Nicholson was a minor celebrity who won and squandered a big lottery prize and was, in her 80s, "disciplined at her nursing home for rambunctious behavior." Joe Medicine Crow was the last of his tribe to win distinction as a war chief by meeting the requirements set out a century earlier on the Great Plains. During World War II, Joe stole into a German camp, war paint beneath his uniform. There, he captured enemy soldiers and scattered a stable of horses while singing a war song.
I would have loved talking with Vieno and Joe. And I can only hope that my obituary includes a line that I had to be disciplined for rambunctious behavior at an old folks' home.
Friend Bob Hagerty, Jack and Marilyn's son, has distinguished himself lately as an obituary writer at the Wall Street Journal, capping a highly successful reporting career, and he has just written a book about the craft. If you are called upon to write an obit for a parent, grandparent or someone else close, he advises avoiding generalizations like "he enjoyed spending time with family." Show it instead. Learn the details. Tell a story.
Bob's obituary should reflect his life as he would want it remembered – a happy youth in hometown Carrington, N.D.; the bonds he still felt with fellows he served with in the Army in Germany; a degree in journalism and political science from UND; the early days of TV and radio work, leading to a stint as press secretary to Gov. Al Olson, and above all the devotion he felt for his wife Joanie, who died of cancer 14 years ago. Bob wrote a book about her, "Where the Popsicles Are," a beautiful story of love and caring.
He was all of that. And he was a witty, funny guy to share a beer with, even more so after we learned to hold it to a beer or two.
Chuck Haga had a long career at the Grand Forks Herald and the Minneapolis Star Tribune before retiring in 2013. He can be contacted at crhaga@gmail.com.