Chuck Haga: Nothing like a batch of Spam cookies. Or pie.
A gift of cookies, and all this talk about a pie contest, brings to mind memories of judging a contest back in the 1980s.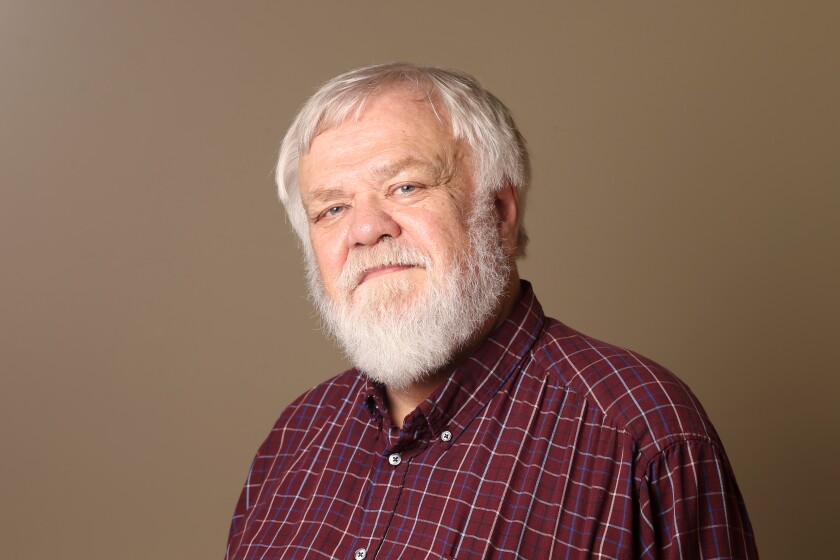 We are part of The Trust Project.
The news is heavy. Let's lighten it for a moment today by talking about cookies, coffee and pie.
First, a disclaimer: Nothing in what follows should be understood as a plea or suggestion that you should make cookies and deliver them to me. I am fond of cookies and I have made clear in this column that I consider pie one of the primary reasons for living another day, and that knowledge might inspire a kind and aromatic gesture from a few of you. I would be grateful, but I'm asking you to resist the impulse.
I'll explain.
Early in my newspapering career, in the early 1970s, the profession took a hard look at itself and decided it needed some ethics. It was customary, see, for lawyers, accountants and other professionals, as well as police departments, funeral homes and various voluntary associations, to deliver goodies to the newspaper, especially at Christmas. A liquor store might offer a bottle or a case of something. A cake might appear, or a platter of sugar cookies.
But the bosses eventually decided this was wrong. It could raise concerns about favoritism or objectivity. We reporters were told we shouldn't accept gifts from sources, whether public officials or private citizens, and some earnest young journalists took that to the extreme, refusing to accept so much as a cup of coffee.
I took the coffee – and a cookie or slice of pie, if offered – and felt no guilt. If a nice lady welcomed me into her home and sat with me at her kitchen table, telling me about the pile of letters her late husband had sent to her from the South Pacific during World War II – well, I wasn't about to accuse her of trying to bribe me with a cookie.
The other day, my friend Cindy Dahl called. "What's your address?" she asked. "I have some Aunt Sally's for you."
We had talked recently about cookies – which kinds were the best, favorites our mothers had made, and so on. Cindy told me about Aunt Sally's cookies. I said I had never had one.
Cindy has tempted me before. Two years ago, after I had complained about store-bought lefse that failed in comparison with my mother's, Cindy brought me a package fresh from her grill.
"As good as mom's," I said, and she beamed as if I had handed her a hundred dollars.
Now Cindy was bringing cookies, I'm pretty sure because I had said or written something about feeling sorry for myself because I wasn't supposed to have any. I'd even been passing up the free chocolate chip cookies my bank puts out.
So here were four Aunt Sally's, or Spam cookies – so named because home bakers for decades have been using the unique shape of the Spam can as cookie cutter.
"I had already delivered a dozen to three neighbors during a break from work," Cindy said as she handed them over. "I make them for fun just so I can give them away."
The cookies are soft and yummy. I had one with coffee in the morning and one later with tea, and I somehow managed to save the other two for the next day.
Cindy said her mother made Aunt Sally's, or Spam cookies, from a recipe found in a women's magazine, probably in the late '50s. "I don't believe they were ethnic or that she made them for any certain holiday. She just liked to make new things and surprise us kids with good treats."
Born in Bosnia-Herzogovina, part of what once was Yugoslavia, Todorovic grew up in the industrial city of Venica, about 70 miles from Sarajevo.
The Spam can? "I just so happened to have one on hand," she said. "I must have had intentions of making the cookies years ago, but yesterday was my first try. I made six dozen and they are disappearing fast."
As I ate my cookies, I thought about other hints I had dropped recently – about rommegraut, Norwegian cream porridge, and a new favorite pie, strawberry-rhubarb — and the phone calls that followed. "Are you home? I have something for you."
And as I read about the big pie-baking contest organized this summer by the Herald and Home of Economy, I remembered a column I wrote back in the 1980s about the Middle River (Minn.) Goose Festival, and how they had asked me to serve as judge of their pie contest. I was excited, and a week before the contest I wrote about how blueberry pie was my favorite.
I believe there were something like 15 pies entered – 14 blueberry and one blueberry-raspberry. We apparently had pretty good readership in Middle River those days.
I called over to Middle River this week to see if the festival was still going and whether they still have a pie contest. The festival indeed continues and will be Sept. 23-25 this year, a nice lady said. But she said they haven't held a pie contest for a while.
"Maybe we should do that again," MayDell Super said. "If we do, would you be willing to be a guest judge?"
I said I would, of course. But for the record, I'm quite fond of cherry, apple, pumpkin, lemon merengue, key lime and … well, just about anything in addition to blueberry. And strawberry-rhubarb.
Chuck Haga had a long career at the Grand Forks Herald and the Minneapolis Star Tribune before retiring in 2013. He can be contacted at crhaga@gmail.com.