Chuck Haga: North Dakota should just pay for all students' lunches
Readers reach out with their memories of school lunches decades ago.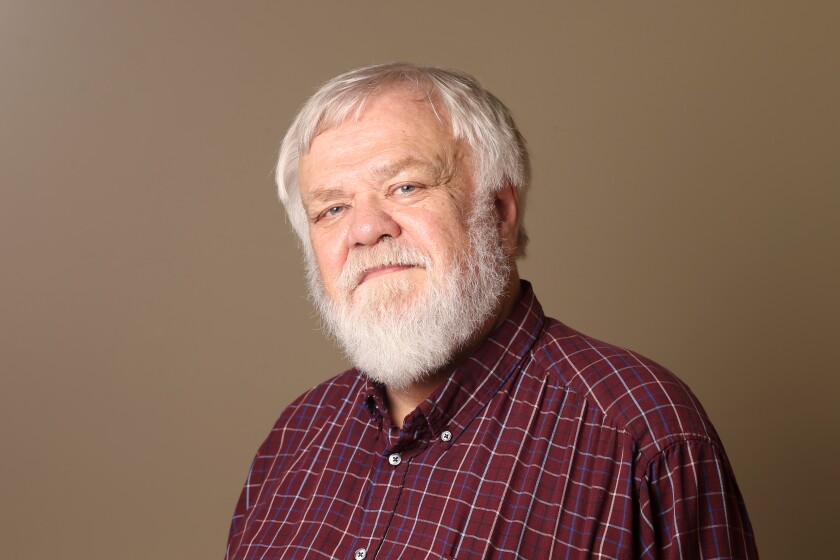 I will never get over the revulsion I felt for the pasty, gray-green canned peas the cooks at Valley City schools added to an otherwise tasty tuna noodle hot dish.
My other sharp memory of school lunch is of a day I was out of punches on my ticket. Five punches for $1.25, as I recall. My mom didn't have $1.25, so she sent me downtown to the bar where my dad worked. I tapped on the window. He came out, heard my problem and went back inside. "The boy needs a lunch ticket," he said (I imagine), and when he had collected enough dimes and nickels from the regulars he put the coins in my hand.
He was making about $60 a week then, plus tips … those dimes and nickels.
As the North Dakota Legislature fusses over whether the state has an obligation to see that kids don't
go hungry in school, I asked my fellow Boomers on Facebook for their memories of school lunch.
"At South Junior High in Grand Forks we left school and went to Cal's neighborhood grocery … for fried cinnamon rolls with maple icing and a coke," Cathy Wilson Rydell confesses. "Then we'd head back to school for 15-30 minutes of dancing to rock and roll. … Innocent times. Wonderful memories."
Mary Coleman said "the fish sticks on Friday at Warren (Minn.) High School were OK," but "sometimes some of us would head to Kroll Drug Store for lunch and have their hot fudge sundae instead."
We quickly learned which days featured favorites and which days were best to skip. Leah Rogne didn't care for hamburger hot dish with canned stewed tomatoes or the uninspired "hot dogs soaking in hot water," but "barbecues on Thursdays – the best meal of the week."
Tim Skramstad, a Valley City classmate, fondly remembers apple crisp dessert. "But when they served a chicken and rice hot dish, everyone threw it out," he said.
Carolyn King: "At West Grade School in Grand Forks, I would stuff the macaroni and cheese into my milk carton because it disgusted me. At Valley Junior High, I would sell my lunch tickets and cross the street to Bert's Market and buy glazed donuts and potato chips."
For Jean Hanson Ostrom, cost apparently wasn't a significant factor. But "one of my saddest memories is that tickets for the 'poor' students had a big black 'X' on them."
Ila Simpson Marvel ate hot lunch where I did, in the basement of Ritchie II, "standing in line in the stairwell at times." Sloppy joes were a favorite, Ila said. "And I even liked the tuna casserole (we never had it at home because Dad didn't like it)." Peas, probably.
Ida Carlin reports that she was "a picky eater, so instead of eating hot lunch I walked to downtown Fosston and bought a glazed donut at Dahl's Bakery!"
Many of my contemporaries have fond memories of school cooks.
"I graduated the year you did, from Devils Lake," Virginia LeBlanc wrote. "Our hot lunch was always delicious. We had the best cooks. My favorite meal was turkey and gravy over mashed potatoes. We always had a piece of cake, a cookie or some kind of bar."
At Fosston, Minn., hot lunch for elementary students was 35 cents, Kay Larson Williams reported. "Mashed potatoes and hamburger gravy, turkey gravy, and ham gravy. Fridays were fish sticks, mashed potatoes, Cole slaw, and chocolate cake … my favorite!"
Selmer Moen remembers "Mrs. Schmidt's Spanish rice, from her tiny kitchen at the end of the hallway in Mapes, N.D."
In Cando, N.D., where Dianne Hyndman graduated in 1967, "a lunch ticket was $10 for 20 punches! I believe all my classmates were able to have one."
School lunches at Larimore were 25 cents, Terry Bailey remembers. "I remember liking the chili, which I believe we always had on Monday."
Families were bigger 60 years ago, and it had to be a challenge for some parents to provide hot lunch money for all. Patty Lowe Horgan had many siblings, and in fifth grade at the Catholic school in Valley City she helped set up hot lunch and later helped clean, "which offset our family lunch bill."
Mary Pomeroy was one of eight children in a two-bedroom farm home outside Valley City. "We always had food on the table, a roof over our heads, a three-holer out back and two parents who loved us and loved each other," she said. "That is not poverty."
But hot lunch "was not affordable" for all, Mary said. "There were three families, also large like ours, who were relegated to the hallway (while) we sat on the windowsills and ate our sandwiches."
Sue Peterson went home for lunch every day, usually peanut butter and jelly sandwiches or sandwiches made with "government" cheese. "I was envious of classmates who got hot lunch."
As I write, it's a blizzardy morning, and lunchtime approaches. I'm leaning to hot dish, no peas. And I'm thinking North Dakota should pop for free lunch for all.
Chuck Haga had a long career at the Grand Forks Herald and the Minneapolis Star Tribune before retiring in 2013. He can be contacted at crhaga@gmail.com.