Chuck Haga: Much blame to go around for border crisis
We need to be able to work our way through this.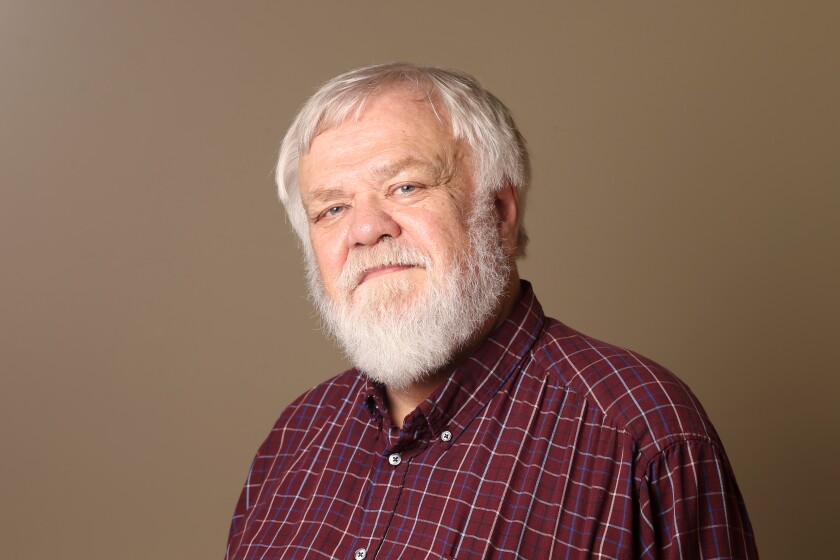 We are part of The Trust Project.
Her name was Bernancia Cara de Franco, and I met her where she lived with her four young children in squalor outside the Basilica of the Sacred Heart in San Salvador, capital of El Salvador.
In was October 1985. El Salvador was in the midst of a brutal civil war.
"The air she and her children breathe is damp, thick and foul," I wrote in the Herald, "rank with the smells of poverty and flight, stale sweat, grime, disinfectant and mold, odors charged and catalyzed by heat, humidity and despair."
Church groups had been sending people from the Grand Forks area to Central America in those troubled times. They came back and spoke at public gatherings about what they had seen.
We traveled more in those days at the Herald. My bosses, thinking we should see for ourselves how things were, found money in the budget to send me to El Salvador and neighboring Nicaragua for two weeks.
It was a complicated story, with disputed politics and ideas about how responsible we Americans were for the turmoil and how we should respond. But one thing was indisputable: people, especially women and children, were suffering and desperate.
"An archaic, steam-driven motor thumps as children feed its boiler from a woodpile, powering a grinder that turns corn and water into the masa, dough for tortillas," I wrote, describing Bernancia's circumscribed world. "Women scrape the pale yellow dough from the machine, shape it and bake the pieces in a primitive oven. Smoke from the wood fire and from the oven blends with the human stench and assaults the senses of visiting gringos, who pick their way carefully through the human mass and feel embarrassed by the transitory nature of their own discomfort."
We called my weeklong series "Smiles that hurt: A Central American Journal," and it is the memory of those smiles, the smiles of impoverished kids, that comes to me as I brood over the throngs of people from Central and South America at our southern border today. That, too, is a complicated story of caustic politics, blame, failed policies – and now cynical, callous stunts.
I can understand why many of those men, women and children have walked through several countries, desperate to reach this promised land, hungry for peace, shelter, and most of all for better lives for their children.
I've seen what drives them.
"Children crowd around the visitors," I wrote from San Salvador. "They want their pictures taken. They don't ask for money or presents; they just want their pictures taken, as though that will add something to their lives: security, maybe, or reality. They scamper for position and then pose, rigid and solemn, as at a first communion.
"Some of them have sores. They all appear weak and hungry. Their hair is matted and their clothes ragged and dirty. Their eyes are dull, their skin pasty, unhealthy. There is disease here – malaria – and the gringos begin to hate themselves because they are afraid of these beautiful children who casually brush at the mosquitoes that flit about them."
Local officials and agencies in our southern border states have a point, a legitimate complaint. The border is in crisis, our immigration policies in disarray, and the citizens of Texas, Arizona and other states in the crosshairs should not have to bear the costs and other consequences alone.
"Politics aside, one thing is clear," Farah Stockman, a member of the New York Times' editorial board, wrote last week. "Our immigration system has long been overburdened and outdated, and the asylum process is a big part of what's not working. The number of new asylum claims filed in U.S. immigration courts ballooned to 156,374 in 2022 – with four months left to go – from 32,895 in all of 2010."
There are many explanations, plenty of blame to go around. Conflict, lawlessness and corruption have made life intolerable in the countries people are fleeing. Covid complicated efforts to deal with problems. The election of Joe Biden and his criticism of his predecessor's immigration policies was taken by many in Venezuela and other beleaguered countries as a sign our doors would be open wide now. And the new administration, obstructed more than aided by opponents, has fumbled efforts to reform the system.
We need to be able to work our way through this, but cynical political stunts don't help. The Republican governors of Texas and Florida shipping confused migrants to such neighborhoods as Martha's Vineyard in liberal Massachusetts is profoundly callous and un-American.
Many of these migrants would prefer to stay in their home countries. That they are willing to put their families, their children, on such a long, hard road speaks to the fear and desperation they live with at home.
Bernancia Cara de Franco wasn't trying to get to America when I spoke with her in 1985. She spoke longingly of Guazapa, the mountain where her family had lived and farmed until it was ravaged by war, fought over by government troops – with U.S. aid – and leftist guerillas.
"On Guazapa, the land is very rich and fertile," she said. "The land is ours. God gave it to us."
Chuck Haga had a long career at the Grand Forks Herald and the Minneapolis Star Tribune before retiring in 2013. He can be contacted at crhaga@gmail.com.