Chuck Haga: Making the best of distant learning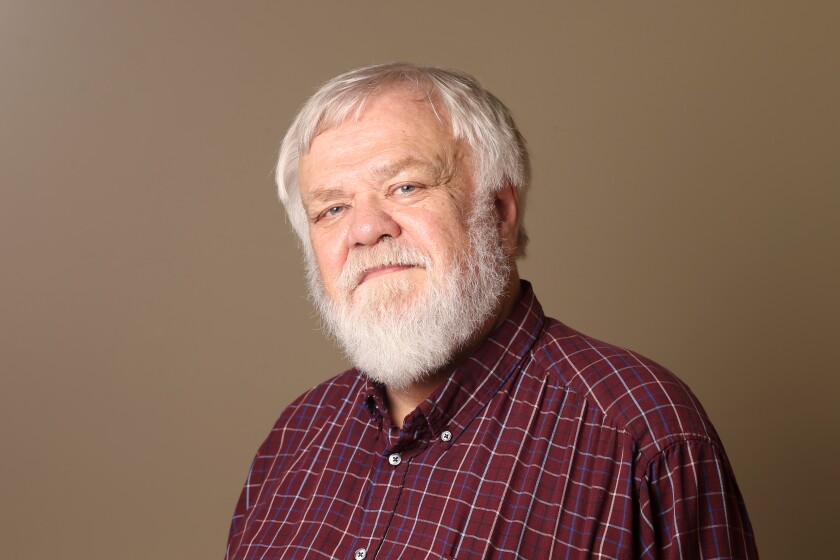 The students are back.
Sort of.
They sit, many of them, in their old rooms at home in Williston or Valley City, N.D., in Prior Lake or Warroad in Minnesota, or in even more distant places, working on computers to connect with UND and salvage what they can of this unhappy spring semester.
I'm old and set in my ways, and I've never been keen on "distant learning," which is the way of the future, they say, made immediate and urgent now by the coronavirus.
To me, the idea of "university" has always meant close association, scholars coming together in classrooms and dorm rooms and under trees to discuss and debate, teach and learn. Seminars. Study groups. Sitting with three other students in a professor's book-lined office and demonstrating – he's smiling and nodding! – that you really understood those 300 assigned pages on the origins of World War I.
But here we are, at least for the rest of this semester. With heart and technology, we will make the best of it, though I dearly hope that, come fall, students again will cloister in coffee shops, on granite window ledges in Merrifield Hall and by flowerbeds on the commons, with open books – physics, biology, accounting, history – and open minds.
And I hope they are able to contemplate spending a month, a semester, an entire academic year abroad.
I have always encouraged students to consider studying abroad – to immerse themselves in another culture, master another language – and nearly every semester two or three adventuresome young scholars ask for a reference so they might go to France or Spain, Peru or Argentina, South Korea or Australia. UND has suspended all study abroad programs this semester, of course, cutting short what for many young people was or promised to be a life-changing experience, and that especially saddens me.
Melanie Schindler was a student in one of my UND writing classes three years ago, eager and attentive, hungry to learn. She is at her sister's home in Farmington, Minn., now – home from Santiago, Chile, but not entirely.
"I'm amazed at all that has happened in the month of March," she wrote recently on her blog. "From finishing midterm exams in Santiago, flying to Buenos Aires for spring break, taking the ferry from BA to Uruguay for a few days, receiving the email that my program in Santiago has been cancelled … returning to Santiago to pack up and say adios to my roommates, friends, and life as I knew it.
"Never in my life have I been so uncertain. Never have I been so unsure and had so much to process, without a clue of where to start. I'm thankful to feel safe. I'm thankful to be at home, but a piece of my heart remains in Santiago."
Back in mid-September, just 26 days into her program, she wrote with such excitement:
"I've enjoyed getting to know exchange students from the United States, Norway, Spain, Venezuela, Colombia, Peru, Brazil, and of course Chilean students as well. I think that is my absolute favorite part of this whole experience. It's not exploring the city. It's not traveling to cool places and doing cool things. It's all about the people I'm meeting and the things I'm learning from them. I seriously love South America. I love that I'm greeted with a kiss (not an actual kiss, fyi) from strangers as well as friends. I love that there are a lot of vegans and vegetarians in Santiago. I love that artists perform on the metro and in the streets. It's difficult to spend a day in the city without seeing some kind of performance. I love all the parks, the street art, and the free museums. This city continues to surprise me. Of course it's hard to be away from my family, friends, community, and home. But, this is one experience I will never regret. I am so thankful that I still have so much time left to enjoy it."
Then, writing in December:
"Living abroad for the past three months has been a really growing experience. I'm learning to live in a big city, use public transportation, take weekend trips to new and exciting cities, and speak Spanish every day with Chileans as well as other foreigners. If there is a better way to learn about yourself, let me know. I think this takes the cake."
Home now in Minnesota, Melanie acknowledges that lives everywhere have been disrupted.
"I know I'm not the only one who had to change plans because of the virus," she writes. "The entire world is on high alert. People all over have the same questions. When will this end? What will be the lasting consequences of this? Why am I so bored? What should I do with all this free time?"
Keep writing, Melanie. Keep thinking, keep reflecting, and keep writing.
Chuck Haga had a long career at the Herald and the Minneapolis Star Tribune before retiring in 2013. He now writes for the Sunday edition of the Herald. He can be contacted at crhaga@gmail.com.
As a public service during the pandemic, the Herald has opened this story to all readers, regardless of subscription status.