Chuck Haga: Kvasager was a symbol of another time in Grand Forks
Arvin Kvasager's death is another sign of the passing of a bygone era in the community.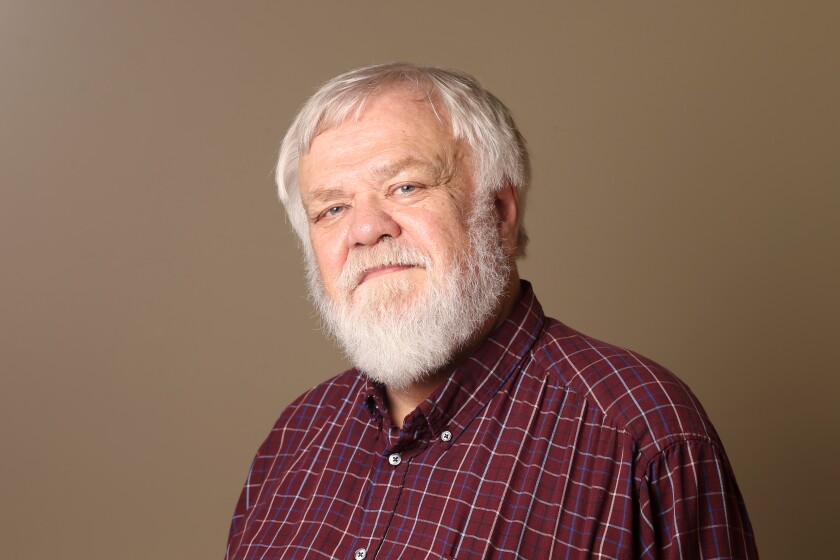 Arvin Kvasager died recently. I went to his funeral at University Lutheran Church to say goodbye and to remember a good, really decent man, a union man.
When I think about the men and women I covered as a young reporter for the Herald in the early 1970s, I'm struck by one quality most of them shared.
Many came from the business community, of course. They were the movers and shakers, the people who made things happen – or kept them from happening. They got themselves elected to local and state offices and named to public boards and agencies.
Sam Silverman is always one of the first to come to mind. He sold me clothes and shoes, told me bad jokes and, when he got to know me (and trust me, I think), he shared stories about how the local power structure worked. He talked to me, too, about being Jewish in Grand Forks, about watching as a boy as the Ku Klux Klan marched in their white robes down a Grand Forks street. It's part of our history, he'd say, and not that long ago.
I liked Ed Lander, too, a land developer, and department store owner John Norby, and Richard Wold, a bank president. Those men sat with Sam on the Urban Renewal board, where they struggled to respond to shifting business patterns, especially the glittery shopping centers far from the city's downtown heart.
Other businessmen and a few women sat on the City Council and County Board of Commissioners, and some went to Bismarck as state senators and representatives, the late Earl Strinden chief among them. How many hours, how many days and weeks of my 20s did I spend watching them, listening to them, reporting their words and deeds? How many evenings did I walk home for a quick bite and a half-hour nap before returning to City Hall for a meeting of the council's Public Safety or Public Service committee?
Much of it was boring, even tedious, but it seemed important.
And there was that shared quality, common to nearly all.
Decency.
Oh, there was the occasional pompous fool, the odd self-serving cheat, and more than a few who didn't quite share my reverence for the First Amendment and the people's right to know. But by far most of the public servants I knew then were good, honest man and women, believers in democratic traditions, people of principle and standards but open, willing to listen to other points of view.
And that goes, too, for people like my friend – my fellow worker, as we used to say – Arvin Kvasager, Teamster, champion of the working man.
Full disclosure: I was a union member most of my working life, first with the International Typographical Union here in Grand Forks, later with the Newspaper Guild in the Twin Cities. In the early 1970s, with the help of the back shop union guys at the Herald, I brought the newsroom into the ITU. I don't think editor Jack Hagerty ever forgave me.
All reporters carry some baggage, some personal commitments or beliefs they need to put on hold as they strive to do their jobs without favor. I like to think I did that, for the most part, when covering a strike or negotiations between labor and management. Like I said earlier, I saw good, decent people on all ends, and I tried to represent their words and actions fairly.
Arvin was 95 when he died. He grew up on a farm during the Depression, hired out as a teen at a neighboring farm for room and board. He worked as a trucker, then dock foreman of a local trucking company. He joined the Teamsters and eventually became business agent for Local 581. Along the way, he served 16 years on the county board among so many other public services.
Teaming with his wife, Iola, he was a dedicated Democrat who worked closely with the likes of former Gov. Bill Guy and Sens. Quentin Burdick, Byron Dorgan and Kent Conrad. Like Hubert Humphrey, he was a happy warrior, a campaigner, always smiling, always ready for an honorable fight.
His passing follows the loss of several other labor leaders of that time, one of the reasons I felt his death as a sign, the passing of an era.
William "Bill" Couchigian died in 2017 at the age of 84. He was a decorated Korean War veteran, an electrician who served 18 years as local business agent for the International Brotherhood of Electrical Workers.
Jay Graba, 88, died in 2022. Like many of the local labor leaders, he was a Democratic-NPL activist and represented Grand Forks in the state Senate. When he died, a former Republican legislator who had served with Graba remembered him as "a gentleman, a good public servant." Another fellow legislator wrote about him with words that could apply equally to Arvin Kvasager: "He was a proud family man who cared deeply for his district and his state. His concern for the working man was a high priority for Senator Graba. I enjoyed working with him, his sense of humor, and his strong values."
And, no doubt, his decency.
Chuck Haga had a long career at the Grand Forks Herald and the Minneapolis Star Tribune before retiring in 2013. He can be contacted at crhaga@gmail.com.