Chuck Haga: Finally, we have at least done something about guns
I respect responsible gun owners – people who go through training, know how to handle and store guns properly. Yet I celebrate Congress finally doing something about the nation's gun culture.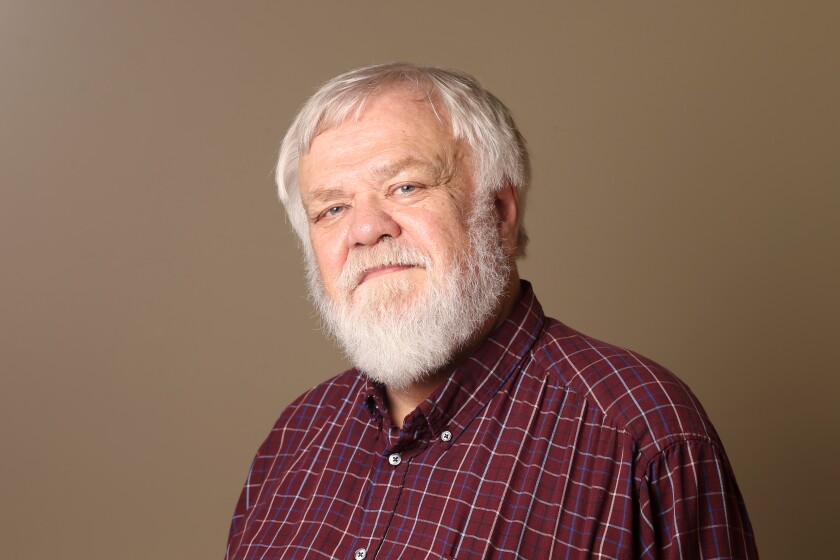 We are part of The Trust Project.
On a nice July day 35 years ago, I went to a makeshift shooting range just outside Grand Forks with a fellow who was a federally licensed gun dealer. He had taken exception to something I had written about guns and thought he might change my mind.
At the range, he handed me a black compact weapon, heavy but nicely balanced, with an olive-drab shoulder sling and a metal canister filled with cartridges.
It was an Uzi, an Israeli submachine gun, capable of firing at a rate of 600 rounds per minute.
"Insert the magazine," he said. "Make sure it's seated properly." I tapped the magazine with the heal of my hand and it clicked home.
"Now you cock it." I did, producing a ratcheting sound and another click.
"Ready," I said, but he shook his head.
"You'll want to put your ear plugs back on," he said.
"Oh, yeah."
"OK, now move off the safety. That's it. You're all set. Fire away."
I aimed at a wall of gravel 75 feet away from where we stood, squeezed the trigger and BUH BUH BUH BUH BUH BUH!
As I reported back then, the Uzi pulled up slightly as I fired, tracing a fierce, awkward line through the gravel.
"Wow!" I said.
The Uzi wasn't the only firearm he showed me that day. He had an M-16, a World War II-era British Sten gun, and two more Uzi models including a micro, almost small enough to carry in a pants pocket. It fired at a rate of 1,200 rounds a minute.
"It's not very controllable," he said.
No, it wasn't. Firing the micro Uzi was like holding a powerful electric drill or sander at arm's length and revving it for a second or two.
I was surprised by my reaction to all this firepower in my hands. A day or two later, I was talking about the experience with a friend, and I must have sounded enthusiastic.
"You know," she said, "I'm really not impressed by that."
She was right. I was boasting, playing macho, trying to impress.
I had accepted the gun dealer's invitation because I wanted to see the attraction of these weapons designed for war but increasingly appealing to "sportsmen." Until then, I had only fired shotguns with my dad and older brother.
About 15 years later, living in Minneapolis at a time when people were calling it Murderapolis because of a high rate of gun crime, I again sought to understand why so many people were arming themselves and seeking conceal-carry permits.
At Bill's Gun Range in Robbinsdale, a Minneapolis suburb, I paid $215 to sit through six hours of classes on gun use, law and safety, then stood for a test on the firing line.
I passed, though one of my shots with a nine-millimeter semi-automatic Glock struck far from the concentric rings of the target.
"What's that?" the instructor asked.
"Warning shot?"
Like my day firing an Uzi, this shooting experience fascinated me. I could understand the appeal. "Wow!" I said again after my time on the range. "Yikes, but wow!"
And as I visited with my fellow permit seekers – a pilot, an attorney, a female restaurant manager and others – I understood something of their desire to protect themselves, their families and their property.
Born in Bosnia-Herzogovina, part of what once was Yugoslavia, Todorovic grew up in the industrial city of Venica, about 70 miles from Sarajevo.
But the No. 1 lesson I learned that day at Bill's: I should not own a gun. The lessons about accidents, about liability laws, about the legal and psychological challenges of self-defense with a gun all persuaded me of that. "There's nothing about this that's sexy or cool," one of the instructors said. And when one of my fellow students observed that "about 80 percent of the course is not to shoot," the other instructor responded, "No. More than that."
I respect responsible gun owners – people who go through training, know how to handle and store guns properly. I wasn't much of a hunter, but I have fond memories of tramping through fields with my dad and brother Tom, who were excellent shots.
But for a long time now, and especially since the slaughter of children became a recurring theme in America, I am all for serious restrictions on the sale and purchase of automatic weapons. Thus, I celebrate Congress finally doing something about the insane gun culture in this country: making it harder for people under 21 to buy a gun by allowing checks on juvenile and mental-health records; closing the so-called boyfriend loophole by adding intimate partners to the list of domestic abusers who may not buy a gun, and providing money to states to implement red flag laws.
To gain Republican support, the legislation includes big money for mental health and school safety programs. That makes sense, but I agree with a caution issued by the American Psychological Association. While the APA supports increasing access to mental health services, "we must not conflate mental illness with gun violence," the association said. "Both are critical and deserve the attention this bill would provide, but we ask again that policymakers avoid inaccurate rhetoric that blames gun violence on mental illness."
It's a gun problem we have, unique in the world. Some measure of gun control must be part of a meaningful solution. These few first steps won't end the slaughter. But finally, we have done something.
Chuck Haga had a long career at the Grand Forks Herald and the Minneapolis Star Tribune before retiring in 2013. He can be contacted at crhaga@gmail.com.