Chuck Haga: Festivals showcase the best of small towns — and their baked goods
If I had remembered how hard it is to pick winners at the Goose Festival pie contest, I would have declined the task.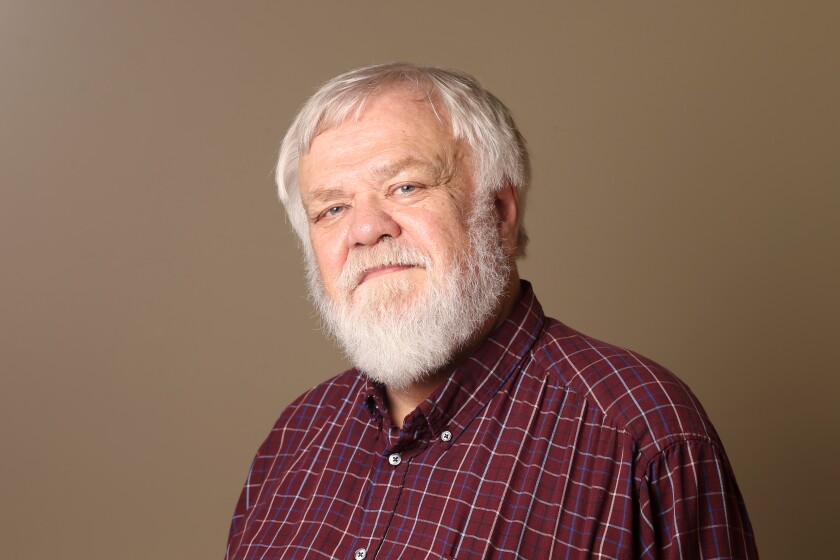 We are part of The Trust Project.
Last Saturday, I spent a few hours in Middle River, Minn., site of the annual Goose Festival. I was there to judge entries in one of the festival's events, the pie contest.
It was my second time in that role, I told the assembled bakers and others who watched me sample eight pies to identify winners.
"I was the judge in this competition 35 years ago, in 1987," I said, and I suspect some of the onlookers took note of my girth and thought I must have had plenty of pie since.
But I told them about a foolish error I had committed back then. Before the festival and the pie contest, I wrote in the Herald that I had a favorite pie: blueberry. And, sure enough, there were maybe 17 pies entered – 16 blueberry and one blueberry-raspberry.
They laughed.
But when I came home, I fretted about whether I had the history right. I have my newspaper columns from the 1980s, just over 700 of them, in a box. They aren't well organized, so I had to hunt to find my 1987 report from Middle River.
And I found it – my account of judging the Middle River Goose Festival parade!
Another hour of digging unearthed my July 1984 report from the Kittson County Fair in Hallock, Minn., where I was judge of 16 entries in the pie contest.
I knew I had been a pie judge, and I knew there had been many pies, most of them blueberry. It just wasn't in Middle River.
"My fellow judges included a state legislator, a few county commissioners and somebody's brother from southern Minnesota," I reported from Hallock. "I suppose I got the job because, like lawmakers and brothers from southern Minnesota, I am perceived as a freeloader who would donate an afternoon for a free lunch. Or maybe it was my pathetic whimpering months ago about how the Grand Forks County Fair should have had a pie contest – with me as judge."
The first pie in 1984 was blueberry, followed by a black raspberry, several more blueberry, wild blueberry mixed with wild gooseberry, and a pie stacked high with strawberries. Clarice Visness, who lived across the Red River from Drayton, N.D., said she made three crusts to make sure that pie was perfect, and we judges declared it the winner.
I have no record of how I voted, but as I said I favor blueberry and probably sampled and resampled before naming three blueberries my first, second and third.
Two years later, I was indeed in Middle River, but judging parade floats, not pies.
Earlier that day, the old clipping tells me, I was at the French Festival in Red Lake Falls, Minn., to judge a pea soup competition. Such were the rewards of minor celebrity.
I love small towns. I love small town festivals, especially when people have fun and don't take themselves too seriously, the kids laugh and run free, and there's plenty to eat.
In Middle River last Saturday, the usual trucks and booths offered tacos and barbecues as well as "harvest peach crepes" and authentic Lao cuisine, reflecting some of the ethnic diversity in the region. There also was a guy hawking hot sauce, including jars of "Scorpion Lava." St. Joseph's Catholic Church sold raffle tickets, and a magician performed.
But the big attraction for me, of course, was the pie contest, where I distorted the history of my involvement but made an honest assessment of the eight pies entered.
Corbin Pearson offered a basic pumpkin pie, which had a nice crust and a smooth, tasty filling. It was the first pie I sampled and I was tempted to announce "We Have a winner!" But I moved on to sample Laurie Stromsodt's strawberry pie, a blackberry-vanilla creation from someone at Grandma K's Kitchen in Bagley, Minn., and Birgit Burrough's "summer delight" – combining strawberries, raspberries, blueberries and blackberries. Then came a fine blueberry from Debbie Aune of Gatzke, Minn., a crumble-crusted peach pie by Gerald Langness of Grygla, Minn., a "harvest apple pie" by Candy Gram of Middle River, and finally another apple by Bonnie Wagner from outside Middle River.
If I had remembered how hard it is to pick winners, I told the waiting bakers, I would have declined the task.
But nobody jeered or threw pie at me when I declared the peach pie the winner, followed by the strawberry and the harvest apple. I gave all the rest honorable mention.
The festival organizers offered to let me take one of the pies home. I was tempted. But with all the testing and retesting, I said, I already was taking a pie and a half home.
Middle River, "goose capital of Minnesota," claims an official population of 303. There were many times that number in town last Saturday, many of them wearing camouflage, having hunted earlier. Everybody seemed to have a good time, and when festival organizer KayDel Super asked if I'd come back next year, I said I'll put it on my calendar, happy to have something joyful (and filling) to look forward to a year from now.
A tip to prospective bakers: use of scorpion lava hot sauce as an ingredient will disqualify your pie.
Chuck Haga had a long career at the Grand Forks Herald and the Minneapolis Star Tribune before retiring in 2013. He can be contacted at crhaga@gmail.com.