Chuck Haga: Father Bill was a beloved priest, scholar and friend to so many
At his funeral, he was remembered as a workhorse for the church, a priest "with a down-to-Earth way of conferring the Gospel."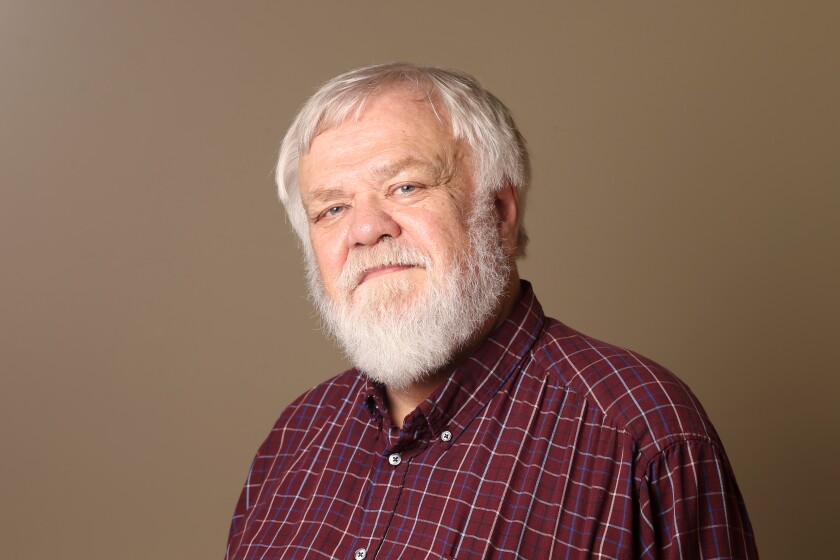 We are part of The Trust Project.
Ken Burns should do a documentary film on the life and times of the Rev. William Sherman.
"Prairie Priest," he could call it. Or "The Peoples' Priest," and note the plural "peoples."
As I sat in a pew at majestic St. Michael's Catholic Church on Tuesday, waiting for Father Bill's funeral to begin, I studied the faces of others who were there to pay their respects to this remarkable man.
I saw them, and I swear I could see beyond them to rows and rows of ghostly faces – images of immigrant parents and grandparents who had come to the near north side of Grand Forks from central and eastern Europe. They were people who spoke the old languages or heavily accented English, and they worked on the railroad, or at factories and retail stores and as laborers for the city.
They had little education, many of them, but they valued education for their children above most things. They bought or built small homes and tended large gardens and said "God bless America" as they preserved the customs of Poland, Germany, Russia and old Czechoslovakia.
Father Bill saw them. They fascinated him, and in his pastoral duties he nurtured their love of country, family and God. And as a sociologist, he collected and shared their stories in books: "Prairie Mosaic," an ethnic atlas of North Dakota with maps showing where 40 immigrant groups had settled in ethnic enclaves, and "Plains Folk," an ethnic history of the state, co-authored with the late Dr. P.V. Thorson, a UND history professor.
Sociology had provided a window, a way to understand what it means to be from somewhere, the priest told me on that spring day in 1997. It had allowed him to feel a closeness with the varied cultures that made up St. Michael's.
"It's a garden of flowers, our parish of peoples," Sherman said after visiting with Walt Wilhelmi, then 86, a native of Romania.
"I'm writing a book on my life," Wilhelmi said. "I'm only 8 years old so far and I've got 12 pages written – on both sides."
Sherman knew the proud man's story: homesteading and farming with his family in northeastern North Dakota, working in California in the 1930s with the Civilian Conservation Corps, back to Grand Forks to work in construction until starting his own company in the early 1960s. The year before the flood, he had celebrated a 50th wedding anniversary with wife Barbara.
St. Michael's was a blue-collar parish of about 5,000 people in 1997, many just a generation descended from French, Irish, Germans from Russia, Polish and other immigrant settlers.
It was a natural fit for Sherman.
"The worst part of the flood (of 1997) was the dislocation of our people from their homes and their neighborhoods," he said. "They lost all those things that give a sense of roots and cohesiveness, and that hurts. The wail of sirens still frightens some of the kids because they remember how abruptly their parents reacted to people banging on their doors (and shouting) 'You must leave!'"
Sherman admired the pride and work ethic of the peoples who settled in this part of the country, the sod homes of Germans from Russia, the nurturing collectivism of Scandinavians. He joined ethnic groups to learn their customs. I can't remember if he told me the story of how he joined the Sons of Norway or if it was Thorson, who had brought him to a chapter lunch. He enjoyed himself there, and he asked a lady, "How does a fellow become a member of this group?" She eyed him and his Roman collar skeptically and asked, "Are you Norwegian?" "No," Sherman said. "Well, are you Lutheran?" Again, he had to say "No." But he quickly added, "I chew snoose."
"You're in," the lady said.
At his funeral, he was remembered as a workhorse for the church, a priest "with a down-to-Earth way of conferring the Gospel." With the bishop of the Diocese of Fargo listening and smiling, a priest told of Sherman meeting the new bishop and confirming that he came from Nebraska. "Thank God," Sherman said, "that we have a bishop who knows the difference between a cow and a horse."
At the visitation, parishioners told of Sherman's gentleness and kindness, his work with the poor and his refusal to judge them, his reaching into his own clothes closet and billfold to provide a hand up. People cited examples of his straight talk and sense of humor. Fellow scholars flooded Facebook with testimonials.
"Father Sherman was a prolific scholar on the ethnic settlement of North Dakota, and he continued to conduct research even at 90 years old," retired UND sociology professor Curt Stofferahn wrote. "He was one of the kindest, gentlest, most modest and humble men you were likely to meet. I was privileged to call him my mentor, friend and colleague."
Chuck Haga had a long career at the Grand Forks Herald and the Minneapolis Star Tribune before retiring in 2013. He can be contacted at crhaga@gmail.com.