Chuck Haga: Costs rising, but efforts are being made to help keep college affordable
A great many UND students benefit from scholarships built through generous donations from alumni and other friends who are passionate about increasing access to a college education.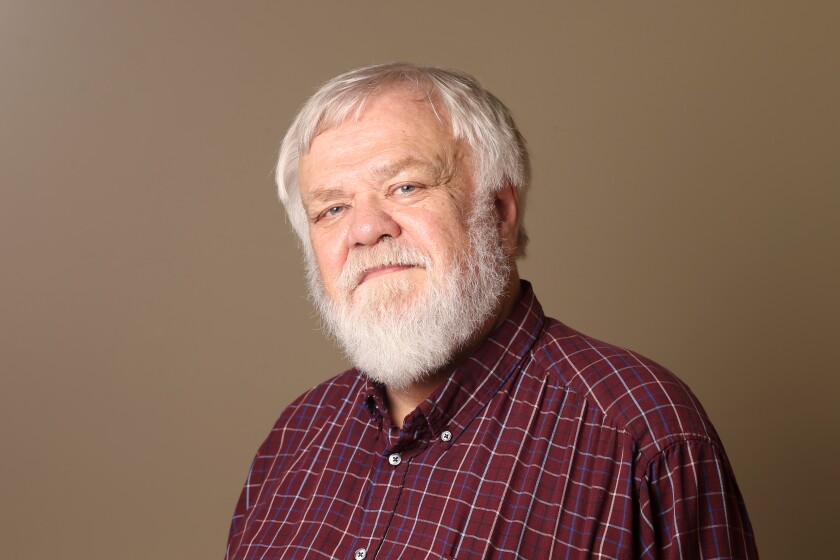 We are part of The Trust Project.
The pay is modest, the fringe benefits few, and the work of an adjunct university professor can be hard and stressful, especially in times when you strain to reach students and have to wonder how much of the disconnect is your fault.
But moments come – a note of thanks at semester's end, a five-minute conversation that leads to smiles and understanding, or a rewritten paper that reflects a student's new grasp of possessives and other fundamentals.
One of the best, most satisfying parts of my work in UND's Communication Department comes in the last weeks of the semester when scholarships are announced. One especially pleases me because I've had a small hand in it.
The Robert Hagen scholarship was created to honor the late Bob Hagen, a popular and highly regarded business reporter and editor at the Star Tribune, with contributions from his family, friends and colleagues at the paper. The Communication Department graciously gives me a role in choosing the scholarship winner each year from among qualifying candidates.
And so, congratulations go this year to Kelsie Hildebrand, 19, from Mandan, N.D. A regular contributor to the Dakota Student, she hasn't decided yet where her future lies — in news writing, broadcasting, public relations or some other related field. But she is bright, curious, a good listener, and she already has demonstrated a talent for telling stories. She is grateful for the scholarship, which she said may allow her to expand her coursework in and beyond the department.
That's one of the concerns I have with regard to the rapidly rising cost of a college education. Tuition and other "costs of attendance" have risen to the point where many students feel tied to required courses in their majors. They feel they can't afford to sample and investigate other fields, to broaden their education. Opportunities to study abroad go wanting. Some students may leave for a year, to work and save. Some, I fear, leave and don't come back.
Another response to rising costs: Advanced placement courses in high school. And more than a dozen universities now offer "Degree in Three" programs, an intensive course of study that can lead to a bachelor's degree in three years instead of the traditional four (or six). It's seen as a way to increase student recruitment and retention, according to the Hechinger Report, a national nonprofit newsroom focused on education.
But critics say it strips too much from the college experience.
"College affordability is a high priority for the university," Janelle Kilgore tells me. She is UND's vice provost for strategic enrollment management and has spent 20 years working in student finances.
"We know that affordability depends on the families' financial situation," she said. "When I was the director of Student Financial Aid, we implemented a central scholarship system that made applying for scholarships easier for new and current students. Before Scholarship Central, students would have to search and seek out scholarship opportunities and complete multiple applications."
UND is fortunate, she said, that North Dakota "continued to fund state scholarships and grant programs when many other states cut state support." Also, during the COVID-19 pandemic, the UND Alumni Foundation & Association helped raise money for special funds that "helped fill the gap for students with financial struggles." Students and their families work with the One-Stop Student Services Office or Student Financial Aid Office to learn about the many sources of aid students may be eligible for.
Kilgore cited a recent survey that found nine out of 10 families say scholarships and other financial assistance are "very important" if students are to get to college and stay enrolled.
Is the university concerned about the growing gap between tuition and resources?
"Yes," she said. "We are always looking for opportunities to help reduce costs for students." One example: Chester Fritz Library works with faculty to find Open-Ended Resources (OERs) to use in their classes, saving students thousands of dollars in book costs over a couple years.
Another example: UND has implemented the Active Duty Federal Tuition Assistance Program to help reduce tuition costs for students who are members of the military.
And a great many UND students, like Kelsie Hildebrand, benefit from scholarships built through generous donations from alumni and other friends who are passionate about increasing access to a college education.
UND maintains a web page that allows prospective students and their families to calculate the cost of attending the university. It can be found at https://und.edu/admissions/cost-and-aid/ It includes estimates of costs for books ($800 a year) and room and board ($10,170 a year). The page also provides information on applying for a share of the $108 million a year UND provides in financial aid (scholarships, grants and loans).
I know that Bob Hagen, a native of Devils Lake, N.D., and a UND graduate, would be proud to see the growing line of bright young students who have benefited from the scholarship created in his name.
One previous recipient of his scholarship told me she couldn't wait to tell her parents about the award, which clearly boosted her self-esteem and would allow her to shoulder some of her college costs and ease the parental burden. She called her mother with the news, and mom cried.
Chuck Haga had a long career at the Grand Forks Herald and the Minneapolis Star Tribune before retiring in 2013. He can be contacted at crhaga@gmail.com.