Chuck Haga: Change comes to a Grand Forks institution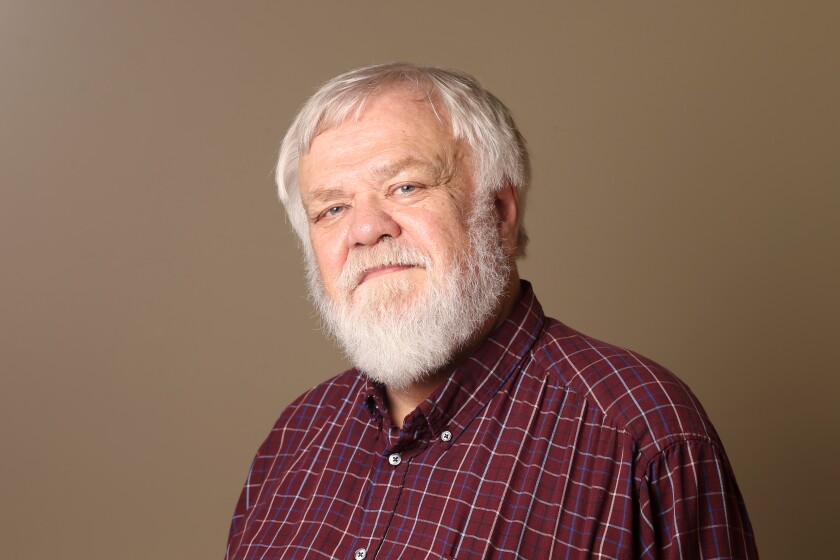 When they opened their coffee shop in downtown Grand Forks in 1993, Kelly Thompson and longtime business partner Patti Eider chose a hopeful name.
Thompson worked with Eider at the old Antique Bar, a popular East Grand Forks nightspot that would be lost to the 1997 flood. He had studied marketing and graphic design at UND and helped develop a clothing line to promote the bar. That expanded and became a separate business, Ink Inc.
Thompson's evolving patchwork career also included painting, with country landscapes featuring the rich, dark soil of the Red River Valley, and real estate. In 1992, he and Eider were looking to expand again by opening a gift and coffee shop.
Specialty java shops were sprouting all over the country then, especially in big cities. "I wanted to bring that urban experience to a smaller town," he said. "So, we named it 'the Urban' – and 'Stampede,' to reflect all the activity that it would bring."
For 27 years, they shepherded the downtown corner shop through flood, fire and the belief among some older customers that coffee should be just coffee and cost no more than 25 cents a cup. Social workers and police officers came in from nearby offices to talk shop, or to forget work for an hour. Book clubs met there. People read poetry, played acoustic guitar, showed art. Grandpas met granddaughters for hot chocolate and an hour of games or coloring.
The city has several other coffee houses, good and thriving with character of their own, but the Urban Stampede became a downtown institution, an anchor, a beating heart. So, when Thompson and Eider announced earlier this month that they were selling, patrons current and many years gone responded with a gulp.
"I didn't think it was that big a deal, but the people calling, posting poignant things online – I guess I was a little blind to the impact of this place, what it has meant to people," Thompson said.
A woman wrote to say "Thanks!" because she and her husband had their first date at the Urban. Others recalled the shop as their preferred place to study, in high school or college. "Thanks for making such an amazing space … a place of refuge and creative expression … and friendships that will last a lifetime." Another man messaged: "I miss this place loads. Someone have a quad shot hazelnut soy mocha for me."
Thompson saw the coffee shop as another creative outlet. The art displayed on the walls, the pressed-tin ceiling and hardwood floors, the history of the place – all provided a "Cheers"-like setting without the challenges alcohol sometimes brings.
"It was such a blessing to watch the parade of humanity," he said. "We attracted a broad spectrum of people, from homeless to CEOs, high school and college students to retired, people who like to be with people."
The ornate Odd Fellows Block dates to 1889, the year North Dakota became a state. What now is the coffee shop had been many things: a bank, a post office, a clothing store. The Urban's bar top came from a forgotten small-town saloon, the back bar from the old Rand Shoe Co. The booths were brought over from the Uptown Bar after the flood of 1997.
"The flood wiped us out," Thompson said. "We had three feet of water in here, and it destroyed everything. We debated whether we could reopen. We still had debt from when we started up. We had to choose between quitting in debt or going deeper into debt. We chose to go deeper. It was a good decision.
"We weren't planning to sell now, but the pandemic came and we closed, and there was that window: the idea of not having the daily grind, the responsibility. So we decided to go out now, like a sit-com that goes out on top, rather than when the ratings are low."
Several local business people, friends, have bought the bar and said they hope to reopen it, as the Urban Stampede, next month. "The buyers are so much like us," Thompson said. "They'll carry on. They'll improve it too, and put their own creative spin on it. It will be fun for me to watch what they do."
He said he'd like to throw "a huge party" for regulars, current and former baristas and artists who called the Urban home. "But we can't in this pandemic. That's a huge regret."
He will be around. "I'm nowhere near retiring, or even slowing down," he said. "What I'm actually achieving by leaving Urban Stampede is more brain space – less to think about. That's what's appealing to me.
"I'll maybe get to sleep in a little longer. And I'll have to get used to paying for coffee."
Chuck Haga had a long career at the Herald and the Minneapolis Star Tribune before retiring in 2013. He now writes for the Sunday edition of the Herald. He can be contacted at crhaga@gmail.com.