Chuck Haga: Carry on, Boyd Huppert. I'll be watching
Boyd's stories on KARE-TV have always been well done – told in a careful, thoughtful and sensitive style.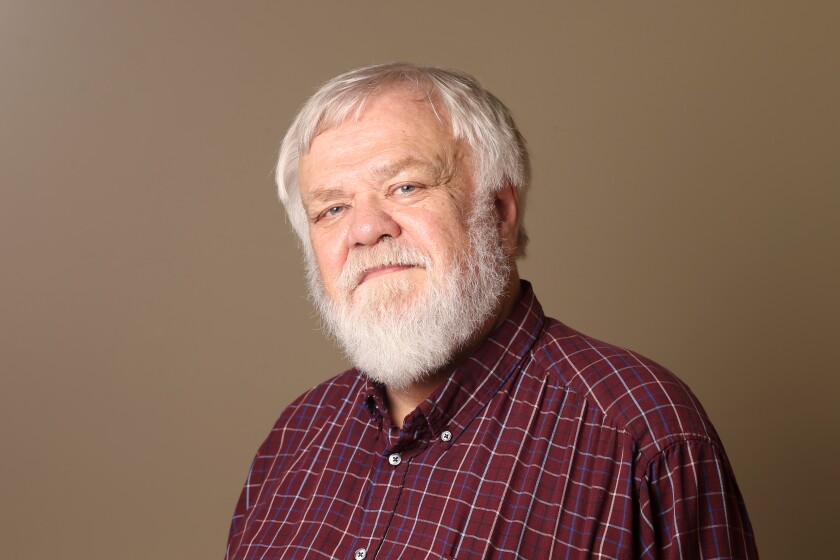 At first, I resented Boyd Huppert and the stories he told on KARE11 TV in the Twin Cities.
They were stories about everyday people going about their lives – work, play, relationships, dreams, successes and failures. They were the people I wanted to write about at the newspaper, the stories I wanted to tell with words, truth and compassion.
There is an effort underway in the North Dakota Legislature to ban instruction of "divisive topics."
And Boyd's stories were invariably well done – stories told in a careful, thoughtful style, sensitive but not condescending or cloying. "That was good," I'd think to myself after watching one of his feature stories. And, "I'm not sure I could tell that story as well as he's done."
I hated having to admit that. TV, I sometimes preached, should be limited to cartoons in the morning, sports and cooking shows in the afternoon and classic movies at night. TV news, I said, is an oxymoron. It lacks the depth and subtlety of carefully crafted word portraits.
True, Boyd had the advantages of sound and video. But better than anyone else, he married his words so well with the images captured by videographers, his storytelling partners. These stories were honest, not manipulative or exploitive. The emotion was true.
My favorite Boyd Huppert story was about a woman, a painter, living alone in the desert southwest, who was asked by a friend one day years ago to paint a portrait of a son lost to war in Iraq. She did it, and the work was so deeply satisfying she continued, preserving memories of young men and women lost in combat far from home. She accepted no compensation for the work.
Boyd showed us this quirky woman at work in her home studio, talking about the boy "who should have been a husband, should have been a poppa," but died at 24 or 18. We watched as she signed a portrait, gave it a last look and boxed it for delivery to parents or a young widow and sent it off by UPS. We saw the UPS truck pull up to a modest home in a small Minnesota town, where a mother and father paused before pulling the image of their son from the packaging. The impact of that first look is so evident. They can't stop looking. Neither can we.
Boyd and I have talked a few times, mostly by email, about what we do, the faith we share in the ability of stories to celebrate human connections. It did not surprise me to learn that we share a hero: Charles Kuralt, who roamed the country for CBS News on his "On The Road" series. I like to think I learned something from Kuralt and from Huppert, how "the heart is an instrument," as another journalist once explained.
And now I'm learning again from Boyd, who was diagnosed last fall with multiple myeloma, a rare blood cancer. I watch how he has handled the challenges and disappointments, and again I say to myself, "I'm not sure I could do that as well."
Friend Neal Justin wrote in the Star Tribune last week about Boyd's struggle and the response that has come from so many fans of his regular TV features, "Land of 10,000 Stories," which Neal aptly describes as celebration of "the spirit and resilience of everyday Midwesterners."
Like most journalists, Huppert is uncomfortable when he becomes the story. But as he has asked people to care about the subjects of his TV stories, so must he be open now about the condition that has sidelined him.
"Clues that he's ailing are subtle," Justin wrote after visiting Huppert at home a little more than a week ago. "Sixteen bottles of medicine line a kitchen counter. Emergency numbers are magnetized to the refrigerator. A cardboard box filled with well wishes from colleagues and competitors sits next to the dining room table."
In a Facebook post, Boyd said he was grateful to Neal for how he and photographer Glen Stubbe told his story.
And he offered a preview of upcoming chapters.
"Later this week, I will be checking into U of M Medical Center to receive a more aggressive dose of chemo to knock down some remaining cancer in my bone marrow. The stem cell transplant should follow in a week or two. If the recovery goes as planned, I should be back with my friends in the KARE newsroom by late June or early July."
Carry on, storyteller. I'll be watching for that next story, maybe in late June or early July, and with luck and support I'll be watching from a campsite up north.
Chuck Haga had a long career at the Grand Forks Herald and the Minneapolis Star Tribune before retiring in 2013. He can be contacted at crhaga@gmail.com.