Chuck Haga: Breaking down vaccine hesitancy
An associate professor at UND used focus groups, in-depth Zoom interviews and a broad online survey to find reasons for vaccine hesitancy among county residents in their 20s.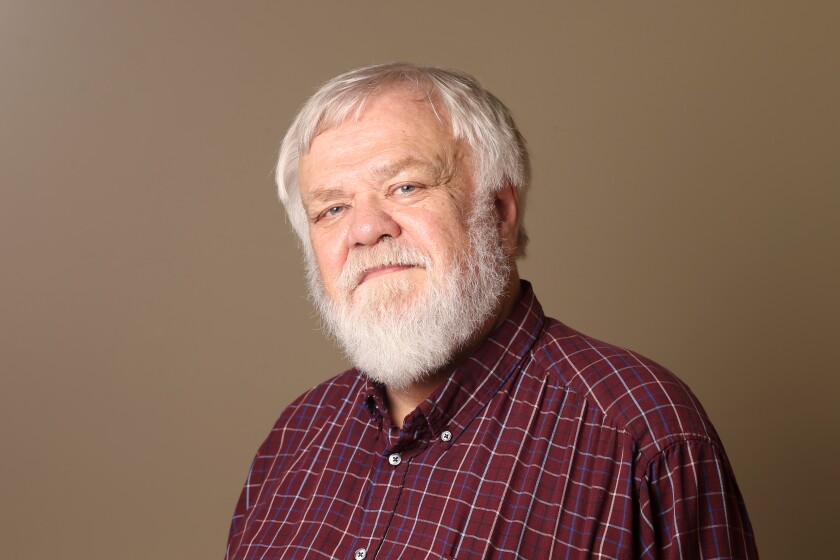 We are part of The Trust Project.
A study commissioned by Grand Forks Public Health has found that mistrust of government and "Big Pharma" are significant factors in the reluctance of young adults to be vaccinated against the COVID-19 virus.
Only 47% of county residents aged 19 to 29 were fully vaccinated as of April 2022, according to study results just released. That was the largest group of unvaccinated people in the county, a finding that was consistent with regional and national trends.
Born in Bosnia-Herzogovina, part of what once was Yugoslavia, Todorovic grew up in the industrial city of Venica, about 70 miles from Sarajevo.
Conducted by Soojung Kim, associate professor in UND's Communication Department, the study's objective was to identify reasons for vaccination hesitancy. It also sought to assess the effectiveness of efforts to overcome such hesitancy and identify methods that might be more effective in promoting vaccination against a future public health threat.
Kim said that what struck her about the study results was how people with vaccine hesitancy "have their reasons, their own concerns and questions, and those are not always answered.
"They aren't crazy people, as they are sometimes portrayed," she said. "There has been a tendency to blame the unvaccinated, to say they are not doing their part. But they're not trying to be irresponsible citizens. They're offended and hurt by that."
Michael Dulitz, who coordinates the local health agency's opioid response project, took on responsibilities for monitoring and analyzing COVID-19 data. He said the most surprising result from the hesitancy study involved the political affiliation of study participants. Most identified as moderately liberal.
"I think there's this generalization that people who are liberal are pro-vaccine and conservatives are more anti-vaccine," he said. "We need to adjust that kind of black-and-white thinking. We heard their concerns in their words, and it was good at pointing out what we could be doing better."
Kim used focus groups, in-depth Zoom interviews and a broad online survey to find reasons for vaccine hesitancy among county residents in their 20s. She identified three themes: suspicion about profits and other financial reasons for the push for vaccination, a "fear of the unknown," and frustration over finding accurate information.
"Participants perceived there to be financial interest by both (government agencies) and the pharmaceutical drug companies," Kim said. "There was also a fear of the unknown related to the vaccines," such as possible effects on fertility and risks of "long-term COVID." Also, some participants complained about the amount of health information to sort through and that "the information was different between agencies, and/or it changes daily."
Some said they "perceived there to be financial interest by the Centers for Disease Control and Prevention (CDC), and by the pharmaceutical drug companies involved in making the COVID-19 vaccine such as Pfizer and Moderna." Also, "because the vaccines did not follow the traditional approval process, many participants questioned (their) safety and efficacy."
Some sample responses by study participants:
"I think the vaccine, some people are using it as a business… people are using vaccines to gain some money or something."
"I don't trust big pharmacy companies because I think there's a lot of money involved with this, for sure."
"There is still a lot of research that needs to be done in order to determine the safety and effectiveness of them."
In her conclusions, Kim said that people faced many potential barriers to getting vaccinated. But those factors "were not explicitly addressed" by Grand Forks Public Health in the agency's Facebook messages promoting vaccination.
"Future communication efforts are encouraged to focus on the safety and efficacy of COVID-19 vaccines," she wrote. "Communicating individuals' concerns about profits and monetization could also potentially lead to increased vaccination rates among the unvaccinated in their 20s."
The study also found that financial and other incentives offered by local and state governments "only bred more distrust in the vaccine." Mandates had a similar effect.
"I feel like I'm the type of person where if somebody is forcing me to do something, it makes me want to do it less and less," one study participant stated. "So. Yeah. It definitely discourages me with all the mandates that are put into place."
Several participants said they knew people who experienced negative side effects from the vaccine. Others did not believe that the vaccine was effective due to breakthrough cases. Many were more ambivalent about vaccination than directly opposed.
"I'm not completely against it at all," one said. "I'm just not 100% for it. I know I did want to wait, you know, for it to be out longer and see how other people reacted to getting it and what not. But like I said, I'm not really against it, or for it. I'm just kind of neutral right now."
Chuck Haga had a long career at the Grand Forks Herald and the Minneapolis Star Tribune before retiring in 2013. He can be contacted at crhaga@gmail.com.