Chuck Haga: Be there for your friends, family and neighbors
I'm going to send the Olivia foundation a small donation. I'd love it if some of you chipped in.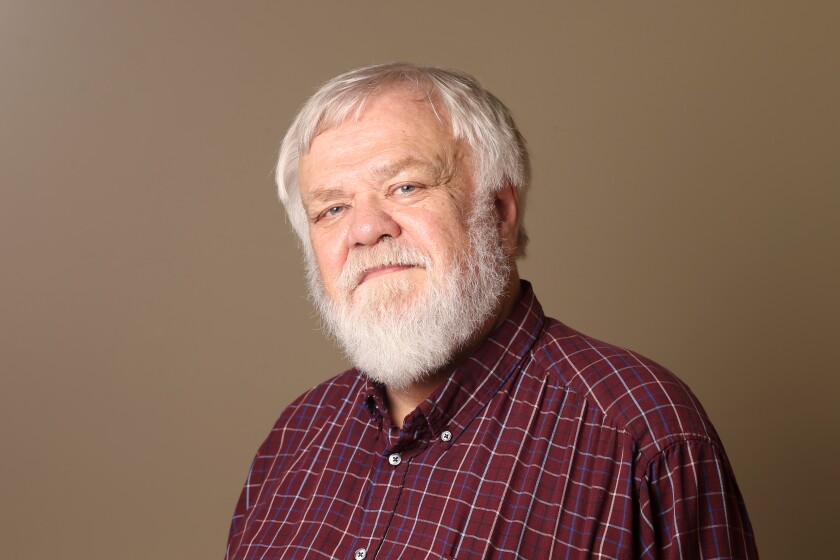 We are part of The Trust Project.
The mail came in this week from Cavalier and Northwood and Valley City in North Dakota and from Erskine, Crookston and Thief River Falls in Minnesota, and from other small towns where friends and acquaintances live.
We ought not sanitize how we teach our children about them, leaving out the flaws, inconsistencies and contradictions.
By mail, of course, I mean email. I could wish it came printed in familiar script, sealed and stamped and maybe slightly perfumed, with my name there on the front. I miss holding special letters, just as I miss holding a printed newspaper.
But it was mail, personal and meaningful, brief but as welcome as spring rain. It was correspondence, reassuring me after a scary weekend that started with intolerable chest pain and a 4 a.m. ambulance ride and ended after more than 50 hours of tests, treatments and the futile effort to sleep in a hospital bed.
I grew up in Valley City, a pretty little town of about 7,000 people, lots of hills and bridges over the Sheyenne River, and memories. I've been back a couple of times recently, for 50th and 55th high school reunions, where my classmates and I talked about how it was a good place to grow up.
I love small towns. I know the size and closeness can feel suffocating, the opportunities limited. Familiarity can indeed breed contempt, and most young people are eager to test life somewhere bigger, more exciting, maybe more private. But there's something about a place where the fire department is mostly volunteer, the cops know your name (Lars Haga's boy) and that's a good thing, and 50 years later you can list and compare favorites: best sledding hill, best hangout, most memorable old town character.
One of the letters this week came from Olivia, Minn., where I lived for a few months 20 years ago while working for the big-city newspaper. Using Thornton Wilder's "Our Town" and Sinclair Lewis' "Main Street" as rough templates, photographer Brian Peterson and I sought to show what life in a small town was like today for the people who lived there. What we found, what we were told, was thoughtful, reflective and mostly positive.
The letter from Olivia was from Sara Maher, whom I had described as "a young fireball" of 47 who had left town in her 20s to live in Hawaii but returned. She came home determined, as she told me back then, to "make Olivia exciting again."
I responded, asking whether she had succeeded. And I asked about other wonderful people who had been part of that 2002 project, including Mary Page, who with husband Jim owned a drugstore in Olivia.
Despite suspicion and open hostility from men who thought she should stay home rather than get involved in local governance, Mary was elected to the county commission twice and mayor three terms, starting in 1976. For good measure, she served as a University of Minnesota regent from 1989 to 1995.
She was still an important voice in 2002, concerned about the effects of social and political division.
"As I got older, I don't think I did a very good job of smoothing differences," Mary told me then. "There were value conflicts we needed to work on.
"I think the lack of anonymity in a small town drives a lot of how we function. We're not very good at conflict resolution because we're afraid it will carry over into the church and the Lions Club."
Mary died in 2013, Jim in 2017.
"In 2020, I started a Foundation in honor of her and Jim's love for our community and all they did for it," Sara Maher wrote in a follow-up letter this week. "It's called 'The Pages' of our community's foundation.
"The foundation is also an umbrella for The Renville County Walk in the Park, which supports each new cancer survivor with a 'Bag of Blessings' as they start their journey and helps them with up to $2,500 in medical and gas expenses per year."
Driven by Sara and other not-so-young fireballs, little Olivia also provides support to a local "Lodge of Hope" for women struggling with life and to the University of Minnesota's cancer research center.
"Our residents take care of our local survivors," she said.
And, hearing about my latest cancer-related setback, she sent me a letter: "Stay positive and have a great January, Chuck!"
In memory of Mary and Jim Page, and respecting Sara's engagement and the spirit of this small town, I'm going to send the Olivia foundation a small donation. I'd love it if some of you chipped in, as a declaration of your faith in the caring and essential goodness of small towns.
You can find digital contact information online, but consider writing a short note and putting it in the mail with your check. The address: Pages of Our Communities Foundation, P.O. Box 63, Olivia MN 56277.
And my thanks to all of you who took the time to write a brief note of concern and encouragement. Forgive, please, what may seem self-indulgence here. But by using this public pulpit, I asked you a year ago to care, and I figure I owe you this update. With it, I urge you to be there for friends, family and neighbors who may be struggling with cancer or another chronic condition. It can mean so much.
Chuck Haga had a long career at the Grand Forks Herald and the Minneapolis Star Tribune before retiring in 2013. He can be contacted at crhaga@gmail.com.