Chuck Haga: Be there for the people who may be quietly hurting
According to the Centers for Disease Control about 47,500 Americans commit suicide each year. That's 130 a day, one every 11 minutes.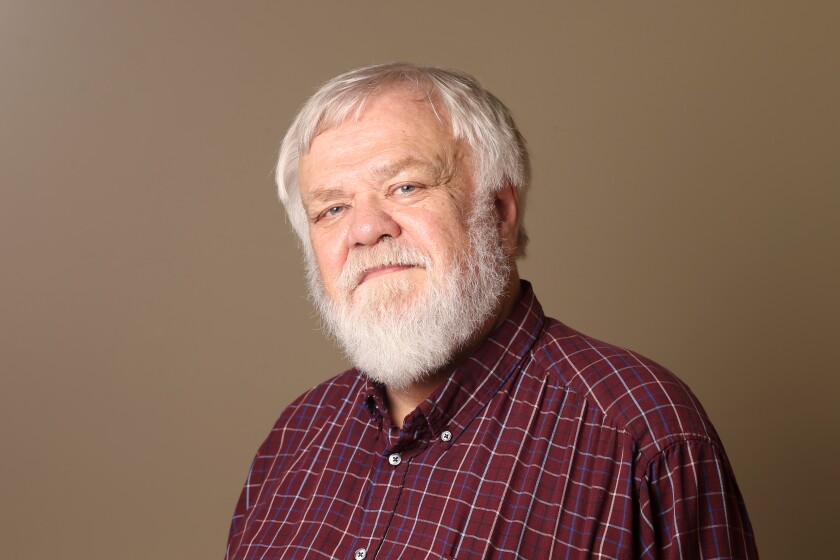 We are part of The Trust Project.
A friend has written a book, a remarkable book.
While I have written many book reviews for my old newspaper, the Star Tribune, I don't presume to be a real literary critic. That said, I believe this book is a brave, stunning achievement of introspection, research and literary effort.
It is a book about suicide – the suicide of my friend's father – and how she has wrestled with the knowing: not only the knowing that her father chose to kill himself, but also learning through her years-long search for answers that both of her grandfathers also had committed suicide.
How does one deal with that?
The author is Juliet Patterson, a prize-winning poet and professor of English in the Twin Cities. She is close to 60 now, which is as hard for me to comprehend as the fact that I am 73. She was in her early 20s when I knew her here in Grand Forks, during and after her time as a student at UND.
Our friendship grew out of friendships we shared with others. I liked her curiosity, her intense searching. And she was funny. She seemed to think I might have some answers, being old and all, and, like her, I was inclined to grapple with words.
As I read her book, I remembered that she once invited me to dinner with her parents at their St. Paul home. I met her father, though I don't remember him. I barely remember the evening. She says the same.
The book, titled "Sinkhole," is the story of a woman who has "chosen not to look away," according to one of the cover blurbs. "Sinkhole is a master class in the way truth can pry open the deepest cellar, how language can calm a raw, ragged soul. To read this unflinching look at darkness is to find a way toward the light. After so much darkness, so much light."
She shares so much of what she has learned about suicide: the typical length and nature of suicide notes, for example, and that according to the Centers for Disease Control about 47,500 Americans commit suicide each year. That's 130 a day, one every 11 minutes.
She learned, too, that "for every suicide, six deeply affected survivors are left behind."
And, "Children of parents who kill themselves are at a higher risk to commit suicide later in life."
I'm not going to write more here about the book. You likely will hear more when it comes out in September, and a mutual friend hopes to persuade the UND Writers Conference to invite Juliet back to Grand Forks next spring.
The book has had quite an impact on me. It's Juliet's story, of course, and I felt sad as I read, learning all that she has been through. But it also comes at a time when another dear friend is grappling with the suicide of his adult son. He and his family will hold a celebration of life for the young man next week.
How does one go on? My friend will, I'm sure, though it be incomprehensibly hard, because he is a man of courage and character. And he has friends.
I've written before about the anxiety I see in students in my UND classes, how every semester a few write about their struggle with depression. It seems to have grown over the past decade, though that may reflect a greater willingness (or need) for young people to be open about the despair they feel. I'm glad the university is stepping up efforts to help students who struggle, with training in mental health and suicide prevention.
I've seen a change, too, in the obituaries of young people written and published by grieving parents – a growing tendency to be open and direct about such a devastating loss.
"Kathleen 'Katie' Marie Shoener, 29, fought bipolar disorder. … She finally lost the battle on Wednesday to suicide," her father wrote in her obituary in the Washington Post a few years ago.
In her name, he pleaded:
"The way we talk about people and their illnesses affects the people themselves and how we treat the illness. In the case of mental illness there is so much fear, ignorance and hurtful attitudes that the people who suffer from mental illness needlessly suffer further.
"We need to support and be compassionate to those with mental illness, every bit as much as we support those who suffer from cancer, heart disease or any other illness.
"Please know that Katie was a sweet, wonderful person who loved life, the people around her and Jesus Christ."
Be there for people. Provide resources. Above all, let people know how devastating it would be for those who must somehow live on.
Chuck Haga had a long career at the Grand Forks Herald and the Minneapolis Star Tribune before retiring in 2013. He can be contacted at crhaga@gmail.com.