Chuck Haga: At Christmas, remembering holidays past
Best gift? That's easy: socks. Best cookie? Do I have to choose just one?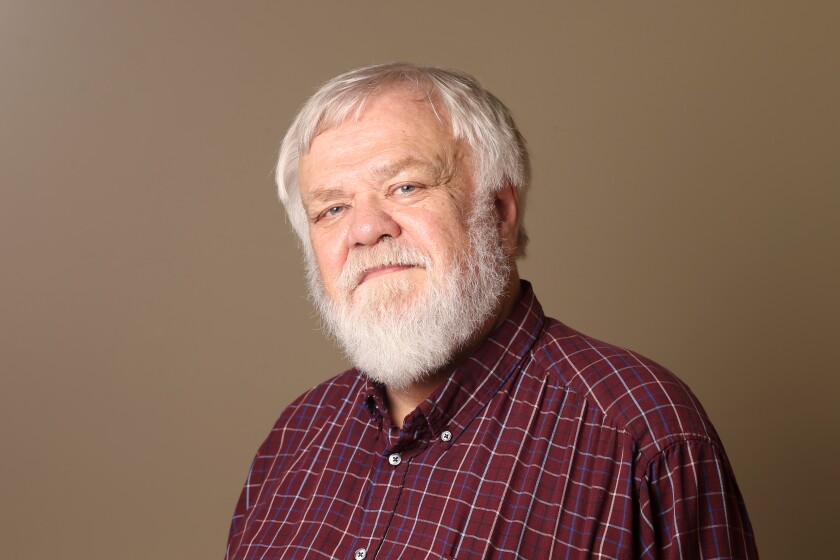 Much of Christmas 2021 will be memorable as long as I can remember. Much of it has been pleasant, inspiring, joyful and even mystical. Sandra Larson's krumkaker, for example. Yes, mystical.
But this Christmas is still unfolding, and not always in the best way. So, indulge me today, please, as I remember Christmases past.
Best Christmas movie
"Going My Way," 1944, with Bing Crosby and Barry Fitzgerald. I've long been a fan of movies from the 1930s and '40s, and I loved Fitzgerald's gruff old Father Fitzgibbon. In one of the closing scenes, he turns at the sound of choir boys singing "Too Rah Loo Rah Loo Rah," the lullaby his mother had sung to him when he was a boy in Ireland. He had not seen her since he left for America, a young man. Now here she was, brought over by Crosby's Father O'Toole, crying as she shuffled toward him. I lose it every time.
Best Christmas gift
New, comfy, cushiony socks, a much-appreciated tradition from the grandkids, giving me a slight spring in my step every January and into spring itself, and usually replenished on my birthday in late May.
Best song
Tie: "I'm Dreaming of a White Christmas," Irving Berlin, sung in early 1940s movies by Bing Crosby, and "I'll Be Home for Christmas," if only in my dreams. Again, breaks me up, especially if I'm away, missing home, or on my way with many miles to go.
Best Christmas dinner
That would be another "White Christmas," the Norwegian immigrants' feast of all things white: boiled potatoes smothered in a creamy white sauce, lutefisk with melted butter, pickled herring, white dinner rolls, white milk. Some say a splotch of cranberries was added so diners could locate their plates on the white tablecloth.
Best Christmas cookie
Spritz. Or Sandbakkels. Yes, Sandbakkels. Or krumkake. Do I have to choose just one, Mom?
Best Christmas job
A few Christmases ago, the Rev. Kathy Fick and the other good people at Christus Rex on the UND campus persuaded me to don the elegant robe, miter and other traditional trappings worn by the historical St. Nicholas, for their annual Christmas celebration for university students, faculty and staff. Except for knocking my miter off in every doorway, I think I represented the old fellow well.
Best Christmas split duty
This year, grandson Mason, of whom I am mightily proud, is 24 years old on Christmas Eve. By tradition, the first half of Dec. 24 is known and celebrated as Mason's Birthday.
Favorite Christmas story (told by me)
On Christmas Eve 2007, I drove up to the lovely country outside Nash, N.D., where in 1894 immigrants built a little church they named North Trinity Lutheran.
Like so many small, simple churches of the time, it had a steeple and a bell that could be heard for miles on a cold December night, and it was a popular tradition to ring that bell on Christmas Eve long after the church closed in 1953. On this Christmas Eve, in 2007, tradition resumed with a modern touch.
"As darkness fell Monday, the lights came on and young men and women – great-grandchildren of the church founders – took turns pulling a rope in the entryway to sound the bell in the steeple above.
"Outside, dozens of people with ties to North Trinity stood in the snow or sat in their cars in the gravel driveway and held cell phones to the sky so that loved ones far away could hear."
It was, as I wrote, a poignant moment for Delores Swehla, who was in her mid-70s then and living in western North Dakota. Her niece, Lisa Held, stood by, holding her cell phone skyward.
"Can you hear it, Aunt Delores?" she asked. "Can you hear the bell? Oh, it's so pretty here tonight with the snow. The church is all lit up and there's so many people out here. They're serving hot cider inside."
She quit talking and just held the phone, and her aunt listened.
"It's wonderful," Swehla said a minute later before hanging up. "It connects me to my childhood."
And me to mine.
Merry Christmas, everyone.
Chuck Haga had a long career at the Grand Forks Herald and the Minneapolis Star Tribune before retiring in 2013. He can be contacted at crhaga@gmail.com.