Chuck Haga: Another war, another difficult time explaining why
How do we talk with kids about war? How much are today's kids hearing about the current war in Ukraine?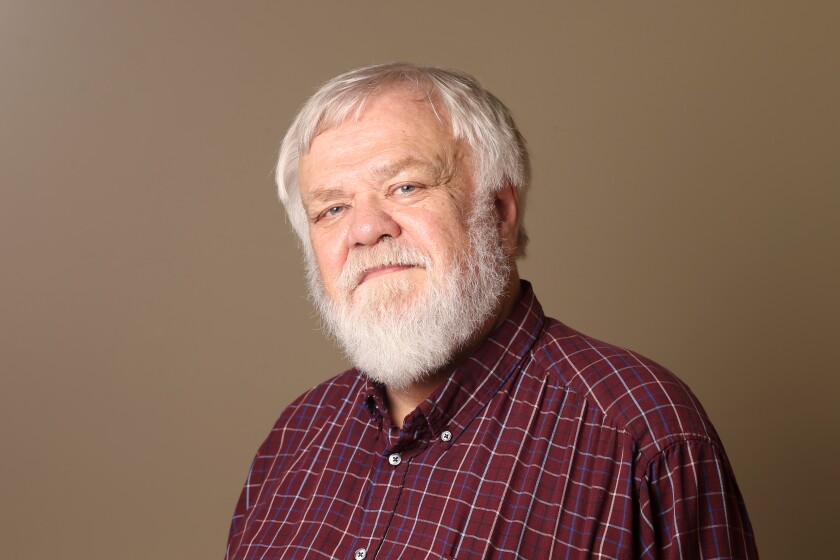 As war loomed in the Middle East in 1991, I sat in a classroom in a Twin Cities elementary school and listened to the youngsters talk about war.
A 7-year-old named Grant had a pressing question about Iraq for his teacher.
"Are there children who live there?"
How do we talk with kids about war? How much are today's kids hearing about the current war, the fighting and bombing and fleeing refugees – including children – in Ukraine?
Though they may catch snatches of war talk on TV or among parents and other adults, this war may seem more distant, less relevant to small children than that fight over oil and power in Iraq more than three decades ago. We aren't at war. Not yet.
Back then, before "shock and awe," Caitlin, 8, said the war had already started in her dreams.
"I dream about people fighting, and Iraq, and how it's going to look when it's destroyed," she said. "Some of the buildings are crushed and ruined. Sometimes I see people laying down on the ground."
Her teacher asked if there was anything she could do about it.
"All I can do is hope," Caitlin said. "I hope for there will not be a war."
Calmly, with a poise remarkable for an 8-year-old, she continued.
"This is kind of weird for kids because we've never had a war," she said. "We've heard about other wars, but we've never been in one.
"I think they should compromise. They should talk things over, and if that doesn't work they should try something else."
Caitlin wasn't the only child who seemed exasperated by adults' apparent inability to settle their differences without fighting.
"I just think it's stupid to have a war," Beth said, and Becky added, "I think there are better ways." Angela suggested, "Maybe they could just share the oil," since that's what the coming fight appeared to be over.
"Nobody really wins a war," Mark said.
Their teacher guided the discussion gently, not wanting to lead or frighten her students. But war was coming and would come into their homes and their world, she said, so it was important for them to talk it out.
"Anything that's not talked about gets bigger," she said.
And now we study war once more.
In a clinic waiting room early this week with a half dozen other senior adults, we sat quietly with our own thoughts or tried to follow a western on the TV.
"I like westerns," one of my fellow patients allowed, and others nodded. They nodded again as she continued: "I don't watch the news. It's too bad, too depressing."
I've heard that from friends – the nightly reports of bombings, death and destruction are too much, especially when it's hard to figure what one person can do about it.
A few days ago, I asked another bunch of young people – about 20 UND students – what they're thinking about the war in Ukraine. Our military men and women aren't directly involved, but we face consequences and the potential for expansion is there.
Like the youngsters in 1991, they have questions and concerns, but they also plead preoccupation with studies, work and the rest of college student life.
"I sometimes try to avoid the news when it comes to the issue with Ukraine," one wrote in response. "It becomes very hard for me to see such depressing news when it seems like that is all my life is surrounded with."
A relative has reacted to the situation in an extreme way, she wrote, and that has seriously affected the extended family. "He believes that this is the start of a biblical end of time. He wants to sell my grandparents' farm to get money so he can move to Alaska and go off grid."
Another student said she doesn't pay much attention to war, politics and such "because it gives me stress and anxiety," but from what she knows about the fighting in Ukraine it "feels so unnecessary."
Another: "I don't have all the answers on how to solve a global issue like this, but companies refusing to sell things and economic sanctions affecting innocent Russian civilians is not the answer. Russian citizens are being hurt significantly by something they have no control over."
And another student said she tends to dismiss much of the war talk she hears "from people who don't really know what they're talking about …whatever a student's relative spewed at the dinner table over spring break." Like most other college students, "I admittedly have not done much of my own digging into current events," she wrote. "Sadly, social media and bite-size news has (become) every college student's favorite form of news consumption."
She is reluctant to "parrot any cliché, alarm-raising slogans," she wrote, or simply "sigh with frustration from the safety and security of my table at the Memorial Union," she said. But innocent life is being lost, and maybe there is something the United States can do, and "then maybe we can take steps to protect Ukraine."
Chuck Haga had a long career at the Grand Forks Herald and the Minneapolis Star Tribune before retiring in 2013. He can be contacted at crhaga@gmail.com.