Chuck Haga: After seeking 'something we could call home,' Ivona Todorovic is Grand Forks' teacher of year
Born in Bosnia-Herzogovina, part of what once was Yugoslavia, Todorovic grew up in the industrial city of Venica, about 70 miles from Sarajevo.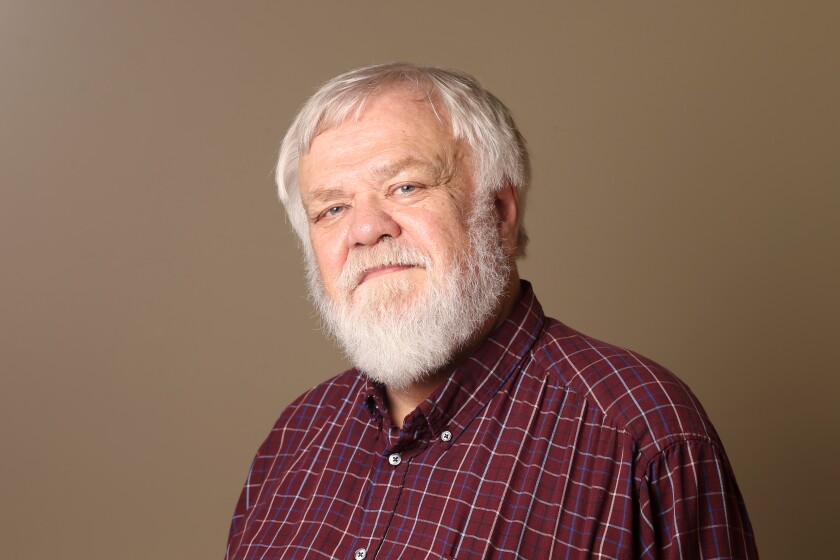 We are part of The Trust Project.
In the latest chapter of her remarkable story, Ivona Todorovic has been named teacher of the year in Grand Forks. Next month, she will compete for the title of North Dakota's teacher of the year.
If I had remembered how hard it is to pick winners at the Goose Festival pie contest, I would have declined the task.
"I am so grateful that my colleagues recognized me and my contribution to education and our youth," she said this week. "It is wonderful that the community recognizes the importance of the work we do every day in our students' lives."
Our youth. Our students.
Born in Bosnia-Herzogovina, part of what once was Yugoslavia, Todorovic grew up in the industrial city of Venica, about 70 miles from Sarajevo.
She started college in neighboring Croatia, another of those troubled states of southeastern Europe divided by ethnicity, religion, history and culture. She continued her schooling in Sarajevo, but when war broke out in the early 1990s she knew she had to flee. She married Alex, a computer technician, and they made plans to leave together.
"We were a mixed marriage," she said. "You were seen as having the religion of your father. My father was Catholic. Alex's father was Orthodox. We wanted to go to where people weren't always asking, 'Who is your father?'"
They sought refugee status and soon were on their way to the United States, which had agreed to take in some of the people displaced by the war, which took on genocidal proportions.
On June 8, 1995, they arrived in Grand Forks.
"We were thrilled," Ivona said. "We wanted something we could call home. We wanted a place where, when we say our name, the main point is you are a human being, not an ethnicity or religion."
In August 1995, someone who knew she had been a teacher in Europe encouraged her to apply for a position here. She started as a paraprofessional at Lake Agassiz. Her English was good – she had been learning the language since fifth grade – and she helped students with reading and spelling and a sense of belonging, no matter where they had started life.
She believes in "a firm and loving approach to teaching," she said. "Kids need guidance. They need honesty, and they need trust."
In 2003, she earned a degree in elementary education from UND and began working with refugee children at Lake Agassiz.
"I know how they feel," she said. "I understood their stories. You uncover the stories behind the kids and the whole world opens."
Working with second-graders, she set up a pen pal arrangement with second-graders in Bosnia. By 2005, she was working with English Language Learner (ELL) students at eight Grand Forks schools, including Red River, joining the district's first ELL teacher, Ione Seidlinger.
The numbers were growing, as refugees came from Iraq, Burundi, Liberia and Iran as well as Bosnia. Then came children from Somalia and Bhutan.
In 2008, Todorovic became a full-time ELL teacher at Red River.
"I saw the needs of these older students who were really between two worlds, trying to learn a new culture while keeping the old," she said. "Many of them were dealing with remembered trauma.
"The younger they were when they came, the more they came to feel American. The older ones understood better the importance of both cultures."
She celebrates the many refugee children who know their roots, embrace the new culture and succeed. She attends former students' graduations, weddings and the baptisms of their children.
"They are motivated," she said. "They are really striving. We have had many success stories – students who have become doctors, farmers, welders. They are our workforce in hotels and restaurants, at large plants. Many are working two jobs, to help each other and people back home.
"They have given so much. They have helped people here see a larger world. They have helped us to feel compassion for others.
"They maybe walked miles and miles to escape war. They may have endured torture, the loss of family. And here they have had to respond to so many new things, just as I did. When I was first at Lake Agassiz and I heard fire alarms sound for the first time, I didn't know what it meant. I had tears rolling down my cheeks."
The first time she saw uniformed police officers, she became nervous. "My husband told me not to be afraid. 'These are people here to help us,' he said."
Alex Todorovic is an IT director at Altru Hospital. Their son, David, a graduate of UND's School of Medicine, is finishing a medical residency in anesthesiology in Wisconsin.
The family has been back to Croatia a few times, including in 2019 to say goodbye to Ivona's mother.
Then it was back to Grand Forks.
"This is a great community," Ivona said. "This is a great country. And this is home."
Chuck Haga had a long career at the Grand Forks Herald and the Minneapolis Star Tribune before retiring in 2013. He can be contacted at crhaga@gmail.com.