Chuck Haga: After COVID, oh how we'll dance
The coronavirus pandemic has tested creative people so much.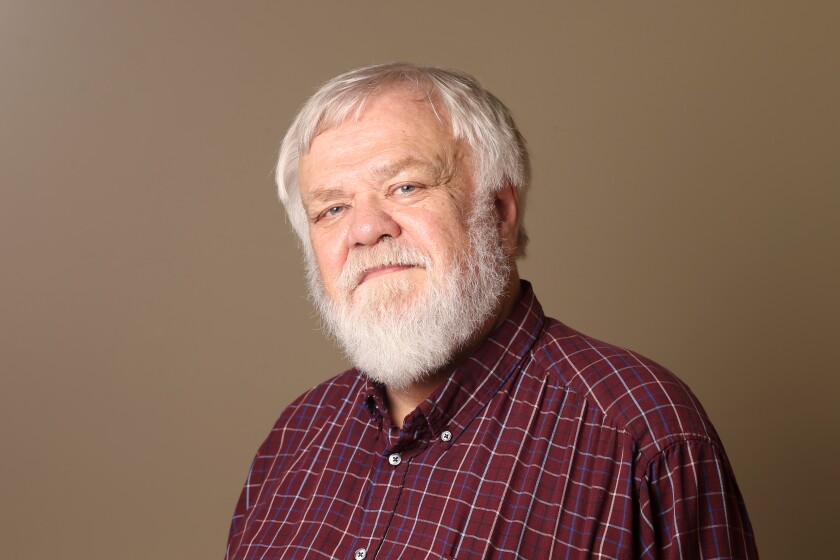 A favorite scene in "Dr. Zhivago" has the good doctor-poet telling a commissar of the new Russia that peace, land, justice and bread aren't enough. Life wants art and beauty, too. Or, as Emma Goldman says in another scene, "If I can't dance, I don't want to be in your revolution."
Zhivago stands outside the great upheaval, but he is not insensitive to the conditions that brought it on. He responds with scalpel and poetry, believing that both are essential to preserve life and to give that life meaning.
"The individual means nothing, comrade," the commissar responds without pity, and Zhivago is appalled.
Living with COVID is hardly comparable to enduring something on the scale of the Russian Revolution. But I've been struck frequently by the hunger people have for moments of simple beauty – for a melody, a bit of theater, a scrap of poetry. We celebrate beauty and personality even as we "slog through despondency and tragedy," as one critic wrote of the 1965 film.
With time recently to ponder such things, I turned to one of my more thoughtful friends, playwright, teacher and theatrical impresario Kathleen Coudle King, for her take. She listened, thought about it for a day or two, then substituted the more recent "Titanic" for "Dr. Zhivago."
"Wallace Henry Hartley and the seven members of his band went down with the ship," she said. "You remember the musicians sitting on the deck of the Titanic playing music as the ship sank and those who could piled into rafts while others slipped into the sea."
More than 1,500 people died on April 15, 1912, Hartley and his bandmates among them. Survivors recalled hearing the band play "Nearer, My God, to Thee."
"What does this bit of Titanic trivia have to do with anything remotely connected to your life and mine? Musicians played to give comfort to those suffering: People who were frantic, terrified, facing death. The musicians did what they had trained to do, what their cells were programmed to do; they created beauty in the face of destruction."
And today?
"For performing artists, it has been particularly challenging as COVID precautions and guidelines have taken on a major role in productions," King said. "Not every show has a diva, but COVID certainly qualifies. She demands attention be paid. She's a selfish scene stealer. And it's COVID, not the stage manager, who decides if the 'show will go on.'"
Speaking from 40 years of working in theater, nearly 30 as a director or producer, she notes that any production "is a collaborative effort, everyone pushing in the same direction to bring to life words on a page. Lines, blocking, set, props, costumes, lights, sound – everyone has to pull their weight, or the final result suffers. Throw in a case of COVID – screech?"
Then comes quarantine, masking, social distancing.
"What about the audience? To mask, or not to mask? That is the question. Some theaters in large cities require vaccination cards. Some are doing temperature checks. Some are not just requiring masks of their audience but also masking their actors on stage, like UND's Theatre Department."
But the show goes on. "Theatre makers in our region have continued to present comedy, drama, and musicals over the last two years. The Fire Hall Theatre and The Empire Theatre Company lost the second half of their season in 2019. Once people began to exhibit some confidence in outdoor shows, I produced 'The Shelter Plays,' at University Park, donating the proceeds to Fire Hall and The Empire in August of that year. Fort Totten Little Theatre plowed ahead and pulled off a successful run of Rock of Ages in a park. ND Shakespeare Company got creative and put on "Hamlet: A Drive-in Trunk Tour" in the parking lot of Cabela's. Audience members listened on their car radios."
Theater, music and other arts moved online – or into back yards. Several Grand Forks music fans became backyard patrons. Others produced plays and cabarets over Zoom.
And then in Summer 2021, Broadway started to turn the lights back on. "Locally, we were optimistic, 'cautiously optimistic,' as we like to say at The Empire. We were going for it. We, and other regional theaters, were announcing a season. Hesitantly at first: 'We're going to have a season?' Performers and artistic crews were thrilled. Directors were found, shows were cast, crews were hired."
Then COVID stole another scene. "It began as a tickle, turned into a sore throat. Testing. Waiting. Quarantining. And we're Zooming rehearsals, again. Then we're back! Pick up where we left off."
COVID has tested creative people so much, made them dizzy with uncertainty, forced them to pivot and improvise, King said. And that they have done.
"Hand over the violin. We'll keep playing for you, though the water is rising. We will play for you – a) because we know it gives comfort, b) it gives comfort to us, and c) it's what we do.
"Theatre, music, dance – and art – are life rafts. Please get in the life raft. There's room for all of us, although we might ask you to wear a mask. I have faith: We will make it to shore. And when we do? We will dance. Oh, honey, how we will dance!"
Chuck Haga had a long career at the Grand Forks Herald and the Minneapolis Star Tribune before retiring in 2013. He can be contacted at crhaga@gmail.com.