Chuck Haga: Acts of kindness emerge during another dreary time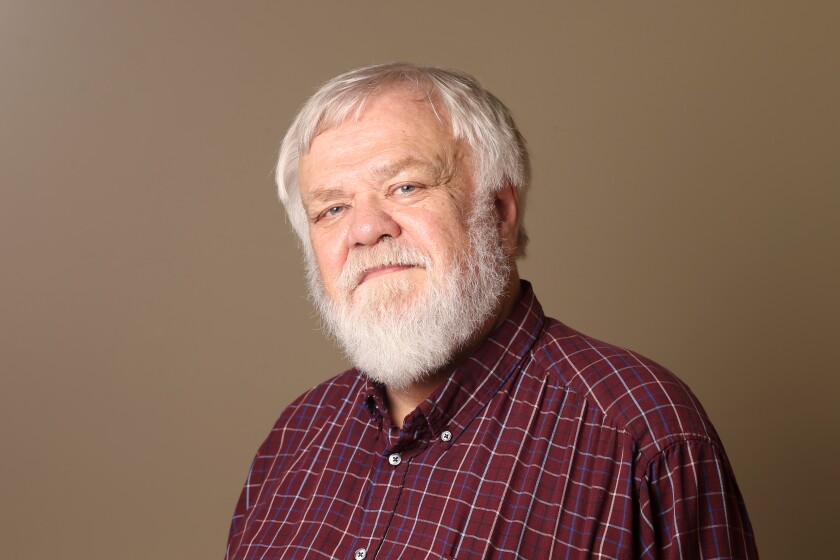 Old friends who live in other states have called, asking how I'm doing and saying they wanted to hear my voice. A local woman who saw me on Facebook modeling the really sad facemask I had "made" brought me a nice one she had just sewn, calling to say she would leave it hanging on the handle of my apartment building door. I waved and shouted my thanks as she drove off.
My son has dropped off groceries. My former wife – we've been apart nearly 37 years now – sent a kind, caring message from Seattle, knowing I am prone to melancholy. And my granddaughter Emma, knowing how much I miss watching her free-spirited play, built a snowman for me on the berm across the street from my apartment. It has gone away now, gone to parts and puddle, but the memory of her making it endures, and I know that like Frosty it will come again someday.
So that is how I cope. And that is why I agree with my friend Dr. Eric Johnson, who exclaimed recently on social media, "At the risk of sounding maudlin, I don't think I've ever been so impressed by so many of my friends and family who are dealing with and even thriving in the face of this historic human tragedy. For that, I thank you for your inspiration."
Word comes of scams and cheats and stupidity, of venomous contempt and cynical conspiracy theory. But there is something stronger in the respect, affection and caring so evident in the words and actions of people in our communities. People are asking for help to get through these difficult times, more difficult for some than for others, and people are responding. "I need baby formula," a homebound single mom writes on a Facebook community page, and in seconds an angel speaks: "Message me your address and I'll be right over."
It may not seem like it, given the caustic political climate we're in, the deep social divide marked too often by derision and name-calling, but we have a history of better behavior in times of crisis. Think back to the Flood of 1997, when the Red River forced us to think and act collectively, with empathy – to ask for, offer and graciously accept help.
Tim O'Keefe, former head of the UND Alumni Association, draws inspiration from a story his mother told him about 10 years ago, four years before she died at the age of 92.
"I was startled when she said to me, 'I'm not worried about you or your siblings, nor your children. But I fear for my grandchildren if they ever have to face what we did when I was young.'
"Mom grew up in a small three-bedroom, one-bathroom home near the Great Northern Railroad station, where her father Bill was a conductor," O'Keefe said. "She was one of seven children, three boys in one bedroom, four girls in another, Mom & Dad in the third, one bath to share, and Uncle Frank and his dog on the couch."
Jean Gilmour O'Keefe described to her son how rationing was part of her life from the time she was a child in the Great Depression and through the World War II years. With such a large family, there never seemed to be enough ration coupons, required for the purchase of meat and other basic foods.
"Mom said the salvation of her entire neighborhood came from the grocer they all went to. She said they called him 'the Angel' as he would supply ration coupons if you didn't have any, take credit if there was no money, and often wrote off any debt if a family simply couldn't pay." And, his mom said, he "always had a cold homemade beer in the back of the store for the men."
The grocer was Harry Gershman.
You know the name, even if you're too young to remember the man: "Happy" Harry, founder of the liquor store that bears his name and which his son, Hal Gershman, expanded into a thriving business.
"Grand Forks has been through a lot in its history," Tim O'Keefe said. "The guy most of us knew as Happy Harry was also quietly an angel. The example he set in kindness and generosity is one for all of us to follow in these hard times. And like then, we will come through this as well!"
O'Keefe said he shared his mother's story with Hal and Kathy Gershman, who have made their own impressive marks in the community, professionally and charitably.
"I was very moved when Tim told me his mother's story about my father," Hal said. "My father never mentioned what he did for people during that difficult time in our country and city, I guess because that's just how people helped each other then.
"We saw many acts of kindness after the flood, and we are seeing it again during this crisis. Maybe it's just part of our DNA."
Chuck Haga had a long career at the Herald and the Minneapolis Star Tribune before retiring in 2013. He now writes for the Sunday edition of the Herald. He can be contacted at crhaga@gmail.com.