Chuck Haga: A vivid reminder of masks, distancing and the wide-reaching pandemic
The photo exhibit is scheduled to continue at the Empire at least through June. Gallery hours are 2-7 p.m. Thursdays and 9 a.m. to 2 p.m. Saturdays.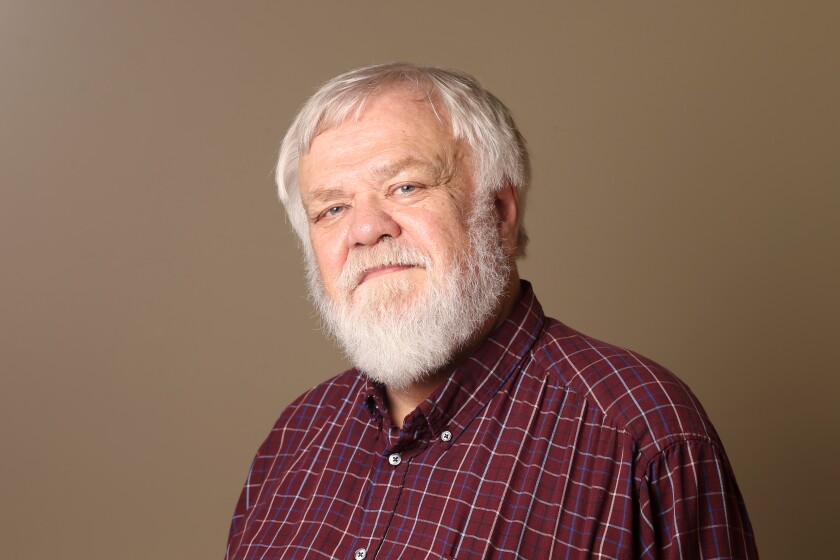 You may have missed the movie, but a wonderful picture show is running downtown at the Empire Theater through spring.
The movie, actually a 35-minute video, showed a sampling of voices from the oral history project concerning UND and the COVID-19 pandemic. We had a party at the Empire earlier this month to celebrate getting it done.
But for a wonderful pictorial survey of the university's COVID experiences, accompanied by some of the words of students, faculty and others interviewed for the project, check out the exhibit.
One of my favorite moments in the interviews came when student Maren Schettler talked about the college experience.
"All of the learning comes from not only your classes, but it comes from the life experiences that you have within college," she said. "That's in meeting people, that's in speaking to your professors face to face, that's in getting to search out different opportunities that you have outside of classes."
Curated by Sarah Heitkamp, UND art collections curator, the photos are visual reminders of the masking, social distancing and other ways UND sought to get a handle on the pandemic.
The photos are interspersed with quotes culled from the interviews, and many of the full individual interviews are immediately accessible through scan codes.
You can watch and listen to the 35-minute sampling of voices here: https://commons.und.edu/und-covid19-oral-history-interviews/51/
The photo exhibit is scheduled to continue at the Empire at least through June. Gallery hours are 2-7 p.m. Thursdays and 9 a.m. to 2 p.m. Saturdays.
So many students felt they had been cheated out of part of their college experience when COVID forced quarantines and learning became a largely online affair. Students and teachers did their best to connect over distance to ensure everyone's health and safety.
"I think the pandemic changed the trajectory of every student in some way, shape or form," said Kaelan Reedy, who was UND student body president through much of the pandemic, in his interview. It varied, he said, "whether some students spent more time at home (or) whether they took the time of isolation to reflect and kind of decide where they want it to go."
The photo display and accompanying quotes, like the full seven-plus hours of interviews, reflect a consensus that UND responded well to the ever-shifting challenges of the pandemic. Students, faculty, UND staff and community partners gave the university high marks for communication and transparency.
That included Grand Forks Mayor Brandon Bochenski, who acknowledged some differences between the city and the university over masking mandates and other policies. "We didn't always agree," he said, "but that communication made (for) the best results in the end, and we got through it and we're still getting through it."
Col. Timothy Curry, commander at Grand Forks Air Force Base, participated regularly in meetings of the main crisis team, which also included public health and Altru Health Center leaders.
"I don't know if there's ever been a stronger relationship in my history that I've seen between a community and specifically with the university," Curry said.
Korrie Wenzel, editor and publisher of the Herald, also saluted the university for its openness during the pandemic, and he recalled the moment he understood how serious it was – the day UND's hockey season ended. "That was the day I looked at my wife and said, 'Oh this is real. We called off hockey in Grand Forks, North Dakota.'"
The pandemic and all that came with it clearly had an impact on the mental health of students, something former student body president Matthew Ternus said required quick attention. "How can we help students get through this?" he asks in his quote in the exhibit. "So we looked at things like changing the grading scale temporarily. We instituted pass-fail for core major classes. The Counseling Center instituted online first appointment scheduling, which was huge."
The pull-out quote from Patrick Luber, professor of art and design, reflects his efforts to come up with assignments "that could either be worked on in the dorm rooms that were low tech or out in nature." And Nikki Berg Burin, associate professor of history and American Indian studies, mentioned a positive impact of the long COVID struggle, one cited by others.
"The pandemic has in some ways brought me closer to my students," she says in the Empire exhibit, "in the respect that we all are struggling, and we need to be generous to each other and kind to each other."
Debbie Swanson, recently retired Grand Forks Public Health director, and UND President Andy Armacost both spoke during their extended interviews about the stress that came with the long COVID siege – and hard decisions that had to be made.
"It's been a really big challenge to continue to run this marathon when the virus keeps changing the finish line," Swanson said in the midst of the pandemic. But "if there's one thing I'd like to commend UND for it's the mitigation efforts that allow this institution to educate."
Armacost acknowledged the difficulties, too, but spoke of many positives. "The good news is that our faculty members feel deeply about teaching and care deeply about what's the best way to connect with our students."
Chuck Haga had a long career at the Grand Forks Herald and the Minneapolis Star Tribune before retiring in 2013. He can be contacted at crhaga@gmail.com.