Chuck Haga: A scientist, explorer and optimist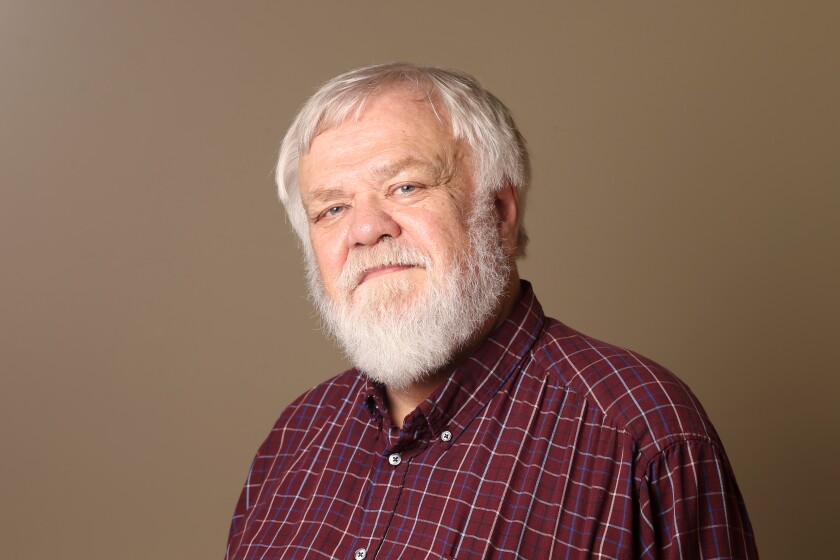 Weary of tough news and weeks of home confinement, Bob and Nikki Seabloom took a day trip recently to Itasca State Park in northwestern Minnesota.
The Pine Ridge and Bear Paw campgrounds weren't open for overnight stays yet, and the historic Douglas Lodge was still closed: no blueberry pie, no wild rice soup. But the park was there, the trails through the pines, the lakes – and the animals.
"We saw a bear, a big one, just wandering down the main park drive, not far from the campgrounds," Bob said. "It was in no hurry. I suppose with not many people around, it felt it could go wherever it wanted, undisturbed."
Life goes on, they say, despite a public health crisis and social tumult. And life in a university town includes scholarship.
Seabloom, 87, is a scientist. He is happy in the field, where he can hear and see and study – mammals, especially. Professor emeritus of biology at UND, he taught various wildlife courses for 35 years. The second edition of his 2011 book, "The Mammals of North Dakota," was published this year by the North Dakota State University Press. The Herald's Brad Dokken provided a review in February .
The Seablooms usually get to Itasca in May. It's where they met in 1970; Bob was teaching vertebrate ecology at the University of Minnesota Biological Station, and Nikki was a graduate student.
"May is a good time to go because the wildflowers, the trilliums, are blooming," Bob said. "It's the peak of the bird migration, too, especially the warblers, and since the trees aren't all leafed out yet, what you hear you usually can see."
The recent visit, restricted to a day trip because of COVID-19 precautions, "was kind of nice in its own way – quiet, not many people, no RVs running around."
Dr. Robert Seabloom grew up in rural Ramsey County, Minnesota, a region of hardscrabble farms north of St. Paul where his Swedish immigrant grandfather had settled. He didn't stalk the countryside for game as a boy, but he grew up appreciating the outdoors and the animals who shared it. "The one thing I was good at in high school was biology," he said.
He started in pre-med at the University of Minnesota but soon switched to zoology. After a stint in the Army, he entered graduate school at Minnesota. His adviser was a mammalogist who had worked briefly with Aldo Leopold, the renowned American author ("A Sand County Almanac"), scientist and environmentalist. "I like to consider myself an academic grandson of Aldo Leopold," he said, smiling.
When he graduated, he had two job offers. One was from the Canadian Wildlife Service, which wanted to send him to the Northwest Territories. The other was at UND, which was looking for a vertebrate biologist. He started at UND in 1961, developing and teaching courses on mammals, birds and wildlife management. "It was hard work," he said. "For a number of years, I was the only one there, teaching, advising grad students, doing my own research."
He retired in 1996. But he remains a scientist, an explorer, traveling this week to a conference in the Badlands. And there will be more trips to Itasca. "We've done Thanksgiving there, cooking up a small turkey, and we've participated in the annual Christmas bird counts," he said. "We go to see the fall colors. I like to take pictures then of the trees above Mary Lake, the water so still."
The mammals book started as a series of "species writeups" he was asked to do by the Northern Prairie Wildlife Research Center in Jamestown, starting in 2003. He assembled those in a book in 2011. The new edition, with photographic portraits and distribution maps of nearly 90 mammals that call North Dakota home, reflects "significant shifts that have occurred in the ranges of certain species" and documents the arrival in North Dakota of a few new species, including the fringed Myotis bat, the water shrew and the wolverine. Elk and moose have moved a county or two beyond their previous ranges.
Seaborn dedicated the book to colleagues from across the decades and to "all of my former students who, over 35 years, trapped, netted, measured, tagged and radio-tracked everything from shrews to elk, often under nearly impossible conditions."
He has kept Richardson ground squirrels as pets, declares a fondness for prairie dogs and kangaroo rats, and mourns the loss of the black-footed ferret, doomed here by the widespread poisoning of their singular food source, the prairie dog. He delighted, though, in reports earlier this month of a sighting in western North Dakota of a swift fox, scarce for 30 years.
Seabloom describes himself as an optimist when it comes to protection of the natural world, thanks to the work of new generations of scientists, teachers and students.
"We know a lot more these days," he said. "But we have to do a better job of communicating to the public."
Chuck Haga had a long career at the Grand Forks Herald and the Minneapolis Star Tribune before retiring in 2013. He can be contacted at crhaga@gmail.com.
2
/
2:
The second edition of "Mammals of North Dakota," by Robert Seabloom, will be available Thursday, March 5.