Workforce is top policy priority in rural health, says director of Center for Rural Health
Throughout the pandemic, rural health care facilities have been overwhelmed, and an already strained workforce is partly to blame. According to Brad Gibbens, acting director of the Center for Rural Health at UND, workforce is the most important policy issue in rural health, especially nearly two years into the COVID-19 pandemic.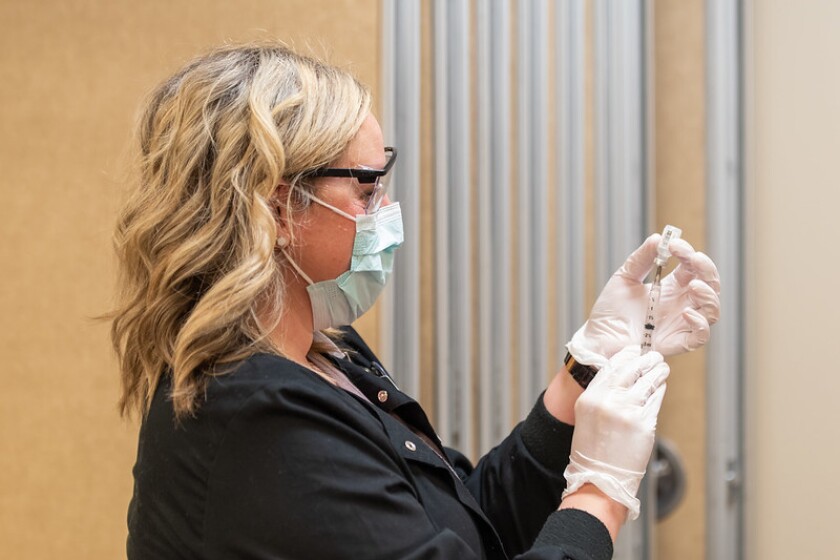 We are part of The Trust Project.
GRAND FORKS — On Jan. 19, Minnesota Gov. Tim Walz announced that more than 100 nurses would begin arriving at health care facilities around Minnesota to help with staffing shortages during the most recent surge of COVID-19. With $40 million in American Rescue Funding, the Minnesota Department of Health has secured staffing support for 23 hospitals in Minnesota, many of them rural, and a release from the governor's office promised 100 more would be arriving to even more facilities in the coming days.
Throughout the pandemic, rural health care facilities have been overwhelmed, and an already strained workforce is partly to blame.
"Rural always starts out with less resources to begin with, and then you're putting this on top of it, and you're seeing these rural health systems be overwhelmed," said Brad Gibbens, acting director of the Center for Rural Health at the University of North Dakota.
According to Gibbens, workforce is the most important policy issue in rural health, especially nearly two years into the pandemic. In rural areas across North Dakota and Minnesota, there are not enough workers to staff hospitals, nursing homes and other health care facilities.
More than 90% of counties in North Dakota are either entirely or partially designated as federal Health Professional Shortage Areas (HPSA), or an area with too few primary care providers and services for its population and needs, Gibbens said.
In rural northwest Minnesota, 18.6% of the entire health care workforce, including physicians, nurses, mental health specialists, physicians assistants and pharmacists, plan to leave the workforce in the next five years. According to Teri Fritsma, lead health care workforce analyst at the Minnesota Department of Health, the older population in rural areas contributes to the statistic, with retirement still the leading reason for leaving. Second is burnout.
"The fact that burnout now accounts for almost one in five people who are planning to leave, we have never seen that before," Fritsma said.
Gibbens says some departures are due to testing or vaccine mandates as well.
"In a rural facility, if you lose one or two people, that's like losing 20 or 30 in a large facility," Gibbens said.
The problem is not limited only to licensed care providers. Stacy Kusler, workforce specialist at the Center for Rural Health, points out that health care systems are struggling to fill front-line jobs, too. This includes positions such as maintenance, housekeeping and dietary workers.
"These positions are typically hourly and facilities must compete with other health care facilities, and many other industries like food service or large or small service businesses," Kusler said.
While federal money has been granted to hospitals in an effort to lessen the blow of the COVID-19 pandemic — programs such as the CARES Act and American Rescue Plan — Gibbens says the quick roll out of aid, necessary for a fast-changing pandemic, led to confusion about how money could be spent.
"The concern being you spent the money in good faith and then you find out later that you spent it wrong," Gibbens said. "There were definitely cases in North Dakota where rural hospitals essentially sat on the money because they were scared to spend it."
Loan repayment programs are the primary policy in place to draw young health care professionals to underserved areas, many of which are rural. Most programs allow for a variety of health professions to participate, including primary care physicians, dental hygienists, nurse practitioners, clinical psychologists and clinical counselors.
When a primary care provider commits to working in a federally designated HPSA they can apply to be repaid for educational loans through a State Loan Repayment Program (SLRP), which is partially funded by the U.S. Health Resources and Services Administration (HRSA). The HRSA also fully funds a general loan forgiveness program, a program for professionals working with substance use disorders and a program for professionals working to combat the opioid epidemic in rural areas.
For the Minnesota SLRP, primary care providers practicing full time are required to complete a two-year service obligation in a HPSA and can be repaid up to $20,000 annually. In North Dakota, the SLRP is also a two-year commitment, but the award can be up to $50,000 per year. North Dakota also has a loan repayment program for health care professionals funded by the state, in which participants can be awarded a maximum of $150,000 for a five-year commitment to practice.
But, are loan repayment programs effective in drawing health care professionals to rural areas?
"The entire nation is really struggling for health care professionals, and of course, rural communities certainly are a challenge, but these programs are a great incentive tool for facilities in these communities to recruit qualified health care professionals," said Kalee Werner, director of the North Dakota Primary Care Office. "The two years gets them in the door and then at the time when their contracts end, a lot of them do end up staying because they made those community ties."
Signs point to the worst flu season in recent years, while new coronavirus variants continue to appear and RSV respiratory infections are on the rise.
The numbers support Werner. In North Dakota, from 2013 to 2021, 58 SLRP contracts were completed, and 88% of the providers stayed in the state. Werner says many stay in rural areas.
"We've seen those that are applying for SLRP really have a heart for those rural communities," Werner said. "A lot of them are from there and come back to serve there, so I think that's where we see a great amount of retention."
In Minnesota as well, SLRP has brought, and kept, workers in rural areas. Minnesota has participated in SLRP since 1991, and in the 30-year span, around 1,100 health care professionals have received grants for the program in the state.
"Health care providers who grew up in rural areas are more than twice as likely to practice in a rural area if they received loan forgiveness," said Fritsma, the workforce analyst at the Minnesota Department of Health. "Providers who grew up in urban areas are actually seven times more likely to practice in a rural area if they received loan forgiveness than if they didn't."
While loan repayment gets primary care providers to rural areas, practicing health care professionals in the areas are still facing high rates of burnout, with many planning to leave the profession. The question then becomes how to keep them.
Gibbens says programs that distribute federal funds to rural health facilities are a good short-term solution, but he has suggestions on how to make it so providers are more likely to use money set aside for them.
"So for policy, there needs greater transparency, clarity, and assurances," Gibbens said. "I would suggest, too, if there are honest mistakes that a facility not be penalized for that breach, or at the very least have a very generous period of correction."
He says the Center for Rural Health and the North Dakota Rural Health Association have shared concerns about policy clarity with the North Dakota congressional delegation.
Along with direct salary for workers, that money could go toward other services to support health care professionals.
The pandemic and recovery are part of the issue, but the conditions generating the lack of workers existed long before the first COVID-19 infections in the U.S., said Joe Hobot, president and CEO of the American Indian OIC.
"Some of it can be direct salary, but some of it can be other things such as day care, or if they're taking care of an elderly parent, you know, to be able to cover some costs for day care for the older parents as well," Gibbens said.
Policy tends to be slow moving, and there's a reason for that, says Gibbens. Slow development makes for clear policies, leaving less room for uncertainty.
"A lot of what Congress does is basically fixing past policy," he said. "We passed Medicare and Medicaid in 1964 and it's been basically 60 years fixing it."
While long-term policy solutions for workforce shortages in rural health care may be far off, health systems are facing shortages now. Randy Rice, president of the Minnesota Medical Association, suggests a focus on mental health could help ease burden on workers.
"They need to really shift in making mental health and well being of the health care workforce a priority, not just an afterthought," Rice said. "I think a lot of it comes down to our culture at an institutional level."
Inspiring young people to work in rural health care, or even health care in general, could help grow the workforce in the future. During medical school, experiences in rural areas could show more aspiring health care professionals the potentials of rural health.
"A lot of times that's more of an afterthought, or there's sort of a perception that care is always best provided in the big cities which makes it hard for people that really think that they can do well out in the rural setting," Rice said.
Kusler thinks recruitment into health professions goes back to high school.
"Health care experiences like having health professionals go into schools, or having students shadow health professionals have all decreased dramatically since the pandemic, but it's important to remember that those experiences are pivotal for many people choosing a career in health care."