Tickets, permit fees fund UND parking needs
Around 25,000 citations were dished out by parking enforcement officers at UND last year, bringing in more than $320,000 in revenue. But that money doesn't go to waste.
Around 25,000 citations were dished out by parking enforcement officers at UND last year, bringing in more than $320,000 in revenue. But that money doesn't go to waste.
That ticket revenue, in addition to almost $2 million in permit revenue, pays for things like parking lots, parking officers and other things meant to help drivers.
Kerrie Peltier, parking manager for UND, said the number of citations can vary from day to day, month to month and even year to year. She noted that parking enforcement is not about being the bad guy and writing tickets every day.
"We're just out there trying to keep campus safe and orderly," she said. "People pay to park and they feel that they should be able to park where they have paid for. So, permit holders that pay should be able to have that access."
When UND students arrived on campus this fall, they may have noticed a few changes made to parking around campus, in addition to their permit rate increasing.
The changes made are an effort on the university's part to continue to catch up to ongoing needs, said Mike Pieper, associate vice president for facilities at UND.
The school made changes to the parking ramp located at the corner of University Avenue and North Columbia Road. The top two levels of the ramp are now for pay-as-you-go parking, while the bottom three are reserved for those who have a parking ramp permit.
Parking ramp permits cost $400 a year for students and staff, increasing $100 this year, after staying at $300 for the last eight years.
General student parking permits also increased this year for the first time in many years. Student rates are now at $185 a year, which is up $30 from the last seven years. Staff parking permits have stayed at $225 since 2011.
Staff permit costs were not increased because the university was not allowed to give raises to their employees during the last biennium, Pieper said.
All parking revenue stays within the department, Pieper said. The money goes toward day-to-day operations, including paying salaries and paying for all of the equipment and software associated with parking enforcement. The money also helps pay for capital improvement projects and for parking-related debt.
Survey The university has been in the process of dealing with many parking-related concerns for several years.
A 2012 parking lot assessment looked at the deterioration of each parking lot and road surface where parking is allowed on campus. The assessment gave UND a score of 51, or "poor," just one level up from the very bottom rung. Industry standards hold that higher education institutions should maintain their hard parking surfaces to a score of at least 80, or satisfactory.
Based on that assessment, UND would have had to spend $37 million over five years just to raise its parking lot index score to satisfactory levels.
Currently, UND is using so-called "extraordinary repair" funds from the state to address some of its most dire parking lot maintenance needs.
But, Pieper said parking services wants to become self-sufficient and avoid subsidizing parking lot repairs and upkeep with state funds. He said the school also needs to catch up on backlogged parking lot maintenance needs.
Pieper said the department is working to address those concerns. A 12-person committee was also created to help tackle the problem. The committee helps evaluate and recommend to UND President Mark Kennedy possible solutions to some of the university's parking and transportation needs.
The group will likely propose restructuring the campus parking process for staff and faculty some time in the future, as well as discuss possible ways to decrease the current parking rate disparity between students and staff. Although preliminary discussions are underway, changes likely wouldn't go into effect until the fall of 2019 at the earliest, Pieper told UND Today, the school's news blog earlier this year.
Fines and citations Parking fines can vary depending on the severity of the violation. For example, according to the school's website, occupying two spaces, parking in a fire lane or no parking zone or parking on the grass/sidewalk could earn a $20 fine.
If someone does not have a permit linked to a vehicle he could receive a $40 fine. Parking in an area other than the one associated with one's permit could also earn a $40 fine.
Fines go up for things like "permit sharing," which could get someone a $50 fine plus other additional fees.
Stealing or forging permits or parking in a handicapped zone have the steepest fines, each with a $100 price tag, plus the possibility of additional fees.
If violators do not pay for three or more unpaid citations their vehicles could be immobilized, or booted. Vehicles will be released after all fines are paid in full.
If someone receives numerous citations, paid or unpaid, in one academic year, the driver could lose the right to park on UND property. If found parking on campus after losing these privileges, drivers will receive a suspended privileges citation, $100 fine, and may be towed. Parking privileges will be reinstated at the beginning of the next permit year.
1
/
2:
Gannon Engkvist, a UND parking enforcement officer, places a violation on a car in a lot at Clifford Hall this week. Photo by Eric Hylden/Grand Forks Herald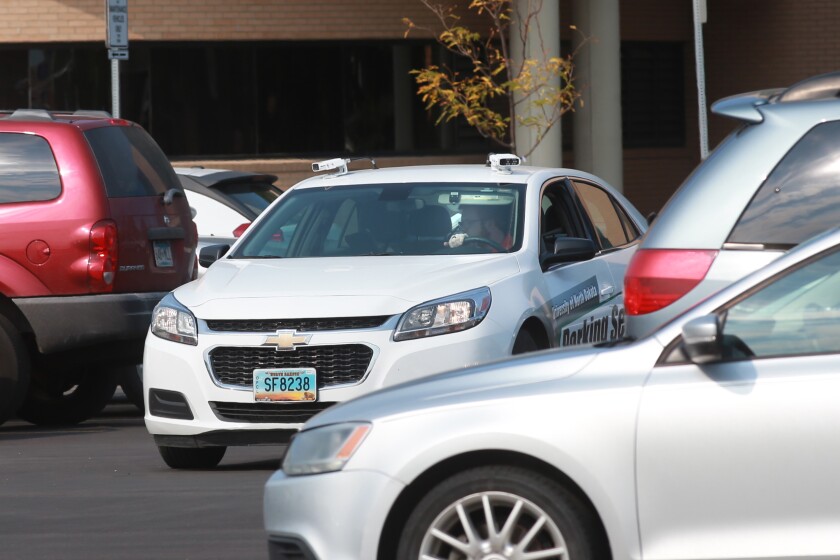 2
/
2:
Gannon Engkvist, a UND parking enforcement officer, drives through a lot at Clifford Hall checking for parking permits during a recent shift. Photo by Eric Hylden/Grand Forks Herald