THE LIST: Melanie Popejoy . . . Casting call . . . Photo contest, etc.
Melanie Popejoy -- Award winner: Melanie Popejoy, Grand Forks, was named choral director of the year by the North Dakota American Choral Directors Association during its recent convention in Grand Forks. Popejoy, a native of Mexico, Mo., is in he...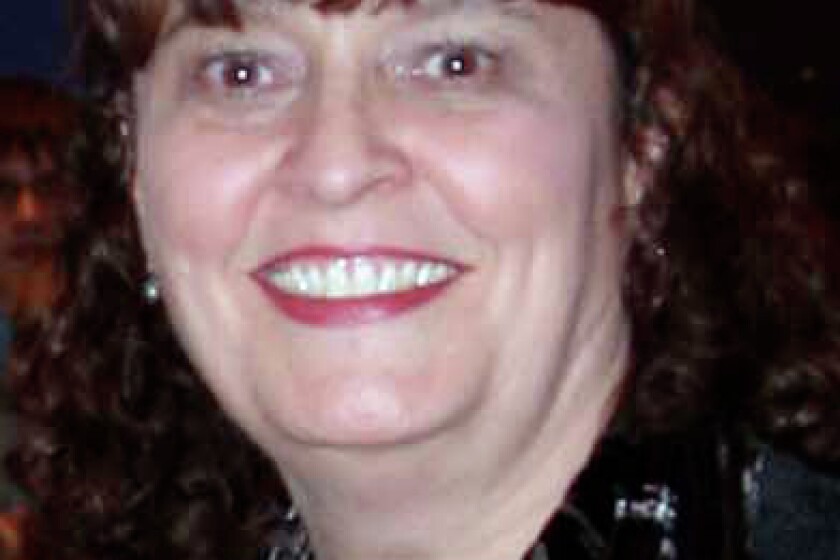 Melanie Popejoy
-- Award winner: Melanie Popejoy, Grand Forks, was named choral director of the year by the North Dakota American Choral Directors Association during its recent convention in Grand Forks. Popejoy, a native of Mexico, Mo., is in her 10th year as choral music instructor at Valley Middle School and is founder and artistic director of the Grand Cities Children's Choir. She earned bachelor's and master's degrees in music education at Central Missouri State University (now University of Central Missouri) and taught in Missouri, Kansas, Iowa and Texas before moving to North Dakota. She said: "The award simply has my name on a plaque, but the award goes to the students and faculty at Valley as well as the parents, singers and staff of the Grand Cities Children's Choir. It is their support and hard work that has been noticed. I am a reflection of all that is good around me."
Casting call
-- Today at UND: Today at 5 p.m. is the last casting call for a UND-made, half-hour situation comedy "Price Check." The UND English department's film-style video production class, taught by Christopher P. Jacobs, is producing a script written by senior lecturer Kathy Coudle King's TV scriptwriting class. Time: 5 p.m. today, UND Merrifield Hall Room 114. Prepare a comic monologue or read scenes from the script. "Price Check" is about two college-age store employees and their relationships with superiors, customers and fellow employees. Looking for: Five male characters (two leads) and five female characters, most from 18 to 30, and one or two possibly from 30 to 60. Class information/sample script: www.und.edu/instruct/cjacobs/FilmstyleVideo.htm/ .
Photo contest
-- Deadline on Thursday: The deadline is Thursday to enter the East Grand Forks Campbell Library Northern Exposures Photography Exhibit and contest. All entries must be original work and must be at the library by 8 p.m. Thursday. See full entry guidelines in the library or go to www.egf.mn/library/activities . Exhibit: Northern Exposures will be juried for prizes and will be exhibited from March 1 to April 3 in the library. Opening and reception: March 1, 6:30 to 7:30 p.m., with special guest photographer Doug Ohman presenting his work at 5:30 p.m. Info: (218) 773-9121.
SPA grant
-- Gift from Ecolab: Ecolab has awarded $1,750 for general operating expenses to Summer Performing Arts, a Grand Forks Public Schools music and theater program for elementary through high school students.
Junior Music Festival
-- Saturday at UND: The Northeast District Junior Music Festival will be from 9 a.m. to 3 p.m. Saturday in UND Hughes Fine Arts Center, Grand Forks. More than 400 entries, students of Northeast District music teachers, will be part of the competition. Two vocal judges and nine piano judges will be adjudicators. Students will earn points to earn a gold cup. All solo work must be memorized. The event has been held at UND since 1972. Sponsor: Thursday Music Club of Greater Grand Forks, North Dakota Federation of Music Clubs.
Dessert buffet
-- Sunday in Cando, N.D.: A Sweet Surrender dessert buffet fundraiser sponsored by the Cando Arts Council will be from 6 to 7:30 p.m. Sunday in the Cando Arts Center, lower level of the Audi Theater. Tasty desserts and coffees will be available. Admission: $6. Movie: "Leap Year" will be shown in the Audi Theater at 7:30 p.m. A separate ticket will be required.
Concerto and aria
-- MSUM winners in concert: Amy Boese, violinist from Grand Forks, and Evan Montgomery, tenor from Manvel, N.D., winners of the Minnesota State University Moorhead Concerto and Aria Competition, will present a concert at 7:30 p.m. Tuesday in North Dakota State University Festival Hall, Fargo. Both are graduates of Grand Forks Central High School. Boese will play the first movement of Tchaikovsky's Violin Concerto, and Montgomery will sing "Una Furtiva Lagrima" from L'elisir d'amore by Donizetti and "En fermant les yeux" from Manon by Massenet. Accompanied by: MSUM/NDSU University Symphony Orchestra, directed by Kirk Moss, MSUM, with Boese as concertmaster. Boese: Is a student of Benjamin Sung, MSUM/NDSU and will graduate in May from UND with degrees in music performance and music education. Montgomery: Is pursuing a degree in music performance at NDSU and is a student of Robert Jones, NDSU. Tickets: Adults, $5; students/senior citizens, $2.
Poetry
-- Entry deadline Feb. 20: East Grand Forks Campbell Library is seeking submissions for the 2010 Poetry Contest sponsored by Monarch Travel of East Grand Forks. Entries must be postmarked no later than Feb. 20; for full guidelines, go to the library or check out www.egf.mn . Info: (218) 773-9121.
Horticulture Society
-- Meeting on Feb. 20: The Greater Grand Forks Horticulture Society will meet Feb. 20 at the Grand Forks Park Board Office across from the former Leever's building. Business meeting, 9:30 a.m.; meeting with program, 10 a.m. Program: Deb Hopkins slides of Saskatchewan gardens.
Jazz concert
-- Feb. 18 in Moorhead: Ravi Coltrane, the son of John and Alice Coltrane, will perform with his quartet at 7:30 p.m. Feb. 18 at Hansen Theatre, Roland Dille Center for the Arts, on the Minnesota State University Moorhead campus. The concert will be the fourth event of the Cheryl Nelson Lossett Performing Arts Series. MSUM box office: (218) 477-2271.
Nordic Gala
-- Feb. 20 in Moorhead: The seventh annual Nordic Gala Fundraiser will be from 6 to 10 p.m. Feb. 20 at the Hjemkomst Center in Moorhead. Tickets: Adults, $25; children 12 and younger, $10; available at Nordic Culture Center, (701) 478-9150. Featuring: Wine tasting, Taste of Scandinavia, silent auction, music. Entertainment: Mark McLeod of the 3 Royal Tenors; Oak Grove Girls Choir. About Nordic Culture Clubs: A nonprofit alliance of six Scandinavian clubs, it hosts the annual Scandinavian Hjemkomst Festival, which this year is June 25-27, and other events. New executive director: Lori Paakh now directs Nordic Culture Clubs. A native of Fargo, she has degrees in music and music education and is finishing her master's degree at North Dakota State University. She teaches voice lessons at Oak Grove Lutheran High School and in her studio.
'Forum' at NDSU
-- Opening Feb. 25 in Fargo: North Dakota State University Little Country Theatre will present "A Funny Thing Happened on the Way to the Forum" at 7:30 p.m. Feb. 25-27 and March 3-6 and at 2 p.m. March 7 in NDSU Askanase Auditorium, Fargo. With book by Burt Shevelove and Larry Gelbart and music by Stephen Sondheim, "Forum" takes comedy back to its roots, combining situations from time-tested comedies of Roman playwright Plautus with the infectious energy of 1960s Vegas shows, a news release said. Daniel Dutot, Grand Forks, is among the cast. Tickets: Adults, $15; senior citizens, NDSU faculty, staff and alumni, $12; non-NDSU students, $8; NDSU students, $5. Box office: (701) 231-7969.
Wycliffe Gordon
-- Feb. 27 in Fargo: The Jazz Arts Big Band with Wycliffe Gordon will perform at 7 p.m. Feb. 27 at The Venue in Fargo. Gordon, a performer, conductor, composer, arranger and educator, tours the world performing hard-swinging, straight-ahead jazz, a news release said, and his trombone playing has been hailed for mixing powerful, intricate runs with sweet notes. Info: (218) 359-4529 or www.jazzartsfm.com .