Shirvani pushed for UND branch in Oil Patch
A proposed UND College of Engineering and Mines campus in the heart of North Dakota's Oil Patch made it as far as committee hearings in Bismarck, but won't get funding this legislative session.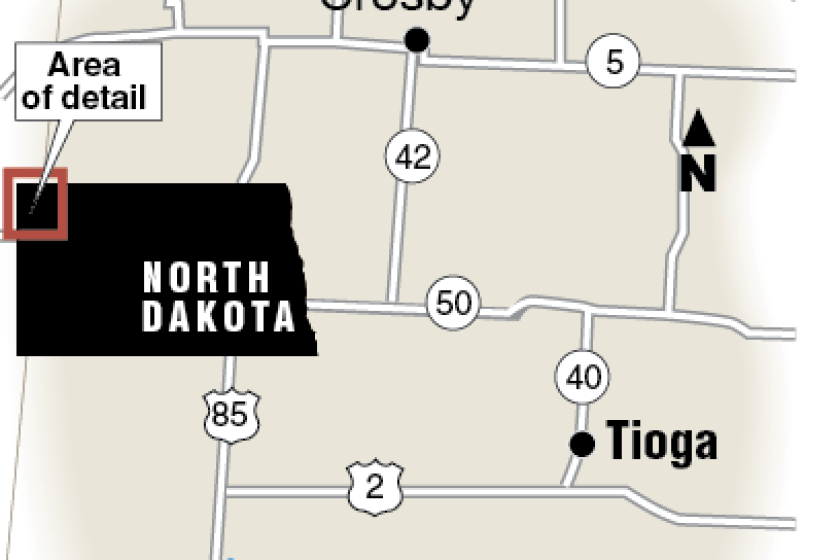 A proposed UND College of Engineering and Mines campus in the heart of North Dakota's Oil Patch made it as far as committee hearings in Bismarck, but won't get funding this legislative session.
Hamid Shirvani, chancellor of the North Dakota University System, pushed the $33 million plan before he officially began his term in July 2012, according to documents obtained through a Forum News Service open-records request.
It would have created a UND branch near Tioga, providing bachelor's degrees in petroleum-related fields. Tioga is about 50 miles by road from Williston, N.D.
However, the plan never took off for lack of funding; it didn't make it into the governor's 2013-2015 budget.
Shirvani said Thursday that UND also wanted to focus what funds it could get from the Legislature to renovate the School of Law and expand the School of Medicine and Health Sciences, which together received $80 million in the governor's budget.
UND spokesman Peter Johnson said while the university backed the idea of a new campus, it wants to focus on further developing the petroleum engineering program in Grand Forks first.
"We suspect (the new campus is) still a viable idea," he said. "When we go back to the Legislature in two years, we'll try again maybe."
UND CEM-West
A series of emails and an executive summary of the project exchanged between Shirvani and university officials during July offer a fairly detailed plan for the 235,000-square-foot development.
UND officials had been working on the project for awhile, with some testifying on the subject before the House Appropriation Committee's Education and Environment Division in March. The division is chaired by Rep. Bob Skarphol, R-Tioga.
The new campus, referred to as UND CEM-West, would include a residence hall for up to 300 students, 10 efficiency apartments and a $6 million laboratory. Other details of the campus noted in the summary include:
• Costs: Two cost scenarios, including building operation and instructor salaries, were calculated for the campus. If only bachelor's degree programs were offered, the cost would be $3.75 million per year, while offering a combination of bachelor's and master's degree programs would cost $5.5 million. One-time start-up construction costs and fees would run to $27 million.
• Energy-related programs: Programs would include petroleum engineering, a rapidly growing program at UND that currently has more than 100 students enrolled, as well as engineering and mining. Research efforts at the campus would focus on environmentally-friendly ways that use the state's energy resources, such as converting biomass to fuel.
• Enrollment: Total enrollment was expected to reach 350 after four years, including 50 graduate students. Petroleum engineering was expected to capture nearly half of undergraduates alone in that time, with the rest expected to enroll in chemical engineering and petroleum geology.
Key location
The location of UND CEM-West was key for the university and Shirvani, who wanted the campus based in either Williston or Tioga.
A four-year campus could provide the next step for students attending the two-year Williston State College and prepare them to get jobs in the oil industry that is rapidly developing there, he said.
This wasn't the first time UND officials considered a campus based in Williston. According to emails, Hesham El-Rewini, dean of UND's College of Engineering and Mines, met with Williston State President Raymond Nadolny in late July and shared a draft of an earlier plan for a four-year campus, also focused on engineering and mining programs, that was created before the idea of CEM-West was introduced.
This plan lacked cost estimates and was less developed than the one for UND CEM-West, though it stressed a stronger collaboration between UND and Williston State. The new campus would draw faculty from the college in Williston, but concerns over sufficient numbers of faculty and laboratories for students -- along with the lack of funding -- made that idea less of an immediate option, Shirvani said.
Although UND had the $10 million needed toward either the UND CEM-West project or the earlier version of the campus in Williston, it still lacked another $5 million for Williston State to build and expand science laboratories, he said.
"I do think it's a valuable program, but it does require more funding," he said.
Concepts for both plans are still being considered for the next legislative session, he said.
"I think there is a great deal of interest in the oil industry and the community, and the question is a fantastic one for UND," he said.
Call Johnson at (701) 787-6736; (800) 477-6572, ext. 1736; or send e-mail to jjohnson@gfherald.com .