Person of the year: New East Grand Forks city head finds controversy right off the bat
It didn't take long for a major controversy to arise during David Murphy's tenure as East Grand Forks' new city administrator. Seven months after coming to the city, Murphy -- selected as the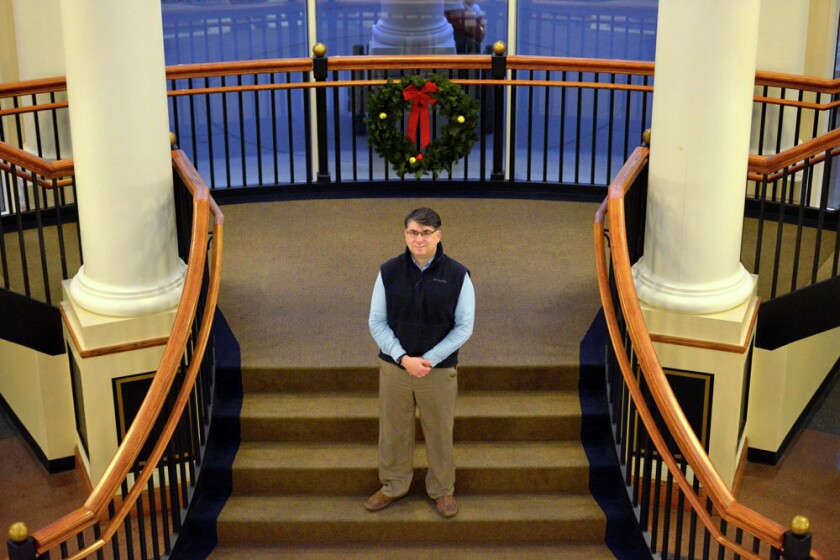 We are part of The Trust Project.
It didn't take long for a major controversy to arise during David Murphy's tenure as East Grand Forks' new city administrator.
Seven months after coming to the city, Murphy -- selected as the Herald's Person of the Year -- found himself in the middle of a newly uncovered unpaid economic development loan worth $510,000 that, while still not resolved 15 years after first being approved, has caused an uproar on the east side of the Red River. The loan, as well as problems with other loans over the years, were documented by an independent audit that came earlier this year.
"I think he's been doing a great job," said City Council President Craig Buckalew. "I know that he came in at a difficult time."
Buckalew noted the Boardwalk loan, but also an outstanding union contract and a planned wastewater infrastructure project. He also cited efforts to balance the city's budget, a contentious debate that hasn't yet been resolved.
Herald executives, after considering nominations from the public and those submitted by staff, chose Murphy as the 2014 Person of the Year for his impact on the Greater Grand Forks community, most notably East Grand Forks' attempt to recoup a $510,000 loan to Boardwalk Enterprises.
Murphy said he was surprised that he was named Person of the Year.
"I'm just doing what I need to in my job," he said.
He also said he thought his first 15 months on the job have gone well, even if they have been hectic at times. But he hopes to eventually get back to the "nuts and bolts of city administration," and work on the city's strategic goals, like business expansion and retention, as well as workforce housing, in the upcoming year.
Quick start
Before coming to East Grand Forks, Murphy worked for nine years as the city administrator of Belle Plaine, Minn., a town of 6,800 people 45 miles southwest of the Minneapolis. The city council there decided not to renew Murphy's contract last year, although specific reasons for its decision were not cited, according to a news report.
Murphy said he and the mayor there had differences of opinion on the role of the city administrator.
Scott Huizenga, the former East Grand Forks city administrator, left for a job with the city of Kansas City, Mo., in mid-2013.
Murphy was on the job in East Grand Forks for a matter of months when the city pursued an independent audit of the Economic Development and Housing Authority .
In early April, the former EDHA Executive Director Jim Richter presented city attorney Ron Galstad and Buckalew with the file on the Boardwalk Enterprises loan that had gone unpaid since payments were to begin in 2003. The city hadn't filed the mortgage until this year, and Boardwalk representatives, which includes the mayor's brother, have argued that they weren't aware of the loan and that the city owes them money for items spelled out in the development agreement.
On April 29, the EDHA board held a special meeting over the loan, making the issue public.
The city has since hired an outside attorney to help it recover the loan and held a closed-door meeting with the representatives of Boardwalk Enterprises, but a resolution hasn't been reached. An emotional public meeting earlier this month included frustrated residents who called on the city to resolve the issue.
"(Murphy) got thrust into the limelight because of this story and has sort of been the city's spokesperson in dealing with this," said Mike Pokrzywinski, a former East Grand Forks City Council member who will return in January. "I think he's handled it admirably."
City Council member Clarence Vetter said Murphy was "instrumental" in bringing some of the problems with the EDHA to light. The independent audit brought up a number of problems with other loans and budgeting processes at the EDHA.
"Early on, he had questions and he kept digging," Vetter said. "Without that leadership, I don't think any of this would have came to light."
Murphy has helped lead efforts to revamp the EDHA since Richter retired in May.
Pokrzywinski said bringing "closure" to the Boardwalk loan, as well as working on the city's budget and plans for wastewater infrastructure upgrades will need to be addressed in the upcoming year.
City Council member Chad Grassel, who is also a member of the EDHA board, said hiring a new economic development director is a top priority, as well as plans for expanded wastewater capacity and upgrades to the city's civic center.
East Grand Forks Mayor Lynn Stauss declined to discuss Murphy, saying that he hasn't worked with him as much as others.
'Straightforward'
But even before the controversy of this year, Buckalew said Murphy's experience was one factor in choosing to hire him. He said Murphy had some experience working through difficult budgetary times in previous jobs.
"He just does his homework really well," Buckalew said. "He understands the roles of all the players."
Council member Greg Leigh said Murphy works well with department heads, and Grassel said he appreciates Murphy being "honest" and "open" as well as accessible to council members.
"He's straightforward," Grassel said.
Murphy was actually Vetter's second choice for a new administrator. He said he was looking for a younger candidate to help "spur the development of East Grand Forks."
"In hindsight, I'm glad we hired David," Vetter added. "Because if we had gotten someone younger with less experience, we might not be where we're at right now."